Laryngeal Mask Airway for Neonatal Resuscitation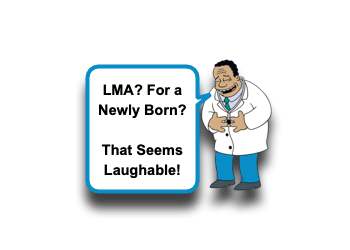 It is fun to be able to check the "Learned Something New Today" box! Having just attended ACEP 2019 in snowy Denver, I can definitely check that box! One interesting item I learned was taught to be by our esteemed colleague, Dr. Emily MacNeill! We all know that managing the newly born can be challenging and often causes trepidation. We have discussed how best to monitor the heart rate and how that can influence neonatal resuscitation. We all know, however, that the most important aspect of helping the newly born transition to life outside the uterus is assisting with ventilation! That is often done with basic airway position, but sometimes needs positive pressure. Let's take a minute to digest a morsel on using a Laryngeal Mask Airway (LMA) for Neonatal Resuscitation:
Laryngeal Mask Airway for Neonatal Resuscitation
~10% of neonates (newly born) will require assistance with transition to extra-uterine life! [Bansal, 2018]

Most often this support is achieved with drying and stimulation!
Ventilator support may be required.

Good positioning and positive pressure ventilations (PPV) are the initial means of respiratory support.
PPV typically achieved with facemask and self-inflating bag.
Both of these strategies require skill and practiced technique as they can be easily done incorrectly.
LMA's have been recommended in the past for [AHA Guidelines, 2015]:

Term and Preterm newborns at 34 weeks gestation or more in whom,
Tracheal intubation was unsuccessful or
Intubation is not feasible (ex, anatomic anomalies).
LMA's may make PPV more easily and consistently achieved.

They can be easily inserted without laryngoscopy. [Wanous, 2017]
They are less negatively affected by suboptimal positioning than FM/BVM that may occur during resuscitation.
Size Matters:

LMA's come in various sizes and these may vary slightly between manufacturers.
Typically, Size 1 is appropriate for newly born children who are less than 5000 grams and over 1500 grams or 34 or more weeks gestation. [Qureshi, 2018]
Always refer to the packaging to confirm the appropriate size.
There is a lack of good evidence for use of LMAs in children < 34 weeks gestation or less than 1500 grams.
Potential Complications: [Qureshi, 2018; Bansal, 2018; Zhu, 2011]

Generally determined to be safe, but can have some adverse events.
Gastric distention and Vomiting
Local soft tissue trauma
Difficulty suctioning
Improper positioning
LMA Use: For Primary Ventilation
Compared to facemask / BVM for PPV, use of LMAs can achieve ventilation just as effectively. [Qureshi, 2018; Pejovic, 2018; Trevisanuto, 2015]
LMAs have been shown to have shorter resuscitation and ventilation times when used as initial means to deliver PPV for the newly born. [Qureshi, 2018; Pejovic, 2018]
LMA Use: Alternative to ETT
In cases where PPV delivered via facemask / BVM does not resolve the neonate's instability, use of LMAs lead to less need for endotracheal intubation. [Qureshi, 2018; Bansal, 2018]
Those who were "rescued" with LMA also have shorter ventilation time. [Qureshi, 2018]
Newborns resuscitated with LMA were less likely to require admission to NICU. [Qureshi, 2018]
LMAs were safe to use. [Qureshi, 2018]
LMAs have also been successfully used to administer surfactant. [Roberts,2018; Pinheiro, 2016]
LMAs are still recommended as the rescue device if intubation was not successful or anticipated to be unsuccessful. [AHA Guidelines, 2015]
Moral of the Morsel
LMAs are more than rescue devices! LMAs may be a beneficial means to deliver PPV in the newly born.
Know your equipment and have a plan! Look at your LMA's packaging before you need to actually use it!
Learning something new is cool! Come join us at ACEP Advanced Ped EM Assembly in March.
References