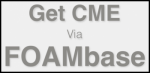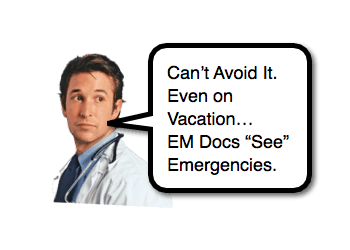 Vacation can be so blissful! But, sometimes, that "EM mind" just won't turn off.  Have you, like a thirsty vampire, ever glanced at someone's neck and admired the large external jugular veins?  Do you pack your extra supply of suture material along with your bathing suit, just in case?  When you drive by the vacation spot's local hospital, do you wonder what their resources are?  Well, if these things seem normal to you, then you, like me, are… slightly disturbed… and totally wed to being an emergency provider. Recently, I while floating on the lazy river, I saw a child who had obvious Marfan Syndrome features and my mind quickly sorted through some of the emergent conditions I should prepare myself to consider … again, … just in case.  So let's quickly review what my mind came up with for Marfan Syndrome.
Marfan Syndrome: Basics
Marfan Syndrome is a disorder of the connective tissue.
It is inherited in a AUTOSOMAL DOMINANT fashion.

Frequency is at least 1 in 5,000 in the USA.
~ 1/4th of cases are due to spontaneous genetic mutation.
There is no gender or ethnic preference or distinction.
Effected protein = Fibrillin-1

Important to the structure of connective tissue.
Involved in connective tissue throughout the body.
Normal fibrillin thought to inhibit growth of long bones and elastic fibers.
Marfan Syndrome: Clinical Features
Variance in the expression of the condition exists.

Not all patients will be affected the same.
Features may be present at birth or develop later.

May be diagnosed in adulthood.
Patients diagnosed earlier appear to have better clinical courses than those diagnosed later in life. [Willis, 2009]
Some of the clinical features are: [Kaemmerer, 2005; Pediatrics, 1996; Marfan.org]

Skeletal

Pecuts excavatum or Pecuts carinatum
Arm span:Height ratio >1.05
Thumb sign

Able to extend thumb beyond ulnar border of the hand when hand is flexed.

Wrist sign

Able to overlap the distal tips of the thumb and index finger when wrapped around contralateral wrist.

Scoliosis >20 degrees
Reduced extension of the elbows (<170 degrees)
High arched palate with crowding of the teeth

Cardiovascular

Aortic aneurysm

~50-83% of kids with Marfan syndrome have dilation of the aortic root. [van Karnebeek, 2001]

Mitral valve prolapse

Diagnosed at a mean age of 9.7 years. [van Karnebeek, 2001]

Dilation of the main pulmonary artery
Calcification of the mitral annulus in patients < 40 years of age
Neonatal Marfans Syndrome presents with rapidly progressive and potentially fatal cardiovascular complications.

Ocular

Severe nearsightedness
Early glaucoma / cataracts
Flat cornea

Pulmonary

Apical blebs
Asthma / reactive airway disease

Nervous

Lumbosacral dural ectasia

Gastrointestinal

May develop colonic diverticula at early age. [Santin, 2009]

Dermatologic
Marfan Syndrome: The Emergencies
Aortic dissection

Obviously, this is the most feared and greatest concern!
Fibrillin-1 is primarily expressed in the ascending aorta.
Dissections typically in the second decade of life.
There are

other conditions

that may require emergent evaluation and treatment:

Pneumothorax

Occurs in ~5% of patients

Cor Pulmonale

May develop due to severe and progressive chest wall deformities and scoliosis leading to mechanical restrictions.

Dislocation of the lens of the eye

~50-80% of cases have lens dislocation.
Often the ophthalmologist may be the first to make the diagnosis.

Retinal detachment
Moral of the Morsel
Marfan syndrome affects many organ systems (not just aorta and bones).
The patient with Marfan syndrome who is dyspneic may be sort of breath due to a variety of issues including reactive airway disease and mechanical issues, but don't overlook pneumothorax!
When your on vacation… close your eyes… otherwise you may start quizzing yourself on medical facts related to passersby's pathology. 🙂
References