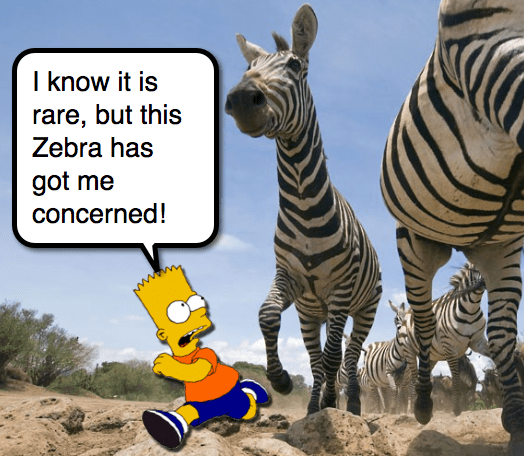 We all know that when you "hear hoofbeats, think of horses" and when you "see stripes, think of zebras."  Unfortunately, the horses and zebras often look similar.  While tachypnea is most often due to a viral process like Bronchiolitis, or a Pneumonia, we must stay vigilant for it being one of those Subtle Signs of Heart Failure.  Keeping a keen eye and ear on alert for these zebras is part of what our job demands.  A child presenting with Back Pain should catch your attention just like a the child complaining of persistent leg pain.  While it is most likely innocuous, it could also be a zebra getting ready to stampede: Osteosarcoma.
Osteosarcoma: Basics
In the USA, cancer is the second leading cause of death in children.
Osteosarcoma is the most common primary bone tumor in patients < 40 years of age. (Haddox, 2015)

Other important primary bone tumors = Ewing and Chondrosarcomas

High rates of metastasis.
Vast majority of osteosarcomas in children are High Grade. (Gorlick, 2010)
Survival has improved with advances in surgical, chemotherapeutic, and radiation care.

Before 1970's, 5-year survival was < 20%.
Now it approaches 70%.
Generally, children have a better prognosis compared to patients 18-40 years of age. (Haddox, 2015)
Osteosarcoma: Presentation
Peak frequency = onset of puberty
Location:

Most arise in the intramedullary space of the metaphysis. (Gorlick, 2010)

Most often in the long bones of the lower extremities.
~50% involve the knee (Distal Femur and Proximal Tibia)
Proximal Humerus is next most common site.

Possible relationship with Growth Plates.
In older pts, it is more common in the axial skeleton.

Spine involvement only in 4-5% of cases.

Primary complaint = Pain.

Often insidious
Pain with activity is most common complaint.

Just like everything else that hurts… it hurts more when you use it.
"Growing Pains" is often the original misdiagnosis.

May present with limp due to pain.
Larger lesions may present with palpable mass.
Uncommon to have night sweats, fever, or other systemic symptoms initially.
Pathologic Fracture (Lee, 2013)

Can cause the initial presentation (5 – 12%)
Can also develop during treatment
Associated with poorer prognosis.

Appearance on Radiographs

Lytic and blastic bone lesion
"Sunburst" appearance
Periosteal elevation related to soft tissue mass producing "Codman's Triangle." (Gorlick, 2010)

Metastasizes to the Lungs and other Bones primarily.
So the next time you see the pre-teen who is complaining of knee pain after running in gym and you really want to blame "growing pains" or a minor strain… just pause and consider that those hoofbeats you hear are actually those of the stampeding Osteosarcoma Zebra.
References