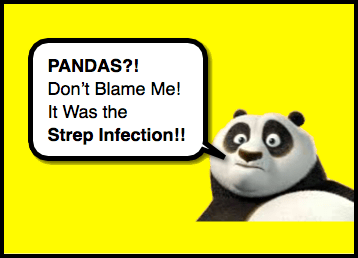 We have previously addressed the notion that "Not All That Shakes is a Seizure." Often, just by witnessing the "shaking" it is possible to lower the concern for seizures; however, refrain from being dismissive, as there are a number of other conditions that may lead to unusual shaking, twitching, and tic-ing.  Chorea, for example, can be quite alarming to see.  Occasionally, someone may also mention a condition that causes me to stare blankly. One of these befuddling conditions is even associated with Strep Infection… perfect… kids love to collect strep!  Let's take a moment to review PANDAS (no, not the large furry mammal that eats bamboo) so that we may appear less befuddled.
PANDAS: Background
PANDAS = Pediatric Autoimmune Neuropsychiatric Disorders Associated with Streptococcal infections
Relatively new condition that was first described in 1998. [Swedo, 1998]
Association with Strep Infections is still debated, but condition recognized a homogenous group of children. [Williams, 2014]

Some chose to view PANDAS as a subset of PANS (Pediatric Acute-onset Neuropsychiatric Syndrome).
Essentially, the understanding of the condition is still in its infancy.
Etiology:

Exact pathogenesis of PANDAS is not yet clarified.
Possibly related to molecular mimicry between GAS and CNS epitopes leading to post-infectious autoimmunity in susceptible kids. [Esposito, 2014]
PANDAS: Diagnostic Criteria
MUST HAVE: [Swedo, 2015; Swedo, 1998]

Presence of OCD and/or Tic Disorder

Obsessional fears of contamination or harm to self/others
Compulsions involving washing, checking, repeating, and counting
Tic disorder – involuntary motor tics (ex, nose twitching, eye blinking, head jerking, vocal tics, coughing, throat clearing)
Often also have neuropsychiatric symptoms:

Ex, anxiety, emotional lability, ADHD, Oppositional-defiant disorder, behavior regressions
Again, these develop acutely and may be what catches family's attention.

Prepubertal onset

Mean age = 6 years.
Also distinguishes it from typical OCD, which has later onset.

Abrupt onset or Exacerbation of symptoms with an episodic course

Key feature is the acute and rapid onset of symptoms!
Typically, patient was healthy previously.

Associated neurologic abnormalities

Choreiform movements
Urinary urgency/ frequency due to enuresis
Sleep disorders (ex, parasomnias)

Temporal association between symptoms and Group A Strep infection

No defined time window, but typically within 6 weeks
Debated feature, as GAS infection is common in children
GAS leading to pharyngitis or skin infections (ex, perianal) have been implicated. [Toufexis, 2014]
CANNOT HAVE:

Thyrotoxicosis
Systemic Lupus Erythematosus
Wilson's Disease
Acute Disseminated Encephalomyelitis
Toxin exposure
PANDAS: Treatment
Primary treatment is

symptomatic

.  [Esposito, 2014]

Cognitive behavioral therapy

Methods and tools to recognize triggers for tics and means to counteract them.
Stress is a common exacerbating cause.

Family counseling
Psychoeducation

Antibiotics (Penicillin)

Mixed results about utility of antibiotic therapy.  [Esposito, 2014]
Some evidence that Penicillin is associated with improvement in tics.
If the condition is related to autoimmune disorder, antibiotics being effective seems odd.

Dopamine Antagonists

Haloperidol and risperidone – used in severe cases of OCD.
Tiapride (not available in the USA) – useful for motor tics.

SSRIs may also be used for severe OCD.
Immune-modulatory Therapy

Plasma Apheresis or IVIG have been used, but should be reserved for severe cases.
Plasma Apheresis may even be helpful after the acute presentation. [Latimer, 2015]
References