Pyridoxine Dependent Seizures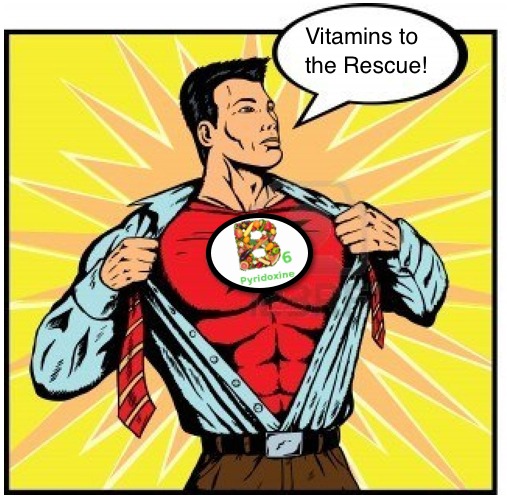 We have recently discussed how neonatal seizures are often very subtle and, unfortunately, commonly related to significant pathology (infection, hypoxic-ischemic encephalopahty, intracranial hemorrhage, hypoglycemia, inborn errors of metabolism, etc).
Once we determine that we are dealing with a seizure, we likely feel more comfortable as we are all accustomed to the typical management strategies for seizures… but what if they don't seem to be working?
Before you decide to punt and just increase the phenobarb drip and intubate the patient, consider giving valuable vitamins – Pyridoxine!
Pyridoxine Dependent Seizures
Epidemiology

Recall that individual inborn errors of metabolism are rare, but taken collectively, they are commonly encountered.
True prevalence is not really known as our ability to detect it historically has been poor.
Estimates range from 1:20,000 to 1:687,000.
Likely underdiagnosed.
Newer genetic testing will enhance our understanding of the true prevalence.

Basics

Autosomal Recessive condition.
Untreated pyridoxine dependent seizures (PDS) result in death from status epilepticus.
Seizures and death have even been demonstrated in the womb.
May present within first few hours of life to first few weeks of life; however, they have also been noted to occur after 2 months of life.
All will have either seizures that recur serially or progress to status epilepticus despite conventional therapies.

Management
The hardest part is just keeping this on your differential list!

It is rare, but if not treated, the patient will continue to seize and have significant morbidity and potentially mortality.
I would recommend considering Pyridoxine therapy for:

Any neonate who does not easily respond to first Benzo.
Any child (particularly less than 2 years) who is continuing to seize and does not have another obvious reason.
Any person, of any age, who you have concern for INH toxicity / overdose.

Pyridoxine 100 mg IV Push
1 to 5 doses of the Pyridoxine can be administered until Seizures cease.
So, next time you have the patient who is seizing, do some mental gymnastics and exercise your recall of this potentially lifesaving therapy.
  Gospe SM. Neonatal Vitamin-responsive Epileptic Encephalopathies. Chang Gung Med J 2010; 33:1-12   Abend NS, Dlugos DJ. Treatment of Refractory Status Epilepticus: Literature Review and a Proposed Protocol Pediatr Neurol 2008; 38: 377-390.