Submersion Injury Prevention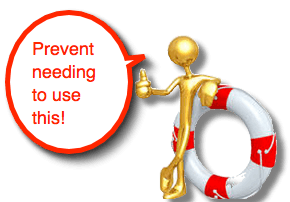 Working in the Emergency Department places us in a unique position to allow our words to have a significant impact with our patients and their families. While this time of year brings submersion injuries to the front of our minds (Prolonged QTc, C-Spine Injury, Submersions), let us make sure we bring it to the conscious level of our patients as well.  A few minutes spent on injury prevention in your ED will hopefully help avoid a preventable tragedy this summer!
Basics to Point Out to Families
Kids are different when it comes to Environmental Emergencies

Less mobile (can't get out of the water)
Larger body surface: mass ratio (more susceptible to heat loss)
Curious with less understanding of the potential hazards (particularly teenagers!)
Being unconscious under the water is a bad thing!

Reinforce this in patients with seizures!
Important to point out to teenagers who's risky behaviors may alter their level of consciousness (ex, Drugs, ETOH, trauma).
Ask about family history of sudden death or previous submersion events.

Nearly 30% of patients who had an unexplained drowning while swimming had a genetic mutation consistent with a channelopathy.
50% of victims of unexplained drowning had a family history of cardiac arrest, prior drowning, or prolonged QTc.
The best defense is constant vigilance!

Learning to swim is an important defense, but being able to swim does not make a kid drown-proof!
Supervision is the key to injury prevention.

Children <1 year are most likely to drown in a bath tub!
Children 1-4 years are most likely to drown in a swimming pool.
Older children and adults are most likely to drown in natural bodies of water.

For infants and toddlers, the supervisor should really be touching that child at all times while in and near the water.
Despite improvements, this still remains an important cause of mortality!

Overall, the submersion death rates have decreased for children by 9%.
Worldwide, submersions are still the 3rd leading cause of unintentional injury.
Children 1-4 years have the highest drowning rate!

For boys aged 1-4 years, unintentional drowning has

replaced motor vehicle traffic incidents

as the leading cause of death from unintentional injury for boys since 2005.
For girls aged 1-4  years, unintentional drowning is still the 2nd leading cause of unintentional injury, but the gap between traffic accidents and drowning has narrowed considerably.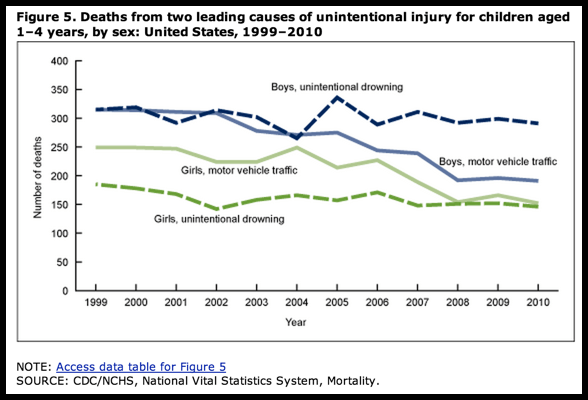 Basics to Keep in Mind
57% of survivors will suffer with neurologic impairments.
The

type of water

is rarely clinically significant!

Both

salt and fresh water

lead to the same end points of inactivated surfactant, pulmonary edema, and hypoxia (they do so by different mechanisms… but hypoxia is still hypoxia).
A

low hematocrit

should lead to your consideration of other

occult trauma

… not hemoldilution!

In order produce a change in hematocrit a person has to aspirate

>11ml/kg

Typically, humans aspirate 3-4ml/kg
In order to see significant electrolyte changes, a person has to aspirate

>20ml/kg

.

If a person were to aspirate either 11ml or 20mL per kg, it would be evident clinically!!
Not all submersion patients need to have a Cervical Collar on.

Routine Immobilization is NOT necessary solely based on the history of submersion.
If there was a high impact event (ex, diving, boating, water sports, assault), then keep it on.
If the event was related to swimming, bathing, wading, fishing, or SCUBA, then remove it.
Use BiPap early for patients with evidence of increased work of breathing or evidence of pulmonary edema on CXR.
Naturally, the devastation and damage that submersion injuries can produce are best treated by avoiding them all together!  Take the opportunity to help with injury prevention at every chance you have … maybe the most important aspect of the evaluation you do for the toddler with a viral URI is emphasize the importance of water safety with the family!
References