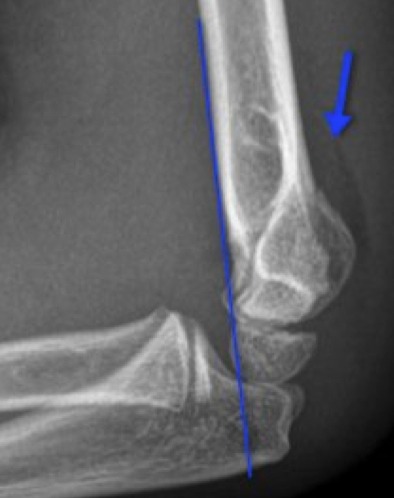 It is August… a few weeks left before school starts… and football season is almost upon us! I love football season, but it is such a double-edged sword – inevitably all of the Peds EDs will be inundated with skeletally immature gladiators having injured themselves. So prepare yourself for the onslaught of supracondylar fractures!
Supracondylar Fractures
The supracondylar area is composed of thin, weak bone.
Supracondylar fx's account for >50% of all pediatric fx's.
Peak incidence is 5-7 years.
Two main types based on mechanism

Extension-type (FOOSH)

Most common (~95%)
Leads to posterior displacement of the fracture

Flexion-type

From a direct blow to the posterior aspect of the elbow while it is flexed
Leads to anterior displacement of the fracture
Three main classifications

Type I – non-displaced, limited radiographic evidence of fx
Type II – angulated and displaced, but still partially attached
Type III – complete displacement without any connection
Evaluation
Evaluation (and Documentation!!) of the Vascular and Neurologic status of the affected arm is imperative!
Supracondylar Fx have a great potential for nerve and/or vascular compromise.
Vascular

Brachial artery may be injured with posteriorly displaced fxs.
Documenting radial and ulnar pulses is good… BUT

Absence of brisk cap refill is the best indicator of long-term vascular injury.
The patient with diminished pulses who has brisk cap refill will likely do well after reduction that is done in an urgent fashion.
The patient with diminished pulses and who has poor distal perfusion needs emergent intervention!
Using pulse oximetry can also help document peripheral perfusion in the affected arm, if it there is a good waveform and oxygen saturation.
Motor Nerve

Often getting the child with a deformed arm to cooperate for examination is difficult… give them Pain Meds!!
Quick and Dirty nerve exam of the arm

Thumb's up = Radial Nerve
Spread fingers out ("like Michael Jordan palming a basketball") = Ulnar Nerve
Abduction of the Thumb ("OK sign") = Median Nerve
Sensory Nerve

Dorsal aspect of 1st web space = Radial Nerve
Palmer aspect of pinky = Ulnar Nerve
Palmar aspect of pointer finger = Median Nerve
Consider Complications
Always consider Compartment Syndrome
Supracondylar Fx are at high risk for it
Assess, reassess, and reassess again
Look for Pain, Pallor, Pulselessness, Paralysis, and Paresthias
Pain with passive range of motion of distal fingers is very concerning!!
Subtle radiographic findings
The Type II and Type III fractures are often no-brainers… bone looks broke!
Type I can be very subtle… so look for:
Displaced Anterior Fat Pad (Sail Sign)
Any Posterior Fat Pad
Anterior Humeral Line not intersecting the middle third of the capitellum.
Radiocapitellar line not interesting the middle third of the capitellum.
Shrader MW. Pediatric supracondylar fractures and pediatric physeal elbow fractures. Orthop Clin N Am. 2008; 39:163-171.

Sarraff LM, Haines CJ. Common orthopedic injuries in the pediatric ED. Pediatric Emergency Medicine Reports. 2010; 15 (7): 77-92.