Hypertensive Crisis in Kids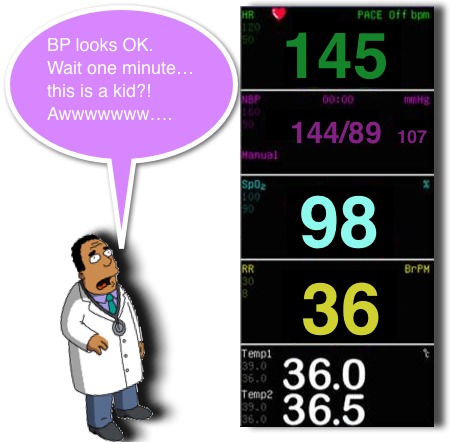 I think that we'd all agree that 144/89 is not a normal blood pressure, but it is one that those of us who have the pleasure of caring for adults will look at with almost a sense of comfort – because it isn't 70/30 or 210/120.  Unfortunately, however, this sense of reassurance cannot be had when dealing with children. Depending on the patient's sex, age, and height, 144/89 may not only represent hypertension but may be associated with hypertensive crisis in kids!
Hypertension in Kids
Kids are becoming more and more like "little adults."

The prevalence of hypertension in kids is increasing.

Likely associated with increases in obesity and metabolic syndrome.

Kids also now with increasing prevalence of biliary disease and kidney stones.

Naturally, normal blood pressure varies with the age of the patient.

For low blood pressures, we've discussed using the formula goal SBP = 90 + (2 x Age).
Normal blood pressure is defined as SBP and DBP < the 90th percentile for sex, age, and height.
Hypertension is defined as SBP and DBP > 95th percentile for sex, age, and height.
THERE ARE CHARTS!  Use them to determine the percentile… you can't remember these numbers (or at least I cannot).

Hypertension in kids is more likely to be secondary to another concerning cause.

Adolescents have a higher incidence of essential hypertension, but should still have secondary causes investigated (see case of Coarctation).
Some important etiologies to consider:

Renal Pathology

Glomerulonephritis
Hemolytic Uremic Syndrome
Wilm's Tumor
Nephrotic syndromes
Polycystic kidney disease
Renovascular disease

Coarctation of the Aorta

Neuroendocrine

Neuroblastoma
Pheochromocytoma
Thyroid disease

Collagen Vascular Disease

Lupus
Periarteritis nodosa

DRUGS

(especially with those crafty teenagers)

Decongestants
Anabolic Steroids
Cocaine
Hypertensive Crisis in Kids
Hypertensive crisis occurs when there is accelerated hypertension in association with end-organ damage.
Common symptoms:

Headache (#1 complaint)
Nausea & Vomiting
Chest Pain / Left heart failure
Dizziness
Convulsions
Status Epilepticus
Coma

Initial Evaluation

Four Limb pulses and blood pressures
CXR
Chemistry panel
Urinalysis
Fundoscopic exam (papilledema?)
Abdominal bruits?
Draw and hold additional blood for subspecialist's requests (ex, renin and aldoesterone levels)

Some Therapeutic Options

Nicardipine: FIRST LINE Tx. no negative inotropic effects. – onset ~15 min, 1/2 life = 10-15 min
Labetalol: potentially worsens hyperkalemia. Has negative inotropic effects. 1/2 life 3-5 hrs.
Nitroprusside: Need to keep cyanide toxicity on your radar screen!
Esmolol: Useful after congenital heart disease repair. 1/2 life 10 min.
Fenoldopam: Safe with renal disease. Increases renal blood flow and induces natriuresis.

GOAL: Decrease blood pressure by no more than 25-30% of original value during first 8 hrs.
Convulsion due to HTN or HTN due to Convulsion?
Hypertensive crisis can provoke convulsions: Seizures can increase blood pressure.
How can you differentiate between the two and select the most appropriate therapies?
Study published in Critical Care Medicine found that a SBP or DBP of greater than 4 Standard Deviations above the average for the age is 78% predictive for the presence of hypertensive crisis. Values lower than this level had a negative predictive value of 100% (excluded hypertensive crisis).
The Cutoff BP = ([4 x Standard Deviation for age] + Mean BP for age); which equates to the following:

Girls:

1 mnth – 130/97
1 yr – 144/89
6 yrs – 137/100
12 yrs – 153/106

Boys

1 mnth – 126/95
1 yr – 143/89
6 yrs – 136/98
12 yrs – 149/105
 Proulx F, LaCroix J, Farrell CA, Gauthier M. Convulsions and hypertension in children: differentiating cause from effect. Critical Care Medicine. 1993; 23: 1541-1546.

Chadar J, Zilleruelo G. Hypertensive crisis in children. Pediatric Nephrology. 2012; 27: 741-751.