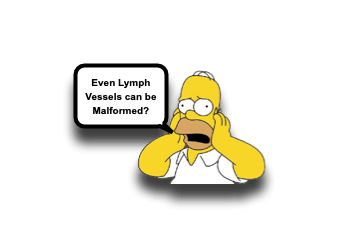 Let's be honest, the lymphatic system gets no respect. While the blood vessels and nerves are carefully considered and protected, the lymphatic vessels are not even at the forefront of our contemplations. That is until they cause problems! We have discussed previously the need to pay attention to the spleen and what to think of when evaluating enlarged lymph nodes (see also Cat Scratch Fever), but let's take a minute to think about another important pathology of the lymph tree – Lymphatic Malformations:
Lymphatic Malformations: Basics
Lymphatic malformations = abnormal development of lymphatic channels / vessels. [Cheng, 2018; Cheng, 2017; Sjogren, 2017; Defnet, 2016; Churchill, 2011]

Collection of cysts and lymphatic vessels.
Can be fluid filled or complex structures.
Incidence of head and neck lymphatic malformations = ~1 in 2,000 – 4,000 live births. [Sjogren, 2017; Defnet, 2016]
Currently classified as being either: [Sjogren, 2017; Defnet, 2016]

Macrocystic (>1cm in diameter)
Microcystic (<1cm in diameter)
Mixed
Several other classification systems that use location or lesion morphology.

Head and Neck lymphatic malformations found to have morphology associated with location.
Midface and oral cavity lesions are often microcystic.
Parotid and submandibular lesions are predominantly mixed.
Cervical lesions are often macrocystic or mixed.
Historic terms no longer preferred:

Cystic Hygroma (used primarily for cervical macrocystic lesions)
Lymphangioma
Lymphatic Malformations: Presentations
Timing of diagnosis:

Some are diagnosed in utero.
May be present at birth (~50%).
Others begin to increase in size and are noted later in life. So they may be presenting to us in the ED.
~90% are apparent by 5 years of age. [Sjogren, 2017; Churchill, 2011]
The tumors are, themselves, benign, but their size and location can lead to significant symptoms. [Sjogren, 2017]

~75% occur in the Head and Neck area (prevalent lymphatic system that exists in this region)
Develop along the paths of known lymph node groups.
Other regions:

Axilla
Mediastinum
Retroperitoneum
Buttocks
Anogenital
Extremities
Characteristics and presentations can be diverse: [Cheng, 2018; Sjogren, 2017; Defnet, 2016]

Ballotable masses often noted.

Can be sponge-like or cystic mass.

Overlying skin may be uninvolved.

May have lymphatic papules present.

May be discolored.
May have intralesional bleeding.

Vary in size (from small to very substantial)

Symptoms are related to:

Size of malformation
Location of malformation
Encasement of adjacent structures

Airway obstruction
Impaired swallowing / feeding
Impaired speech
Vision loss
Decreased extraocular mobility
Ptosis
Proptosis
Can become complicated by:

Intracystic hemorrhage
Infection
Trauma
Lymphatic Malformations: Imaging
Ultrasound [Sjogren, 2017; Defnet, 2016]

Typically are hypo-echoic structures, but can also have material present inside.
Can be complex.
Doppler flow is uncommon.
CT [Sjogren, 2017; Defnet, 2016]

Low density
May be poorly circumscribed.
Fluid levels may be present (especially if there is secondary hemorrhage or infection).
MRI [Sjogren, 2017; Defnet, 2016]

Hypointense on T1; Hyperintense on T2
Integral in the preoperative planning as it helps define status of adjacent structures best.
MR lymphangiography can also be done.
Lymphatic Malformations: Management
The management has evolved over the past 10-20 years. [Cheng, 2018; Cheng, 2017]
Goals of therapy: [Defnet, 2016]

Prevent life-threatening complications (ex, airway endangerment)
Maintain functionality
Control associated symptoms
Perserve aesthetics
Lymphatic malformations can be difficult to treat and cure. [Cheng, 2018; Cheng, 2017]

Often not discrete.
Often extend across multiple tissue planes.
Can involve critical structures.
Therapeutic options include: [Cheng, 2018; Cheng, 2017; Defnet, 2016]

Expectant management
Sclerotherapy

Many sclerosants have been studied.
Ex. Doxycycline, Bleomycin, Ethanol, Acetic Acid, Hypertonic Saline [Thomas, 2016]

Pharmacologic therapy

Propranolol
Sildenafil [Tu, 2017]
Sirolimus [Alemi, 2015]

Ablation
Surgical resection
Multidisciplinary teams are recommended. [Cheng, 2018; Defnet, 2016]

Tailor therapy for the individual case.

Multimodal therapies are often used.
Close monitoring and follow-up is needed.
Teams include:

Pediatricians
Surgeons
Psychologists
Nutritionists
Speech Pathologist
Moral of the Morsel
Not all lumps and bumps are simple. Lymphatic malformations should be on your Ddx lists.
Benign does not mean not bad. These benign lesions can lead to significant problems.
References