Necrotizing EnteroColitis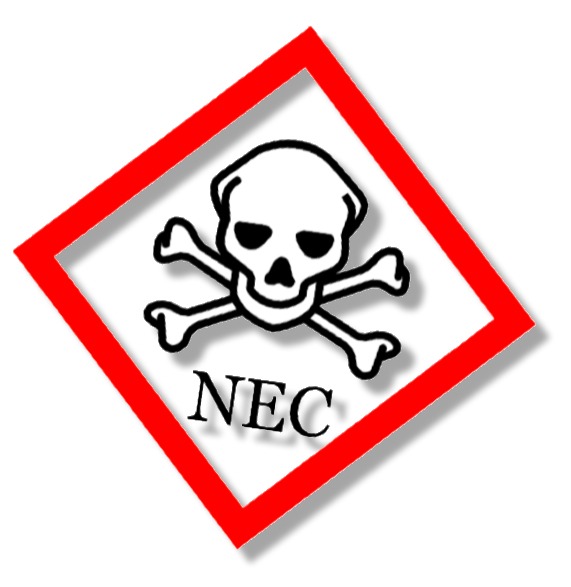 Over the years (yes, we have been doing the Ped EM Morsels that long), we have covered several intestinal disasters: for example, HSP and Intussusception, Malrotation, Intussusception, Hirschsprung's and Enterocolitis. Yes, the differential for the neonate or young child with vomiting can be vast and severe, but let us not forget the most common GI emergency that occurs in the neonatal period – Necrotizing Enterocolitis.
 Necrotizing Enterocolitis (NEC)
Basics

NEC is an inflammatory process of the bowel that leads to necrosis and potential bowel perforation.
The inflammation also leads to disruption of the integrity of the bowel:

Increased risk for transmigration of intestinal bacteria.
Increased risk for third-spacing of fluids.

Etiology is still unclear.

Stages

Stage I

Suspected or Early NEC
May have nonspecific symptoms (ex, apnea / ALTE, lethargy, vomiting)
Feeding intolerance, vomiting, or ileus

Nonspecific dilated loops of bowel with air-fluid levels can be seen.

Stage II

Definite NEC with radiographic abnormalities
Intestinal dilation, pneumatosis intestinalis, and/or pneumatosis gastralis can be seen.
Air in the portal system may also been seen.
Initial therapy may be medical management with stabilization, bowel rest, and IV antibiotics.

Stage III

Acutely ill with advanced disease and perforation
Marked abdominal distension, acidosis, DIC, and Shock
Requires resuscitation and emergent surgery.

Prematurity vs Full Term

Unquestionably, NEC is primarily associated with prematurity, but…

It is now, not rare for premature children to be discharged from the hospital before they reach 40 Weeks postconceptual age.
~10% of the cases of NEC occur in Full Term children.
Generally, NEC develops between the 30th and 40th week of postconceptual age.

NEC occuring in Full Term patients:

Is almost always seen in children with other concurrent illnesses or conditions:

Congenital Heart Disease
Asphyxia
Abdominal Wall defects
Polycythemia
Sepsis
etc.

Often seen to occur at a younger day of life then their premature counterparts

Likely associated with the earlier initiation of feeds.

MORAL of the Story – NEC can present to you in the Emergency Department!

Presentation

Varies with the severity of the condition… making your job difficult once again.
Early in the course, NEC presentation can be very subtle.

Mild abdominal distension.
Feeding intolerance.
It may be overlooked and the vomiting attributed to "over-feeding."

As NEC progresses, the abdominal exam becomes more concerning.

Tenderness
Decreased bowel sounds.
Occult blood or gross blood in stool.
Abdominal wall erythema or induration/edema

In its most severe form, the presentation is overt shock.
As a rule… ALWAYS BE WARY OF THE NEONATE WHO IS VOMITING!
Bilious emesis in a neonate, even one who appears well, deserves your concern!

Imaging

Plain X-Rays of the abdomen
May need to add cross-table lateral or decubitus views to increase sensitivity.

Treatment

Resuscitate as needed!!
Early surgical consultation (even for the mild, Stage I)
NPO
Gastric decompression
Broad-Spectrum antibiotics

Ampicillin, Gentamicin, and Clindamycin or Metronidazole.
Lambert DK, Christensen RD, Henry E, Besner GE, Baer VL, Wiedmeier SE, Stoddard RA, Miner CA, Burnett J. Necrotizing enterocolitis in term neonates: data from a multihospital health-care system. J Perinatol. 2007; 27(7): 437-43.

Ostlie DJ, Spilde TL, St Peter SD, Sexton N, Miller KA, Sharp RJ, Gittes GK, Snyder CL. Necrotizing enterocolitis in full-term infants. J Pediatr Surg. 2003; 38(7): 1039-42.

Hostetler MA, Schulman M. Necrotizing enterocolitis presentin in the Emergency Department: Case report and review of differential considerations for vomiting in the neonate. J Emergency Medicine. 2001; 21(2): 165-70.