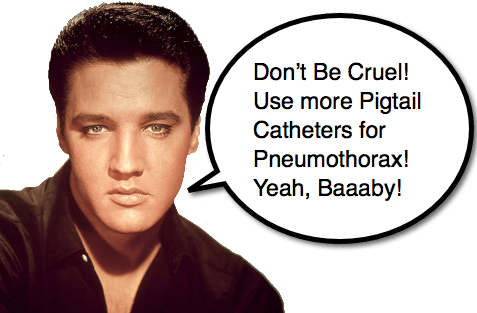 This week I had the pleasure of working with my dear colleagues during the Pediatric Procedure Course at ACEP/AAP Advanced Pediatric Assembly.  We covered numerous important procedures, but one that deserves mentioning here is the use of Pigtail Catheters for pneumothorax and pleural fluid drainage. We have previous discussed the value of Pigtail Catheters for the treatment of Spontaneous Pneumothorax and Traumatic Pneumothorax.  Obviously, every decision we make comes with risks and benefits as well as pros and cons.  The choice of a device to drain air or fluid from the pleural cavity certainly shouldn't be a snap decision.
Large Caliber vs Small Caliber
Large Caliber Chest Tubes
Pros

Can drain VISCOUS fluid
Resist becoming obstructed or kinked.

Cons

Occupy large space in the child's narrow intercostal space.
Potential risk for damage to chest wall structures (neurovascular bundle, muscles, etc).
Difficult for patient to be mobile with while it is inserted.
Small Caliber Pigtail Catheters
Pros

Shown to lead to less discomfort.
Less hindrance to ambulation and mobility.
Proven to be as effective as larger bore chest tubes.
Can lead to shorter hospital days.

Cons

Can be mechanically kinked.
Can be occluded by viscous or turbid fluid.
Open vs Seldinger
Open Technique for Large Caliber Chest Tubes
Pros

Able to clearly define that you are in the appropriate location.

You can feel the lung parenchyma and know that you aren't inserting tube into the liver or spleen!

Relatively straight forward procedure.

Cons

More invasive.
More traumatic.
More painful.
Produces larger scars.
Seldinger Technique for Small Caliber Pigtail Catheters
Pros

Less Invasive.
Less traumatic.
Less likely to damage surrounding structures.
Smaller region involved and pain can be more reasonably controlled.
Less scarring.

Cons

Seldinger technique doesn't allow for easy confirmation of appropriate placement.

Some reports of organ laceration.

More steps to the procedure.
Requires more specialized equipment.
Reasonable Recommendation
Consider what it is that you need to drain.

If it is air or acute blood, use a pigtail.
If it is expected to be viscous, consider a small caliber thoracostomy tube.

One study actually showed that empyema can successfully be drained by pigtail catheter and recommends starting with pigtail first.

If considering a traditional thoracostomy tube… reconsider it… and reconsider it again… Pigtail likely will be better.

Use Ultrasound!

Improve your vision and define your anatomy with ultrasound.
There is no reason to guess!
Reduce complications by paying attention to anatomic landmarks.

Aim High!

Some experts advocate for inserting Pigtail Catheters above the 6th intercostal space to avoid subdiaphragmatic catheter placement.

Be Safe!

Use a J-tipped (flexible tipped) guidewire with your Pigtail Catheter, rather than a straight wire.

Don't Be Cruel!

Consider the advantages of having the patient more comfortable and able to ambulate earlier.
References