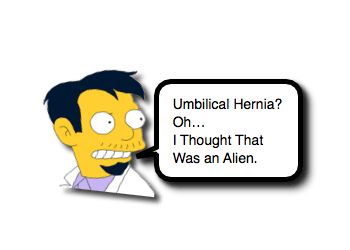 Hernias can lead to significant pain and even emergent complications. We have previously discussed inguinal hernias and the need to always consider them as a cause of inconsolability or acute abdominal pain and/or vomiting in a child.  It is really suboptimal to work a child up for intussusception only to discover the problem was discreetly covered by the diaper.  There is, however, a hernia that is easily apparent when examining the abdomen… and fortunately, rarely causes problems. The Umbilical Hernia can raise many questions though.  Let us take a moment to digest a Morsel on the Umbilical Hernia:
Pediatric Umbilical Hernia: Basics
The neonatal umbilical region can generate concerns:
Umbilical hernias occur due to a failure of the umbilical ring to completely close after birth.

All newborns, by definition, have a small umbilical hernia that the umbilical vessels pass through.
Typically, the umbilical ring closes during the first few days to weeks of life.

Umbilical hernias are very common!

~15-23% of newborns in the USA will have one
More common with some syndromes (ex, Down  Syndrome) [Kelly, 2013; Brandt, 2008]
More common in infants born weighing less than 1200 grams [Kelly, 2013]
Pediatric Umbilical Hernia: Problems
Rates of complications of pediatric umbilical hernias are low, but vary between studies. [Zens, 2017]

Complication rates range from 0% – 7.2%.
Specific complications noted to occur: [Zens, 2017]

Proboscoid hernia

Umbilical wall defect is similar in size as others, but there is large amount of redundant skin overlying it.

Symptomatic, intermittent incarceration
Strangulation
Strangulation requiring bowel resection

Very rare and noted to be "reportable." [Zens, 2017]

Spontaneous evisceration
Based on the current evidence, it is unclear whether larger defects are truly associated with greater risk for complication. [Zens, 2017]
Pediatric Umbilical Hernia: When to Fix
There is consensus that pediatric umbilical hernias can close spontaneously. [Zens, 2017]

93% have been shown to close in 1st year of life.
Even large defects tend to close within the first 3-4 years of life.

"Large" is a variable term in the literature, but tends to pertain to defects >1 cm (although, some report it as >2 cm).
Those >1.5 cm have greater chance of remaining open past infancy. [Zens, 2017]
Risk of watchful waiting needs to be weighed with risk of repair. [Zens, 2017]

Surgery can lead to post-operative complications (ex, infection).
Anesthesia in young children (<4 years) is more problematic:

Potential for respiratory complications
Potential for neurologic consequences
Watchful waiting is advised for: [Zens, 2017; Brandt, 2008]

Asymptomatic pediatric umbilical hernias in children <4 years of age;
Initially advised for "large" hernias as well
Some evidence that umbilical hernias can spontaneously close even up to age 14 years.
Repair is recommended for: [Zens, 2017]

Symptomatic or complicated umbilical hernias (obviously)
"Large" or enlarging can be considered;

Often cosmetic consideration
Risk/benefit needs to be weighed
Should wait until >4 years of age

Asymptomatic umbilical hernia in child after age 4 years, but before adulthood.
Moral of the Morsel
Umbilical hernias are common. Fortunately, they are not often complicated.
Their presence may inspire parental questions. Knowing what the pediatric surgeons will recommend is helpful to avoid confusion.
Just because it is rare, doesn't mean it cannot happen. Complications do occur, so don't be dismissive.
References