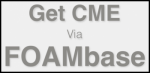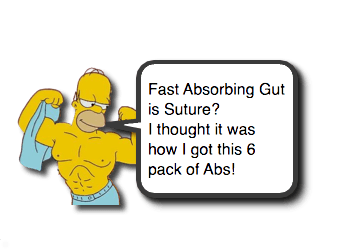 Wound care is a common issue in the ED. Certainly, not all wounds are created equal. We have discussed eyelid lacerations and tongue lacerations. We have also discussed my favorite wound closure technique: tissue adhesives. While tissue adhesives are pretty awesome, they aren't appropriate for all scenarios.  Sometimes you need sutures.  I was taught that you use absorbable sutures to close deep layers and non-absorbable to close the surface. Pretty simple and made sense; however, removal of sutures is not always simple and sedating a child just to remove strings doesn't seem to make much sense. Recently, there has been an evolving trend that challenges the myth that all skin closure is done with non-absorbable suture. Let us take a minute to digest a Morsel of information about Absorbable Sutures for primary wound closure.
Sutures: Basics
The primary purpose of sutures is to hold apposing tissues together to facilitate healing, while minimizing scar and complications.
There is no single suture material that is suitable for all wounds. [Dennis, 2016]
Choice of suture depends upon a number of factors:

Wound tension (strength of suture)
Depth and number of tissue layers involved
Presence of edema
Expected time of wound healing
Inflammatory reactions from suture
Ease of use 
Security of knot
Absorbable Sutures: Examples
Absorbable suture = suture that undergoes degradation and absorption in tissue.
Polyglactic 910 (ex, Vicryl) [Hochberg, 2009]

Retains 65% of its tensile strength at 2 weeks; 40% at 3 weeks.
Complete absorption occurs between 60 and 90 days.
Very useful for completely buried sutures apposing deep tissues.

Rapid Absorbing Coated Polyglactic 910 (ex, Vicryl Rapide) [Hochberg, 2009]

Partially hydrolyzed and processed to speed up absorption.
50% tensile strength at 5 days; 0% at 2 weeks.
Sutures can be absorbed in 10-14 days.

Poliglecaprone (ex, Monocryl) [Hochberg, 2009]

Retains ~40% of its tensile strength at 2 weeks.
Absorption is in ~90-120 days.
Has significant initial tensile strength, so closure can be done with a suture 1-2 sizes smaller than normal.
Good for subcuticular closure.

Gut [Hochberg, 2009]

Made from twisted strands of purified collagen prepared from sheep or cattle small intestine.
Comes in three varieties: Chromic, Plain, and Fast-Absorbing

Chromic gut is tanned to decrease absorption rate. Absorption in 21 days.
Plain gut is untreated. Absorption in 10-14 days.
Fast-absorbing gut is head-treated to increase absorption rate. Absorption in 7 days.
Fast-absorbing gut has less tensile strength than plain gut.
Fast-absorbing gut is used primarily for epidermal suturing.
Absorbable Sutures: For Lacerations
Controversy exists over using absorbable sutures for epidermal wound closure.

Some avoid absorbable sutures due to "concerns" for increased scar formation, increased wound dehiscence, and increased wound infection.
Others advocate for absorbable suture use, particularly in children, as it may avoid the challenges of having to remove sutures.
There are several studies that demonstrate the utility and safety of using absorbable sutures, specifically in children. [Tejani, 2014; Luck, 2013; Luck, 2008; Karounis, 2004]

Vicryl Rapide has been shown to be useful in closure of simple lacerations on the trunk and extremities. [Tejani, 2014]
Fast-absorbing gut showed no significant clinical difference to non-absorbable suture for facial lacerations at 3 months. [Luck, 2008]
Fast-absorbing gut did not have higher rates of wound infection or complications compared to non-absorbable. [Luck, 2008]
Plain gut has also been found to be an acceptable alternative to non-absorbable suture for pediatric wound repair. [Karounis, 2004]
So it would appear that the concerns about increased scar formation, wound dehiscence, and infection should not be as concerning as we may have been taught.
Absorbable Sutures: Proposed Strategy
Always take care to anticipate the patient's pain/anxiety to help avoid causing post-wound repair PTSD!

Consider nitrous oxide or intranasal medications even if you don't think you will need full procedural sedation.
This may help when the patient returns for wound reassessment, etc.

Default to using absorbable sutures in children when sutures are required.

Consider using Vicryl Rapide for extremities and trunk.
Consider using Fast-Absorbing Gut for facial lacerations.

If there is too much tension at the epidermal wound edges, consider deep layer closure.

This may then allow for absorbable suture closure at the surface.
Obviously, some wounds will still require non-absorbable sutures (ex, over joints, high tension).

Still recommend removal of absorbable sutures at the appropriate time interval.

This is particularly useful in areas that heal more rapidly than the suture dissolves (i.e., the face).
Removing the suture may help to continue to minimize scar formation risk.

If the child will not easily and calmly tolerate suture removal, the presence of the absorbable sutures allows for the suture removal procedure to be aborted.

Simply trim down the sutures as much as allowed.
Can recommend some gentle massage to help speed up the absorption process.
References