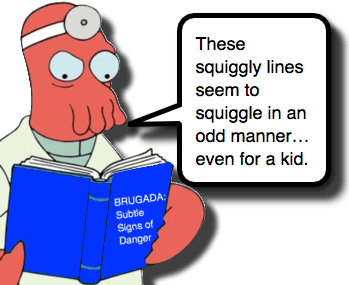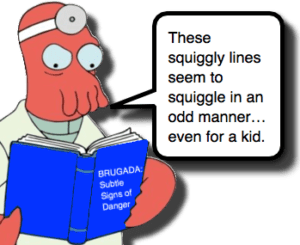 Syncope is a rather common presentation in the Pediatric ED.  While the etiology is most often a benign one, our vigilance assists us in detecting some of the more concerning entities.  Yes, the episode may have been caused by Hair-Grooming, but we are on guard against Prolonged QTc, Catecholaminergic Polymorphic VTach, Seizures, and even Eating Disorders.  While juggling these ominous entities, let us not overlook the potential for Brugada Syndrome.
Brugada Syndrome: Basics
Potentially lethal channelopathy that is associated with VTach or VFib
Inheritance: Autosomal Dominant

Second leading cause of death in young Thai men (#1 is trauma).
Likely expressed with incomplete penetrance.

Typically presents in young adulthood, but it does occur in children.
Regarded as a rare entity, but…

It has only been recognized for past 30 years, so we are still learning about it.
True incidence is not known as it is difficult to diagnose.

The ECG findings may not always be present
The specific genetic tests are abnormal in only ~1/3rd of cases

May eventually be found to be "subtle and difficult to diagnose," rather than rare. [Crosson, 2015]
Brugada Syndrome: Diagnosis
Diagnostic Criteria are the same for adults and children. [Crosson, 2015]
3 types of ECG changes:

Type 1

"Coved" ST Elevation with at least 2 mm of elevation in at least 1 right precordial lead
Only pattern considered diagnostic!
Can be

spontaneous

or

induced

during provocative testing

Type 2

Saddle-back ST elevation
Should consider diagnosis in the right clinical setting

Type 3

Saddle-back ST pattern without significant elevation
Should consider diagnosis in the right clinical setting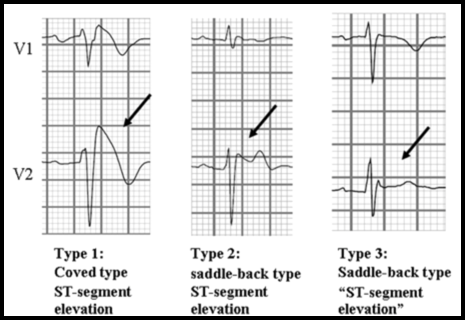 May be asymptomatic upon initial evaluation.
Consider with:

Syncope

Often occurs while at rest or with fever!

Nocturnal agonal respirations
Family history of Sudden Cardiac Death
Family history of SIDS
Family history of Type 1 ECG findings
Self-terminated polymorphic VTach
VFib
Brugada Syndrome in Children
True incidence suspected to be less than in young adults, but not fully known.
Conduction delays are common in pediatric cases. [Chockalingam, 2012]
Children are less likely to have Brugada ECG Pattern.
Children are less likely to have symptoms.
Children are more likely Monomorphic VTach (compared to VFib in older patients).
Brugada Syndrome: Treatment
Management is tailored for each individual case.
Determining risk factors for who with Brugada is at risk for developing fatal arrhythmia is still debated.
Currently the best known therapy is AICD.

Children have greater rate of AICD complications, so often reserved for severe cases. [Chockalingam, 2012]
Asymptomatic patients or those with positive genetic testing or drug-induced Type 1 may be monitored closely, particularly during febrile illnesses.

Medications

Quinidine – adjunct to AICD
Fever Control

Febrile illnesses have been shown to trigger events in children [Kim, 2014; Chockalingam, 2012; Zaidi, 2010; Probst, 2007]
That child who had a syncopal event and is noted to be febrile deserves attention!
References