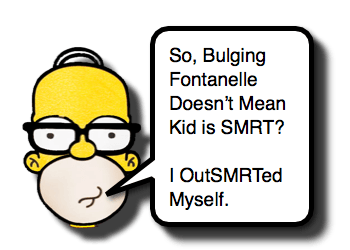 We are all very smart people (objectively, this is a true statement).  Sometimes, however, we can outsmart ourselves.  Don't strain yourself too much to determine how the laws of thermodynamics may have lead a neonate to be febrile; rather, just do the LP! Additionally, don't do complex calculus on the results from the traumatic LP; just count the number of white blood cells and be conservative.  If you want to contemplate the utility of urine studies based on duration of illness, that is an excellent use of your neurons; however, overanalyzing what to do with the child who has a Bulging Fontanelle and Fever will not leave you feeling smarter.
Bulging Fontanelle: Basics
There are 6 Fontanelles, but only two are clinically apparent.

Anterior: 4-6 cm in dimension; closure – 4th – 26th month of life
Posterior: 1-2 cm in dimension; closure – 1st – 2nd month of life
Mastoid x 2, Sphenoid x 2

Position of child matters:

You should palpate the fontanelle with the child in upright position.
Feeling the fontanelle with child supine may cause it to feel full when it is not truly abnormal.

Position of the fontanelle matters:

The fontanelle should normally be slightly sunken relative to the upper table of the skull.
A fontanelle that is even with the upper level of the skull or above it is abnormal.

Pulsations are normal – usually represent peripheral pulses.
Bulging Fontanelle: Common Benign Causes
Before we get too crazy… let us be reasonable and consider some common causes… but, know that these should be transient.
Supine (or Trendelenburg) Position

Gravity works
Hydrostatic pressure will cause a supine child's fontanelle to be "full."

Recent Vaccinations have also been associated with bulging fontanelle, but no causal link known and often determined after ruling out badness. [Sreedhar, 2013; Freedman, 2005]
Bulging Fontanelle: Super Bad
Meningitis/Meningoencephalitis
Space Occupying Lesion (ex, AVMs, tumors, intracranial abscess)
Intracranial Hemorrhage (ex, Non-accidental trauma, Trauma)
Hydrocephalus
Hypoxic-Ischemic Injury
Bulging Fontanelle: Other Badness
Bulging Fontanelle: Evaluation
Step 1: Be Reasonable.

Ensure that we are not dealing with one of the Common Benign Causes.

Step 2: Let's not outsmart ourselves!

Yes, there are cases of benign idiopathic intracranial hypertension… [Goldberg, 2013; Barry, 1989]
Yes, there are potential non-emergent causes…
Yes, work-ups often reveal no significant pathology, thankfully, but the potential to miss mass or meningitis is real.

Step 3: Image brain.

In extremely well appearing and afebrile children, may consider close outpatient follow-up and possible MRI.
If you are even slightly uncertain about the wellness of the child, don't outsmart yourself… get the image now.

One study found 36% of patients with bulging fontanelles had abnormal neuro-imaging. [Tu, 2005]
High risk factors were: Fever and Age < 2 months OR Abnormal Neuro Finding

Step 4: Consider the Lumbar Puncture

Yes, a small percentage of febrile children with bulging fontanelle have bacterial meningitis, but a more substantial percentage (26.7%) have viral meningitis. [Shacham, 2009]
Again… don't outsmart yourself… if there is no contraindication, get the CSF. [Beri, 2011]
Measuring an opening pressure can also add valuable information.
References