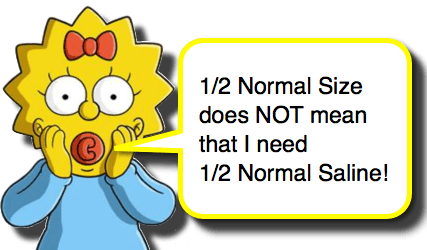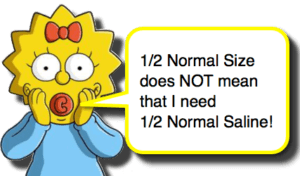 Within the PedEM Morsels, we have addressed many topics that involve fluid management. We have discussed the importance of considering glucose in all of your patients. We have also entertained the possibility of using hypertonic saline in critically ill patients. As dehydration is a constant concern, we have contemplated means to successfully manage this state as well, often without an IV. That being said, intravenous fluid administration is still required at times. Most often in the ED, it is done as boluses of isotonic fluids, but some will require maintenance fluids. Seems simple enough… but are we choosing the correct maintenance fluid?
Maintenance Fluids: Why This Matters
Intravenous fluids should garner the same respect as any other medication.
Maintenance fluids are often required to replace expected daily loses.

They are not meant to replace deficits (ex, hypovolemia).
If there are deficits, maintenance should be added to the fluids that replace the deficit.
Obviously, intravenous fluids, even maintenance fluids, can lead to harm:

Volume Overload
Electrolyte Abnormalities

Hyponatremia is the most common electrolyte derangement found in hospitalized children.
This is particularly true in post-operative patients.
Maintenance Fluids: What I Was Taught…
Maintenance fluids are calculated based on expected energy expenditure.

Holliday & Segar helped describe the rationale for this process in 1957: [Holliday, 1957]
Caloric expenditure for the average child can be based on body weight.

Up to 10 kgs: 100 calories/kg/day
10-20 kgs: 1000 calories + 50 cal/kg/day
>20- kgs: 1500 calories + 20 cal/kg/day

For every 100 calories burned, there is ~100 mL of water lost.

This is the basis of the "4-2-1" rule for determination of volume.

4 mL/kg/hr for first 10 kg, then additional…
2 ml/kg/hr for every kg between 10-20 kg, then additional…
1 ml/kg/hr for each kg above 20 kg.

The daily maintenance calculation is based on the same rationale, but generates slightly different hourly rates (nothing is perfect).

Electrolytes need to be added to maintenance fluids based on energy expenditure as well:

Sodium – 3 mEq per 100 calories
Potassium – 2 mEq per 100 calories
Chloride – 2 mEq per 100 calories
Simple math will generate recommendations for both volume and tonicity of the maintenance fluids.

Often this leads to prescribing ¼ NS or ½ NS (which, by the math, makes sense).
Unfortunately, we know that hypotonic maintenance fluids are associated with greater risk for hyponatremia. [Ramanathan, 2015; Foster, 2014; Choong, 2011; Rey, 2011; Hanna, 2010; Beck, 2007]
Maintenance Fluids: Don't Underestimate ADH's Power
Naturally, ¼ NS and ½ NS have been used for decades and not every patient is becoming hyponatremic and the rationale described originally is still valid, so it is obviously more complicated.
One significant confounder in this system is Anti-Diuretic Hormone (ADH).
Elevated ADH will lead to less free water excretion and, thus, the hypotonic maintenance fluids will generate hyponatremia.
ADH secretion is stimulated by numerous factors and clinical states, like:

Fever
Pain / Stress
Respiratory distress / failure
Head Trauma
CNS infections
Pneumonia
Bronchiolitis
Hypovolemic states
Medications (ex, opiates, SSRIs, NSAIDs, Phenothiazines)

Original, theoretical assumptions may be correct in theory, but in practice, the system is more complex.
Maintenance Fluids: Moral of the Morsel
Iatrogenic fluid and electrolyte derangements are a significant hazard of intravenous fluids.

Ask yourself whether you actually need the IV fluids in the first place!
If giving fluids, realize that 4-2-1 rule is a starting point for maintenance volume… monitor urine output and tailor calculations for the individual.

Favor Isotonic Fluids for Maintenance initially!

This is especially true for pre/post-operative patients or patient in whom there is risk for them having elevated ADH levels (so, like all of the ones who need an IV in the hospital).
Using Isotonic Fluids for Maintenance has proven to be safe [Friedman, 2015], while Hypotonic Fluids have greater risk for hyponatremia.
As with the maintenance volume, the electrolyte composition should be tailored for the individual and monitored closely. Don't let fluids be on "auto-pilot."
References