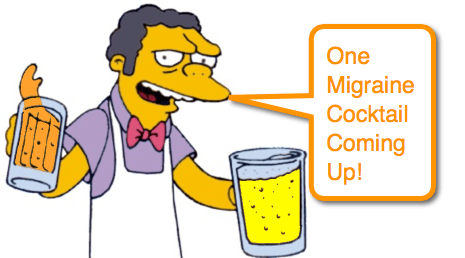 Naturally, the differential for headache in pediatric patients is vast and includes conditions ranging from strep throat to Pseudotumor and pneumonia to AVM. Occasionally, we have to perform invasive tests like Lumbar Punctures to help evaluate the headache. Fortunately, most often the cause of the headache is not a severe pathologic one. While it may be a more benign condition in our minds, though, let us not be cavalier with the Pediatric Migraine patient.
Pediatric Migraine
Headaches are common in the ED

2-3% of ED for all ages.
Account for ~1% of Ped ED visits
Most headaches are due to benign causes.

Prevalence of Pediatric Migraine

Difficult to know true prevalence.
Increases with age:

3-7 yrs: 1-3%
7-11yrs: 4-11%
by 15yrs: 8-23%

Typically have had 2-3 days of headache prior to ED presentation.
Often (>60%) have already tried abortive therapies. [Richer, 2010]
Most are able to be treated effectively in the ED and discharged to home. [Bachur, 2015]
Migraine Therapies for Kids
Ibuprofen

Effective and safe [Evers, 2006; Lewis, 2002]
Considered by many to be first line therapy, but often used by patient prior to arrival in ED.

Triptans

NOT FDA approved for use in children, and are used "off label."
Evidence that NSAID is equally efficacious.
Sumatriptan nasal spray has been shown to be safe and efficacious for adolescents. [Lewis, 2004; Winner, 2000]
Combination of Sumatriptan with NSAID has shown to be effective in adolescents also. [Derosier, 2012]
No ED-Based studies of use of triptans for children available yet.

Prochlorperazine

Shown to be more effective than IV NSAID (my least favorite NSAID). [Brousseau, 2004]
Recent publication showed that prochlorperazine use was associated with lower rate of return ED visits compared to metoclopramide (certainly not causal relationship). [Bachur, 2015]
Often administered with diphenhydramine to prevent akathisia, although also found to be associated with higher return ED visit rates. [Bachur, 2015]
Migraine Approach (in my humble opinion)
Do a thorough neuro exam!

Channel your inner neurologist.
Documenting a truly normal neuro exam goes a long way toward defining this headache as a benign one.

Do a Fundoscopic exam!

Again, let us make sure we are not missing pseudotumor… or a real tumor.
A PanOptic Ophthalmoscope is much easier to use on kids!

Headaches suck… don't be dismissive.

After you have decided that this is a benign headache, realize that the kid doesn't think it is benign.

Try a Triptan

If the patient is an adolescent, this is a reasonable option.

One Migraine Cocktail Coming Up.

There appears to be some evidence to favor Prochlorperazine over metoclopramide.
Keep diphenhydramine handy… remember that you should first do no harm.
References