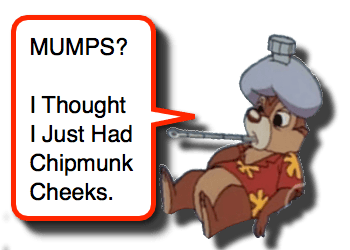 There are many conditions that I have learned about, yet never seen. Some conditions I was not wise enough to diagnose.  Others conditions patient rarely develop have because of vaccinations!  Unfortunately, despite vaccinations, there are still outbreaks of these important conditions.  We've discussed Measles and Pertussis previously. Now, let us look at Mumps!
Mumps: Basics
Mumps virus is a Paramyxoviridae virus.
Mumps is a vaccine preventable disease, although does still occur in outbreaks.

Large outbreaks recorded in UK (2004), USA (2006, 2009) and Netherlands (2009) [Dayan, 2008; Barskey, 2012; Sane, 2014]
Outbreaks have occurred primarily in college-aged adults and patients too old or too young to have been vaccinated.
The vaccine is not 100% effective and there are populations that are unvaccinated.
So, while the vaccine has helped substantially, you still may encounter a patient with mumps!
Compared to measles and pertussis, mumps is generally more benign. [Hviid, 2008]

In pre-vaccine era, mumps was a major cause of aseptic meningitis. [Rotbart, 2000]
Mumps shows a seasonality that shows peak in Winter and Spring.
Mumps is a self-limited illness and resolves within a few weeks.
Mumps: Presentation
Like many childhood viral illnesses… it often looks benign at first.

Prodrome

Fever, malaise, headache.
Some will have ear and/or jaw pain.
Unfortunately, can be contagious during this time. [Kutty, 2010]
Other clinical findings:

Parotitis

Most prevalent finding!
Seen in 95% of symptomatic patients! [Hviid, 2008]
Occurs in first 2 days of illness.
Usually resolves within 1-2 weeks.
Angle of mandible is obscured.
Bilateral involvement is common.
Can involve other salivary glands (not just parotid).

Aseptic Meningitis

Most common extra-salivary gland clinical finding.
CSF Pleocytosis is common (50%), but clinical meningitis occurs in only up to 15% of cases. [Hviid, 2008]
Encephalitis is rare (0.1%).
Permanent sequelae is rare.

Gonadal Involvement

Oophoritis (~5%) or orchitis (~30%) can occur.
Occurs 4-14 days after parotitis, but cases known to occur as late as 6 weeks after.
Testicle swelling and tenderness is usually unilateral. Bilateral in 15-30% of cases with orchitis. [Hviid, 2008]
Oophoritis can mimic appendicitis.

Pancreatitis
Mumps: Parotitis DDx
Obviously, other conditions can cause parotid swelling… and are likely more common! [Hviid, 2008]
When there is no Outbreak, consider these entities as being more probable.
Other Viral Infections

EBV
Parainfluenza virus
Adenovirus
Influenza A
Coxsakievirus
Parvo B19
Human herpesvirus 6
Acute HIV infection

Bacterial Infections

Staph
Atypical mycobacteria

Drugs

Phenothiazines
Iodines
Thiouracil

Miscellaneous

Salivary stones
Salivary tumors
Malnutrition
Diabetes
Sjigren's Syndrome
Mumps: Diagnosis
Clinical definition = Acute onset of unilateral/bilateral parotid swelling or other salivary glands lasting 2 or more days without other clear cause.
Laboratory diagnosis is based on identifying the mumps virus.

Virus can be isolated from saliva, CSF, urine, or seminal fluid within the 1st week of symptoms!
RT-PCR is usually preferred over viral culture.

Serology (ex, IgM level) is not as helpful as RT-PCR and effected by timing of sample during illness and previous vaccination status.
Mumps: Treatment
Symptomatic primarily
Avoid salivary-stimulating foods (ex, acidic).
Keep away from pregnant women in 1st trimester.
Isolate with Standard and Droplet Precautions for 5 days after onset of parotitis. [Kutty, 2010]
References