National Pediatric Readiness Project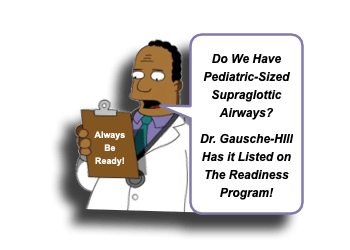 As you all know, one of the common themes of the Ped EMMorsels is remaining vigilant. Clearly it requires our vigilance to find those elusive, rare, yet life-threatening conditions (ex, IEM, CHF, Coarctation) that mimic the more common and benign ailments. Regardless of what conditions arrive in our Emergency Departments, though, we must always be prepared and ready! Our vigilance and readiness benefits children! Unfortunately, not all Emergency Departments are currently prepared and ready to manage the critically ill child. Fortunately, we have leaders in our realm, like Dr. Marianne Gausche-Hill, who (aside from being an awesome person, clinician, and educator) advocates for all Emergency Departments to be ready to care for children! As the month of May approaches, let us take a moment to remind everyone that we can all be prepared – National Pediatric Readiness Program:
National Pediatric Readiness Program: Background
In 2006, the Institute of Medicine (now the National Academy of Medicine) reported that there were ongoing deficiencies in EDs, including availability to equipment, supplies, medications, and policies unique to care of children. [30389843, Remick, 2018]
In 2013, the National Pediatric Readiness Project was initiated as an ongoing Quality Improvement initiative with the goal of improving care of children everywhere. [31444254, Ames, 2019; 25867088, Gausche-Hill, 2015; 30389843, Remick, 2018]

Initially, data was collected from > 4,000 EDs to determine the baseline readiness.
Gaps in the readiness at the state and national levels were determined.
A Score was assigned based on availability of equipment, processes, and expertise (0-100).
Now it is known that hospitals with high ED readiness scores demonstrate a 4-fold lower rate of mortality for children with critical illness than those with lower readiness scores [31444254, Ames, 2019]

Better scores = improved pediatric readiness = improved outcomes for children
Unfortunately, only 33% of the public are within 30 minutes of a pediatric ready ED

.

~90% of the public are located within 30 minutes of an ED able to care for children…
So by improving the pediatric readiness of all facilities we may dramatically augment access to excellent care for all children.
It is not difficult to improve the pediatric readiness of a facility.

It is not costly, and the improved care is worth the nominal expense.
Many improvements do not carry financial costs:

Simply assigning the role of pediatric emergency care coordinator (PECC) to both a physician and a nurse improves readiness. [25867088, Gausche-Hill, 2015]

Having a PECC is associated with increased likelihood that an ED will have a QI plan that incorporates pediatric patients.
Having a pediatric QI plan increases the likelihood that children will be integrated into hospital disaster preparedness plans.
National Pediatric Readiness Program: Often Missed
According to Dr. Gausche-HIll, when previously studied, there are a few common pieces of equipment that are most often missed from the list of recommended items:

Central Venous Catheters for Pediatric Sizes

Infant and Child Nasopharyngeal Airways
Being ready, however, is not just about having all of the correct tools and equipment… processes and planning are imperative:

Quality Improvement plan that includes pediatric patients
Disaster plan that includes pediatric patients
National Pediatric Readiness Program: Be Ready!
This is the challenge… let us all Be Ready! Make sure your ED is Ready too!
The National Pediatric Readiness Program Assessment will launch on May 1, 2021 and remain open through July 31, 2021.

I know it is not yet, April… but let's be serious, it takes us all some time to get the boulder moving!
Since only one NPRP assessment per ED can be completed, print out the assessment now and determine how ready your ED is before completing the online assessment.
Go to  PedsReady.org and review the ED Toolkit
The checklist is at pediatricreadiness.org.
Once your ED is ready, then your ED leadership can

enter the data into

www.pedsready.org.
Each hospital will receive a Pediatric Readiness score from 0 – 100 and will be able to benchmark how their score compares to similar hospitals and the national average.
A gap report is also delivered to participating hospitals so improvements can be made…. it is a QI process after all!
Moral of the Morsel
Be Vigilant AND Be Ready! We all know that we are only as good as our team… and our team is only as good as the surrounding support.
Don't assume. Sure I know you work in a great place that is well staffed and well funded… of course… but, do the children you care for a favor… make sure your ED leadership participates in the National Pediatric Readiness Program!
References