Airbag Injury and Children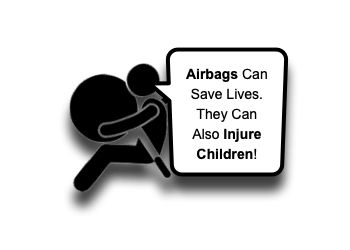 Motor vehicle crashes injure and kill many people each year and children are particularly at risk. While evaluating traumatized children leads us to considering many potential severe injuries (ex, Major Brain Injury, Cervical Spine Injury, Pneumothorax, Aortic Injury, Abdominal Injury), wouldn't it be best to avoid the injury in the first place? Injury Prevention should be apart of our repertoire (and it gives me a great reason to yell at strangers on the highway). Airbags have been successfully used to prevent and reduce injury in adults… but, in fact can actually cause injury in children. Let us take a moment to review Airbag Injury in Children:
Airbag: Injury Prevention
We more commonly deal with the aftermath of accidents, but need take advantage of opportune moments we have to influence safety!
We need to be familiar with national safety recommendations to ensure our patients are being protected.

Many children are improperly restrained in vehicles! [Bachman, 2016; Quinones-Hinojsa, 2005]
In one study, of the 263 children injured by airbag deployment (with 159 fatalities), only 2.3% were "properly" restrained. [Quinones-Hinojsa, 2005]
Another study found that only 3.8% of children were restrained appropriately overall. [Bachman, 2016]

Often the error made was inappropriately placing a child in the front seat.
Current Recommendations: [NHTSA]

State laws may vary, but here are the general recommendations.
Select restraint device based on child AGE and SIZE.
Children should be in the BACK SEAT of the car at least through age 12.
The "Safest" seat in the car is the rear middle seat with appropriate restraint device.
0 – 1 year: Rear-Facing Car Seat
1 – 3 years: Keep Rear-Facing as long as possible. Once the child outgrows the height and weight limits for the rear-facing car seat, use forward-facing car seat with 5 point harness and tether to keep top of car seat stationary.
4 – 7 years: Forward-Facing car seat with 5 point harness and tether. Should remain in this seat until reaches maximum limit for height and weight. Some small 7 year olds will remain in car seat longer than large 6 year olds.
8 – 12 years: Need to be in Booster Seat until big enough to have seat belt fit properly [lap belt lies snugly across the upper thighs/pelvis (not stomach) and shoulder belt is across chest not the neck]. The feet should reach the floor to prevent the child from sliding forward, under the lap belt during a collision.
Older than 12 years: The rear seat is still considered the safest. If sitting in the front passenger seat, should be heavy enough to have the car's airbag system engage appropriately (most new cars have weight restrictions). When sitting in the front seat, teenagers should still move the seat as far away from the dash as possible.
Airbags
Upon a collision: [Grisoni, 2000]

Airbags deploy at 150-200 mph.
Holes in the back of the bag allow gas to escape, facilitating the deflation process.
This occurs within 1/10th of a second.

Collision speeds of 8-12 mph are enough to initiate deployment of the airbag.
Airbag Injury
Airbags can injury car occupants, but particularly children. [Quinones-Hinojsa, 2005; Grisoni, 2000]

Short stature places head at same level of airbag.
Immature neck musculature leads to less neck stability.
Flat occipital condyles allows for easier subluxation.

Even with low velocity car accidents, airbags can injury children who are inappropriately seated in the front seat. [Quinones-Hinojsa, 2005]
Severity of injury is dependent on the proximity of the child to the airbag.
Airbag Injury Patterns:

Facial Burns (from the Hot nitrogen gas)
Ocular Injury (ex, Hyphema)
Head and Neck Injuries are the Biggest Concern!

Children < 1 year of age: [Quinones-Hinojsa, 2005]

Often in rear-facing car seat, thus airbag deploys and strikes the child's head.
Can also force car seat into the passenger seat, crushing infants head.
Head Injury is more often seen with Infants.

Older children: [Quinones-Hinojsa, 2005]

Abruptly stopping causes child to slide forward, becoming closer to the airbag.
The airbag deploys directly impacting the child's face, often causing violent hyper-extension of the cervical spine.
C-spine injury is more often seen in this group.
Moral of the Morsel
Safety Devices can still Injure! Especially when not used appropriately!
Take the Opportune Moments to Guide Your Patients! Your words may be the ones that cause a change in behavior that saves a life!
Airbags EXPLODE with a purpose… but that EXPLOSION can crush an infant's head or snap a child's neck.
YOUNG KIDS SHOULD NOT BE SITTING IN THE FRONT SEAT.
References