Fontan Complications
As more and more children are having successful surgical procedures to compensate for congenital heart disease, the likelihood that one of these post-operative heart patients will present to your ED increases. It is necessary for us to stay aware of not only the basic congenital anomalies, but also the potential repairs and those repairs' complications.
There are several surgical options for the various congenital heart lesions, but the Fontan is the one that has the longest list of serious complications.
The Fontan Procedure
The Fontan is the most common procedure for congenital heart disease after the age of 2yrs.
Refers to any surgical procedure that leads to systemic venous blood flow bypassing the heart and draining directly to the lungs.
Used in patients with single ventricle and/or pulmonary outflow obstruction, like:

Tricuspid Atresia
Hypoplastic left heart syndrome

The procedure connects the inferior and superior vena cava directly to the right pulmonary artery… such that no ventricular contraction drives pulmonary flow.
As you can image, the procedure leads to drastic hemodynamic and oxygen saturation changes, so it often is done in stages to help reduce complications.

Initially a shunt (B-T) is placed between the Subclavian artery and the Pulmonary artery.
Between 4-12 months a Hemi-Fontan (or Bi-Directional Glenn) is done (SVC connected to Pulm Art).
The total Fontan is often completed between 1 and 5 years of age.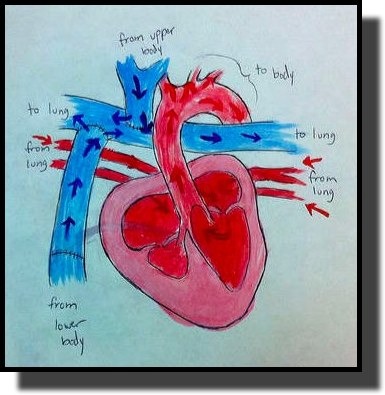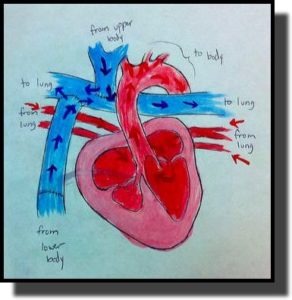 Possible Complications (abridged)
While this procedure has significantly improved the life expectancy for these children (now we actually see Adult Congenital Heart Disease patients), it can also produce  several significant complications.
"Pump Issues"

Arryhthmias & Sudden Death

May occur shortly after procedure or can occur later in adulthood.
Some will require surgical intervention for refractory arrythmias.

Progressive exercise intolerance.
Ventricular failure

Vascular Issues

Thombi and emboli

Pulmonary (75%) and Systemic systems (25%)
There is no consensus about daily anticoagulant therapy, but most will have some form of it.

Stenosis or dilation of the anastomosis sites or conduits.
Collateral vessel development

Pulmonary AVM
Aortopulmonary collateral vessels
Leads to Shunts

Elevated central venous pressures

Venous congestion.

Cirrhosis, liver failure
Portal hypertension, Ascites

Restricted Lymphatic drainage

Pleural Effusions
Pericardial Effusion
Chylothorax

Protein Losing Enteropathy

Deserves separate consideration!
There is a 50% mortality within 5 years of its diagnosis.
Multiple therapies (which points to poor understanding of it).
Gersony WM. Fontan Operation after 3 decades: What we have learned. Circulation. 2008; 117: pp. 13-15.
Woods WA, McCulloch MA. Cardiovacular Emergencies in the Pediatric Patient. Emerg Med Clin N Am. 2005; 23: pp. 1233-1249.