Intussusception Discharge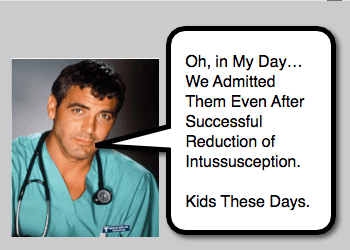 The Ped EM Morsels have discussed several medical myths (ex, Atropine, Morphine for Appendicitis, IV Fluids for rehydration), but remember that "myths" were not born from madness.  Previously, physicians were not maliciously inventing erroneous plans; they were doing what was deemed most appropriate based on the available information.  This, thus, means that it is incumbent upon all of us to continually reassess management strategies as newer data becomes available.  Along that line of thinking, let us consider the appropriate disposition of a child with intussusception: Intussusception Discharge from the ED to Home.
Intussusception Basics
Intussusception is the most common cause of gastrointestinal obstruction in children.
Abdominal pain is the most common complaint in children with intussusception. [Mandeville, 2012]
Once diagnosed, Hydrostatic / Pneumatic Reduction is first choice to treat.

Air enema or saline enema success rates reported as 80 to 95%
Should not be done if there is concern for bowel perforation.

Occasionally, surgical intervention is required if:

Evidence of peritonitis / Free air present / Patient clinically unstable
Hydrostatic/pneumatic reduction unsuccessful
Pathologic lead point present
Multiple recurrences of intussusception
Intussusception Recurrence
Recurrence rates after successful reduction:

Overall: 5-15%. [Beres, 2014; Whitehouse, 2010]
In the first 24 hours: 2-5%. [Gray, 2014; Chien, 2013]
In the first 48 hours: 2-5%. [Gray, 2014; Chien, 2013]

The recurrence rates do not differ significantly between those children discharged from the ED and those who were hospitalized. [Beres, 2014; Whitehouse, 2010]
Intussusception Disposition
Historically, after successful reduction a patient would be hospitalized to monitor for:

Possible recurrence
Possible complication of the reduction
Possible ischemic changes of the intussusceptum via serial exams
How long is long enough though? – 6hrs? "Overnight?" 24 hours? 48 hours?

The practice variance for disposition amongst hospitals is vast:

For patients successfully reduced the percent discharged the same day ranged from 0% to 83.8%. [Rice-Townsend, 2012]
Overall rate of same day discharge after successful reduction was 15.2%. [Rice-Townsend, 2012]
Based on low recurrence rates and low rates of complications, many are recommending discharge from the ED following successful reduction. [Raval, 2015; Beres, 2014; Whitehouse, 2010]

Whitehouse, 2010 proposed discharging patients after successful reduction if:

Patient is afebrile
Patient is hemodynamically stable
Patient is tolerating oral hydration (requires period of observation in the ED).

Additional considerations should include:

Patient should be pain-free
Patient requires good social situation and easy access to transportation
Moral of the Morsel
There is evidence to support a change in some of our practice… or at least a prospective study evaluating the safety of discharge from the ED .
Recurrence happens, but hospitalization does not appear to alter the rate of recurrence or the rate of complications.
The management of intussusception is multi-disciplinary and it is necessary for us to understand how the surgeons and radiologists interpret this data.
If your local practice is to discharge appropriate patients after successful reduction, ensure you have a system to reinforce appropriate anticipatory guidance and return precautions.
References