Pediatric Traumatic Hip Dislocation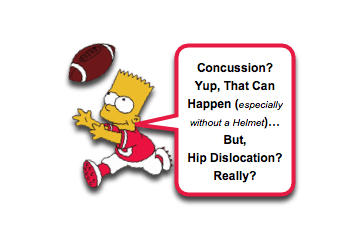 Pediatric hip pathology is a common consideration. From SCFE to Legg Calve Perthes Disease and from Septic Arthritis to Osteomyelitis, there are many conditions that may present with hip pain. Of course, trauma is the most common cause of morbidity and mortality in children and, thus, may be the precipitant of the ED visit so we should consider Minor Pelvic Fractures as well as Major Pelvic Fractures. One condition that I had not encountered until this week (while working with @katielupez – chief resident extraordinaire) is Pediatric Traumatic Hip Dislocation. Isn't this managed just like with adults? Let's take a moment to digest a Morsel on Pediatric Traumatic Hip Dislocation:
Pediatric Hip Dislocation: Basics
Traumatic Hip Dislocation rarely occurs in children. [Basaran, 2014]

Pediatric hip dislocations account for < 5% of hip dislocations. [Baker 2011]
In males with sports-related hip injuries, 7.7% had hip dislocations. [Stracciolini, 2016]

Can lead to debilitating consequences and should be considered a true emergency.
Posterior hip dislocations are more frequent than anterior (similar to adults). [Basaran, 2014]
Age Matters:

In adults and CHILDREN 10 years and older, native hip dislocation is associated with high energy mechanisms.[Morris, 2017; Basaran, 2014]
In children < 10 years of age, hip dislocation can occur with lower energy mechanisms (ex, sports-related events) [Yuksel, 2017; Basaran, 2014; Haverstock, 2013; Hung, 2012; Baker, 2011]

May be related to increased ligamentous laxity seen in surrounding structures.
May also be why there are less associated acetabular fractures in children vs adults. [Hung, 2012]
Pediatric Hip Dislocation: Complications
Sciatic Nerve Injury

Most frequent complication [Yuksel, 2017; Hung, 2012]

Avascular Necrosis [Yuksel, 2017]

The vascular supply to the proximal epiphyseal plate of the femur can be disrupted.
Greater risk of AVN seen with:

Older aged children (>10 years)
Higher energy mechanism 
Prolonged dislocation time (> 6 hours)
Determined epiphyseal injury.

Usually develops within the first 3 years after injury (so continued follow-up is needed).

Physeal Injury

Young children have those pesky open growth plates.
Initial impact/injury can injure physis.
Reduction can injure physis.

Incongruous Relocation [Morris, 2017]

Proper reduction can be obstructed by various tissues – capsule, labrum, loose body fragments, etc
Can be very subtle

Especially on plain film
Patients may also have nonspecific symptoms.

Post-traumatic Arthritis

Usually develops 4 years after injury.
Incongruous Relocation can increase the risk of this.

Myositis ossificans
Recurrent Dislocation

Incidence is higher in children than adults.
Pediatric Hip Dislocation: Management
Timely and correct reduction is one of the best means to reduce complications. [Yuksel, 2017; Morris, 2017; Hung, 2012]

4-6 hours is the most often reported time delineation.
Reduction after 6 hours is associated with increased risk of AVN.
CLOSED Reduction should be performed as soon as possible.

For children, many advocate for the reduction to occur IN THE OR. [Yuksel, 2017]

Since the open growth plate can be injured during reduction, optimal muscle relaxation is critical.
Fluoroscopy is often also performed to ensure proper reduction.

Various reduction techniques have been successfully used for children. [Yuksel, 2017]
Often gentle longitudinal traction is successful. [Baker, 2011]
If incongruent after reduction, will need further evaluation.

Arthroscopic evaluation has been advocated for, which could be done immediately if in the OR. [Morris, 2017]
If post-reduction joint space is > 2mm on plain film, then advanced imaging (MRI) is warranted. [Yuksel, 2017]

Reduction in the ED via procedural sedation has been safely done and may be considered if: [Yuksel, 2017; Baker, 2011]

OR not immediately available, thus prolonging dislocation time.
Adequate muscle relaxation can be achieved via procedural sedation safely.
Care is taken to not secondarily injure the growth plate.
OPEN Reduction should be considered for:

Fracture-dislocation
Unsuccessful closed reduction attempt (2 attempts) [Baker, 2011]
Post-reduction imaging is warranted. [Baker, 2011]

AP pelvis and frog leg lateral view of hip are often done.
Plain films and CTs can be inadequate to evaluate the pediatric acetabulum and its associated structures, so MRI is advocated for. [Thanacharoenpanich, 2018; Hearty, 2011]
Post-reduction immobilization is mandatory. [Yuksel, 2017; Hung, 2012]

Duration of immobilization, non-weight bearing status, and partial weight being status is debated.
Immobilization immediately following reduction is required to allow the surrounding soft tissues to heal adequately.
Moral of the Morsel
It doesn't have to be a car accident! Low force mechanisms can lead to hip dislocations in young children.
Don't forget the trauma though! Just because lower forces can lead to hip dislocations, don't forget to look for other associated injuries … or consider … unfortunately, non-accidental trauma.
Don't yank on the growth plate! It is fragile and this is not the time to demonstrate how much you've been working out in the gym. If the OR is available, that may be the better place for the child! If it is not available, make sure you can safely relax those muscle and then be super gentle.
References