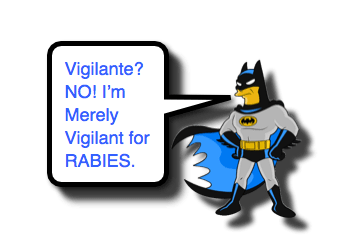 There are many conditions that are rarely encountered, but warrant great concern due to the level of morbidity and mortality associated with them.  HSV comes to mind. RMSF is another good example.  Some of these conditions were once more common, but have become rare due to vaccinations (See Measles and Mumps).  One condition that deserves some particular attention in this realm is Rabies.  Let us take a Morsel of time to review what needs to be considered with respect to Rabies in the ED.
Rabies: Basics
Rabies is caused by RNA viruses (Lyssavirus genus), which are NOT viable outside the host.
Transmission requires direct exposure of saliva or neural tissue through broken skin (ex, bite wound) or mucosal contact. [Willoughby, 2015]

The virus replicates in the injured muscle tissue then migrates along nerve tissues and eventually enters the CNS.
There are some unusual cases of non-bite exposures (such as transmission via Transplantation).
Infection leads to progressive encephalitis and eventual death.

Initial presentation can include a wide variety of symptoms.
Onset of symptoms typically is 1-3 months after exposure.
It is a nearly 100% fatal condition, but is also entirely preventable with appropriate animal vaccination and prophylaxis. [Bailey, 2013]
Rabies: Bigger Problem than Known
Globally, rabies is under-reported. [Hampson, 2015]

Death often occurs away from medical facilities.
Misdiagnosis is frequent.
Surveillance systems are inadequate. [Taylor, 2015]
Rabies disproportionally affects the lower socioeconomic regions. [Wallace, 2016; Hampson, 2015]

Domestic animal vaccination is expensive.
Post-exposure prophylaxis is expensive.
The cost associated with rabies vaccination as well as post-exposure prophylaxis is significant.
Rabies: Which Animals are Rabid?
All mammals have the ability to be reservoirs and transmit the virus.
Most commonly, carnivorous mammals are the vectors.
Dogs are the most common culprit associated with human deaths worldwide.

Domestic animal vaccination has greatly reduced canine associated cases.
In countries with high canine vaccination, Bats, Foxes, Skunks, and Raccoons are important vectors.
Bats are the most common source of rabies in the USA (again, due to canine vaccinations).
The Problem with Bats:

Bats are tricky (kinda like kids).
It is possible for a bat bite to go unrecognized. [Udow, 2013]
Bat-acquired rabies is more likely to be initially misdiagnosed than dog-acquired rabies. [Udow, 2013]
Most deaths in the USA by bat related rabies have no known exposure. [Willoughby, 2015]
What this boils down to:

Any physical contact with a bat, bite or not, is high risk!
Possible physical contact (found in room of sleeping child or intoxicated/mentally impaired person) warrants concern as contact cannot be reliably excluded.

Ideally, testing the animal would clarify the issue.
If the animal is not available, the person should be treated prophylactically.
"

We Have the Animal

!"

Rejoice!
If the animal is domesticated (i.e., dog, cat), the animal can be quarantined and monitored for 10 days.

If no symptoms develop in the animal, then the patient does NOT need post-exposure prophylaxis.
If post-exposure prophylaxis was initiated, it can be stopped if the animal remains well.

If the animal is wild, it can be sacrificed and tested.
Rabies: Post-Exposure Prophylaxis
CLEANSE THE WOUND

Just like any wound… irrigate it well.
This may potentially decrease virus in the wound.
Remember to protect yourself!! Wear eye protection! (Rabies splashed in your eye will make for a bad shift.)
Human Rabies Immune Globulin (HRIG)

Gives passive immunity to help defend against the virus.
Give to patients who have not had recent rabies vaccination.
Give concurrently with 1st dose of vaccine.

But not in the same syringe or in the same location.
HRIG could, in theory, inactive the vaccine.

Recommended dose = 20 Units/kg, rounded to the nearest whole vial size (in other words, don't waste the vial, use all of it). [Bailey, 2013]
Give as much of the HRIG around the bite site, if it is identifiable. Remaining dose should be given IM in deltoid, quad, or anterolateral thigh.
In the future, there may be another therapy to use – human monoclonal antibodies. [De Benedictis, 2016]
Rabies Vaccine

Induce active immune response.
There is a delay in the production of antibodies.

Delay may be ~ 1 week.
If HRIG was not given concurrently with 1st vaccine, it can still be given up to 7 days… but not afterward.

Immunity can last for several years.
Dose is 1 ml given IM in the Deltoid (but not the deltoid HRIG was given in). [Bailey, 2013]

REGIMEN:

If patient treated with PRE-exposure prophylaxis (if person is traveling to high risk areas or has a high-risk job), then:

Needs 2 doses of Rabies Vaccine (and no HRIG)
Day 0 and Day 3

If no PRE-exposure prophylaxis, then:

Needs 4 doses over 14 days (in addition to HRIG on Day 0)
Day 0, Day 3, Day 7, and Day 14

If no PRE-exposrue prophylaxis AND immunosuppressed, then:

Needs 5 doses over 28 days (in addition to HRIG on Day 0)
Day 0, Day 3, Day 7, Day 14, and Day 28
References