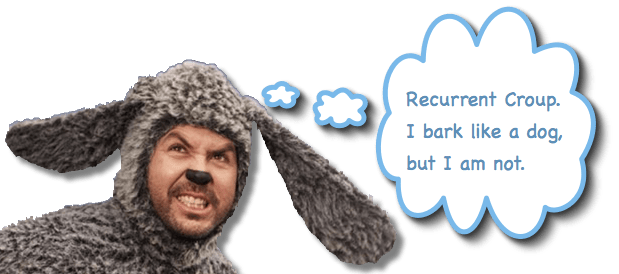 Once again, a common theme of the Morsels is a need for vigilance. Unfortunately, sometimes those seemingly straight forward cases of vomiting in fact are due to an Inborn Error of Metabolism and it requires our vigilance to make the diagnosis.  Many of us, however, also abide by the rule that "if it looks like a duck, walks like a duck, and quacks like a duck, then it is a duck."  So what should we make of the patient who presents with what looks and sounds like croup, but it is recurrent?
Croup Basics
We have dealt with the common issue of Croup previously.
Croup caused by viral infection effecting the larynx, trachea, and/or bronchi.
Characterized by barking cough and stridor.
Can be associated with respiratory distress.
Typically seen during the Fall and Winter months.
Croup vs Recurrent Croup
Viral Croup is does not usually occur more than once (or twice) in a year in a otherwise healthy child.
Croup like symptoms that occur more frequently (>2 a year) have been called "Recurrent Croup."
Essentially, recurrent croup is not due to a viral etiology and should be considered a RED FLAG for another condition.
Recurrent croup can be the presentation of underlying intrinsic or extrinsic airway narrowing.
Croup

Usually 1-2 episodes per year
Ages: 6 mos – 3 years with peak at 2 years
Usually short in duration (1-2 days)
Standard therapy usually treats the symptoms
Recurrent Croup

> 2 episodes per year
Any age.  Be suspicious of croup in a child < 6 months or > 3 years of age.
Relapsing and remitting course. Can persist over weeks.
Some or no response to standard therapy for croup.
Recurrent Croup – Some Causes to Consider
Airway

Subglottic stenosis

Congenital
Traumatic – from prior intubation

Subglottic cysts
Subglottic hemangioma

Look for hemangiomas on the child's face, particularly the beard distribution.

Recurrent respiratory papillomatosis
Vocal cord paralysis
Tracheoesophageal fistula
Tracheomalacia

Others

Foreign Bodies
Congenital cardiovascular abnormality
Gastroesophageal reflux
Asthma / Allergy
Mediastinal mass
Timing of Stridor
Not everything works as planned… but listening to the timing of the stridor can help point toward potential cause.
Inspiratory

Supraglottic problem
Laryngomalacia is an example.

Expiratory

Tracheal pathology
Ex, compression from aberrant vascular structure.

Biphasic

Glottic or Subglottic problem
Subglottic stenosis or vocal cord paralysis are examples.
The Moral of the Morsel
If you are taking care of a child who is presenting with what appears to be croup, but this marks the 3rd or greater occurrence of it, then you are dealing with Recurrent Croup.
Recurrent Croup should be considered a

RED FLAG

for something that isn't as simple as a viral illness (perhaps one of those needles of serious disease in the haystack of coughing).
Anatomic abnormalities have been reported in a significant proportion of patients with recurrent croup.
Have a lower threshold for checking plain films for possible foreign bodies.
Most, if not all, of these patients will require bronchoscopy by ENT to rule out anatomic abnormalities.
References