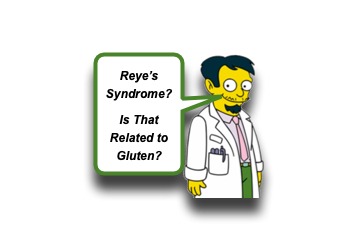 Call me crazy, but discussing Measles last week got me feeling nostalgic. Mumps, Tetanus, and Chicken Pox similarly harken back to the early days… you know, when safe and reliable vaccines didn't exist. I distinctly remember having chicken pox personally (and my poor sister had them even worse!), but now you are more likely to see primary varicella in a book than on a child. Certainly, recent news has made it apparent that we still need to remain vigilant for these conditions. Let's take a quick moment to recall another condition that was once more prevalent, but still demands our respect today – Reye's Syndrome:
Reye's Syndrome: Basics
Reye's Syndrome was first describe in 1963 (by, you guessed it, Reye et al.). [Reye, 1963]
May occur at any age in childhood, although higher rates in children < 2 years of age.
Currently it is rare, but can still be seen. [Noor, 2018]
Death occurs in ~30-40% of cases due to brainstem dysfunction.
Etiology is not clearly known.

Possible that it isn't due to one causative agent, but rather different mechanisms that have similar final results. [Schror, 2007]
An association (although not clear causality) is described between recent viral illness and aspirin therapy.

Reye's Syndrome rates declined after warnings to avoid aspirin therapy in children. [CDC.gov]
Reduced rates may also be due to better understanding of alternative diagnoses that present similarly. [Schror, 2007]
Aspirin therapy is still reserved in children for specific conditions (ex, Kawasaki) rather than for fever management. [Schror, 2007]

May be related to inducible Nitric Oxide synthase that is seen as a consequence of a variety of factors, including viral illness and aspirin therapy. [Clark, 2001]
Presentation:

Presents after a recent viral illness.

Often a near recovery from antecedent illness is seen with dramatic worsening after a few days. [Ninove, 2011]
Gastroenteritis, Varicella, and Influenza are classically described as being associated with Reye's Syndrome.

Patients develop acute:

Vomiting
Change in mental status (disorientation, loss of consciousness)
Seizures

May be found to have Hepatomegaly and Hypoglycemia.
May have evidence of Cerebral Edema.
Reye Syndrome is characterized by combination of: [Noor, 2018; Ninove, 2011; Gosalakkal, 2008]

Acute Non-inflammatory encephalopathy

If CSF is available, WBC count < 8
If histology available, cerebral edema has no perivascular or meningeal inflammation

Acute liver disease

Fatty changes of the liver or
3 fold increase in ALT, AST or
Hyperammonemia

No other clear etiology for these findings.
Reye-Like Syndrome
Many other conditions can present similarly and mimic Reye Syndrome. [Gosalakkal, 2008]

Inborn Errors of Metabolism

Mitochondrial disorders
Fatty-acid oxidation disorders
Urea Cycle disorders

Viral Encephalitis
Drug Overdose & Toxicity
Trauma
Currently, because Reye's Syndrome is rarely encountered, patients presenting with findings concerning for Reye's Syndrome should have other conditions ruled out. [Gosalakkal, 2008]
Moral of the Morsel
History seems to repeat itself. Stay vigilant even if a condition is rare now.
Consider possible aspirin therapy in the altered patient. Change in mental status and hyperammonemia may be be more than liver disease.
Inborn errors of metabolism are sneaky! Aspirin may not explain it all.
References