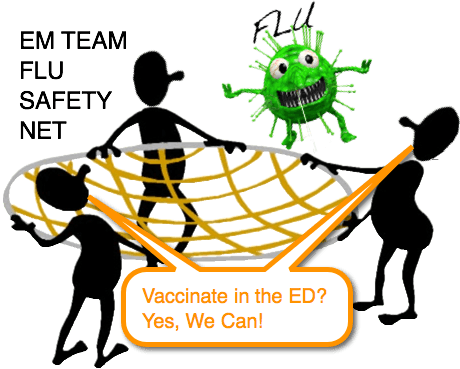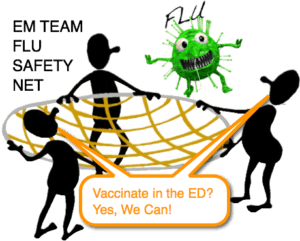 Obviously, the audience (you all) who read these Morsels love critical care topics (Post-Tonsillectomy Hemorrhage has been the most viewed Morsel since it was written in 2012), but excellent care in the Peds ED often requires some considerations that emergency providers don't often list in their skill set.  Issues that we might assume are in the realm of the Primary Care provider (ex, Asthma Control, Developmental Milestones, Firearm Safety, Submersion Prevention, and Injury Prevention) actually can play critically important roles in the management of our patients in the ED.  One such topic is Vaccinations.  We need to help children stay healthy by giving at risk patients the Influenza Vaccination.
Vaccination in the ED is NOT Unusual
The ED is a critical frontier for public health.

This is certainly true for critical injuries and illnesses.
It is also true for sub-acute and chronic disorders.
It has an equally important role in injury and illness prevention.
The ED has already been administering vaccinations as part of appropriate care.

Tetanus

Every time someone scratches their skin, we "update the tetanus."
Now, this actually should include "update the diphtheria." [CDC Tdap Recommendations]

Rabies
Influenza
Influenza is highly contagious.
Influenza can may cause mild disease, but can also lead to severe illness and complications. [CDC, Disease Burden]
Anyone can contract the illness, but there are special populations who are at greater risk from the disease:

>65 years of age
Pregnant (and up to 2 weeks post partum)
Residents of long-term care facilities
Children <5 years of age (particularly <2 years of age)
Patient with chronic medical problems (abridged):
Influenza Vaccination has proven to be an effective means to reduce influenza-related morbidity.
Vaccination of one group of at risk patients can also reduce influenza-related morbidity morbidity in other groups. [Gatewood, 2011]
Unfortunately, influenza vaccination is still underused among at risk patients. [CDC, Flu Vaccination Rates]
Vaccination for Influenza in the ED
The vast majority of the vaccination should occur in the outpatient environment, but there are potential barriers to achieving this:

Lack of access to primary care office visit during the vaccination period
Lack of education about specific risk
Lack of education about recommendations
Parental preference / concern for vaccine safety [Strelitz, 2015]
Provider discomfort (hopefully, you are less uncomfortable now)
An ED visit offers an opportunity to influence many of these barriers.

Certainly discussing influenza, at risk populations, and the recommendations can improve awareness and influence subsequent vaccinations.  [Dappano, 2004]
Offering the influenza vaccination in the ED has also proven to be helpful. [Dappano, 2004]
Having a concurrent illness should not prevent vaccination.

The largest group of at risk patients we encounter in the ED are patients with asthma.
Does being on steroids interfere with the vaccination? NO.
Influenza vaccination can be given safely and effectively to kids with an asthma exacerbation even if they are on steroid therapy. [Park, 1996]
Moral of the Morsel
Providers in the ED encounter patients when they are most receptive to education about their illness.
Patients with asthma are often cared for in the ED and are one of the at risk populations.
Help prevent that patient from returning to the ED or causing someone else from becoming ill by expanding the exposure to influenza vaccination.
References