Kawasaki Disease Shock Syndrome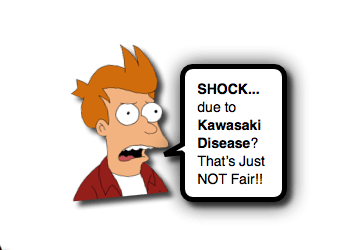 Evaluating and managing the child in SHOCK is certainly challenging. Identifying it (ex, Cap Refill, Shock Index, Lactate level) is challenging. Treating it is also challenging (see, Epi over Dopa). The challenge of determining the cause, though, should not be underestimated. While Sepsis, Trauma (Abdominal, Chest, Aortic), PE, Tamponade, Myocarditis, Heart Failure, Intussusception, Adrenal Crisis all deserve a place on the list of differential diagnoses, there is another condition to keep in mind- Kawasaki Disease Shock Syndrome:
Kawasaki Disease: Quick Review
Kawasaki Disease is also called mucocutaneous lymph node syndrome.
It is is a SYSTEMIC vascular inflammatory disease.
It is characterized by:

Unexplained Fever lasting > 5 days with:

Bilateral, non-exudative conjunctivitis
Oral mucosa membrane changes (ex, strawberry tongue, red lips)
Cervical lymphadenopathy 
Skin Rash
Swelling of the hands and feet 

Desquamation can be noted as well.
Often clinical findings do not occur contemporaneously.
Can also present in an Incomplete manner.
Can develop significant cardiovascular complications.

Coronary artery aneurysms (CAA) may develop in 20-25% of untreated patients.

Can lead to occlusion of vessel and cardiac ischemia.
Can also lead to coronary artery rupture.

Appropriate treatment with IVIG and ASA can reduce incidence of CAA to 3-5%.
Kawasaki Disease Shock Syndrome
In 2009, a shock syndrome was attributed to Kawasaki Disease during its acute phase. [Kanegaye, 2009].
Hypotension and Shock defined by either:

Systolic hypotension for age,
A decrease in systolic BP from baseline of >/= 20%, or
The diagnosis of Kawasaki Disease is made using the typical clinical features, but recognition of it in a patient in shock can be difficult. [Ma, 2017]

Missed diagnosis and delayed diagnosis can occur. [Ma, 2017]
Can look similar to Toxic Shock Syndrome. [Lin, 2015; Yim, 2010]
Can also have incomplete presentation (just to complicate your day further) [Taddio, 2017]

Look for sterile pyuria, gallbladder hydrous, uveitis
May also be seen in kids < 6 months of age.
The cause is yet unclear, but may be multifactorial. [Ma, 2017]

Systemic inflammatory vasculitis leads to:

Increased vascular permeability
Hypoproteinemia (albumin leaked from capillary beds)

Myocardial damage, mitral regurgitation, and cardiac systolic dysfunction [Kanegaye, 2009]
Acute myocarditis can also occur.
The immune inflammatory response has been found to be more intense in patients with Kawasaki Disease Shock Syndrome compared to KD without shock. [Ma, 2017; Chen, 2013; Kanegaye, 2009]

Higher inflammatory markers.
Patients found to be more resistant to initial treatment of IVIG.

May require additional doses of IVIG
May require adjunctive therapy as well (ex, steroids).
While initial response is poor, therapy can resolve cardiovascular abnormalities. [Taddio, 2016]
Red Flags for Kawasaki Disease Shock Syndrome
History and Physical Exam:

Kawasaki Disease occurring in older children
Prolonged fever duration (when compared to KD without shock)
Laboratory Studies

Higher levels of inflammatory markers (ex, CRP, PCT) – 3 fold higher!
Lower albumin levels
Anemia
Consumptive coagulopathy
Bandemia
Hyponatremia [Schuster, 2017]
Clinical Findings

More severe skin rash
Myocardial dysfunction (ex, higher BNP and Troponin I levels, arrhythmias)
More severe coronary artery involvement (Echo will be helpful!)
Poor response to IVIG (more than 50% do not respond initially)
Moral of the Morsel
Remain vigilant! Not all hypotension is from bacterial infections.
Look at the entire picture. Put the pieces of the puzzle together. Does it add up to sepsis… or something else?
Kawasaki Disease just augmented its game! Put Kawasaki Disease on your list of items that lead to a child being critically ill and hypotensive!
Take a look! Echocardiogram may help distinguish Kawasaki Disease Shock Syndrome from Toxic Shock Syndrome.
References