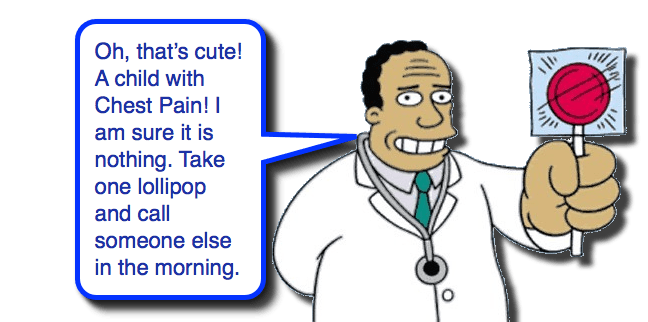 Children like to pretend to be grown-ups.  Unfortunately, sometimes they develop grown-up problems (Cholelithiasis, Kidney Stones, and Hypertension).  Additionally, often kids will complain of symptoms that warrant great concern in adults, but often engender apathy when considered in children. Chest Pain is a great example of one of these complaints.
Chest Pain: Hysteria vs Vigilance
The odds are in favor of being reasonable

Only ~1-6% of chest pain in children is due to a cardiac cause
GI cause – 2-11% of chest pain
Musculoskeletal – 2-11% of chest pain
No Identifiable cause – 21-45% of the time!

Yet, our job requires vigilance for find the rare dangers!
Culprits to Consider
Cardiac

Hypertrophic Cardiomyopathy

ECG abnormal in 95% of cases
Left Axis Deviation
Large Voltages
Deep, narrow Q waves in lateral leads
Deep, narrow T wave inversions in lateral leads

Dysrhythmias

Look specifically for:

Prolonged QTc, Short PR, delta waves, evidence of HOCM, ST Elevations, symmetric TWI, AV Blocks, Brugada Sign.

Pericarditis
Ischemia

Pulmonary
Heme
Vascular
Chest Wall
Chest Pain: Evaluation
The goal is to balance risk of the rare with risk of over-testing.
Reasonable screen for cardiac etiology [Kane, 2010]:

Chest Pain with Exertion?
High-risk family history (ex, unexplained sudden death)?
Abnormal exam (ex, murmurs, hepatomegaly)?
Abnormal ECG

Reasonable screen for pulmonary etiology:

CXR

Obviously useful… but perhaps leads to unnecessary imaging.

If pneumothorax is your primary concern, consider the Bedside Ultrasound

There are plenty of studies  that demonstrate that U/S is more sensitive than supine CXR in the setting of adult trauma.

U/S – ~90% sensitive
Supine CXR – ~50% sensitive
Erect CXR has increased sensitivity (~90%), naturally.

U/S is naturally operator dependent… and in this case the operator is you… so are you dependable?
Moral of the Morsel
For the young patient presenting with chest pain, be vigilant, but be reasonable.
Screen for badness with:

Thorough history and directed physical exam
ECG
Ultrasound and/or CXR.
References