Pediatric Ramsay Hunt Syndrome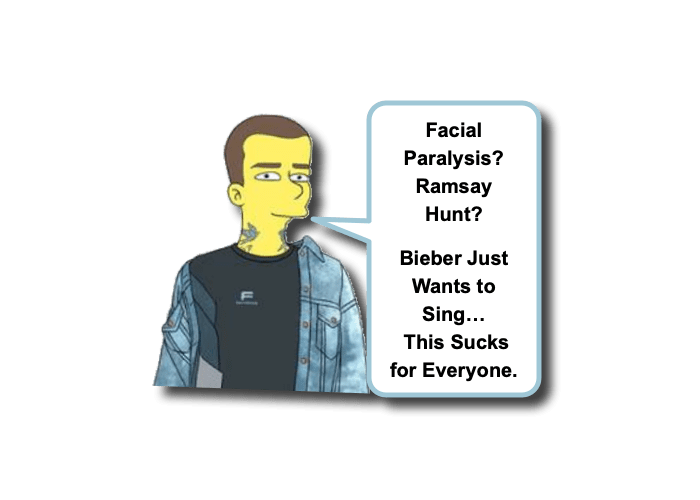 Say it ain't so, Bieber! We all just want you to sing… but I guess that is challenging to do when half of your face does not move. (Ok… full disclosure… I am that Dad that sings songs loudly to embarrass my children… it is my right! But, in exercising this right, I have come to enjoy Bieber's lyrical verses… oh what an ironic twist of fate.) It is, honestly, kind of creepy to know that a virus is just living in our nerves… waiting… for that most inopportune time to re-emerge and cause distress. We have previously discussed Varicella Zoster Virus (VZV) and Chickenpox as well as Facial Paralysis. Now let us see how the two may be related – Ramsay Hunt Syndrome:
Ramsay Hunt Syndrome: Basics
Ramsay Hunt Syndrome is characterized by: [Aydogdu, 2015; Derin, 2014]

Cochleovestibular Symptoms
Due to reactivation of Varicella Zoster Virus (VZV). [Aydogdu, 2015; Derin, 2014]

VZV is latent within the geniculate ganglion.
Reactivation affects CN VII and CN VIII.
Also known as "Herpes Zoster Oticus."
Ramsay Hunt Syndrome is rare in children. [Aydogdu, 2015; Derin, 2014]

Incidence estimated at 2.7/100,000 Children.
Develops in 1% of patients with HSV infection.
~10 – 15% of Facial Paralysis is due to Ramsay Hunt Syndrome.
However, it is still the 2nd most common cause of Facial Paralysis in children (Bell's Palsy is #1).
Symptoms and Prognosis are worse than those for Bell's Palsy. [Aydogdu, 2015; Derin, 2014]
Ramsay Hunt Syndrome: Presentation
The syndrome is characterized by 1) ear rash, 2) peripheral facial paralysis, and 3) cochleovesicular symptoms… but…

Initial presentation can be subtle at first and…
Symptoms evolve over time (so initially you may not see all 3 characteristics).
Nonspecific findings occur initially: [Aydogdu, 2015]

Often starts with a "Viral Prodrome" (like all things in pediatrics).
Fever and fatigue.
Often lasts for 1-3 days.
Skin Rash develops next: [Aydogdu, 2015; Derin, 2014]

May start with Ear Pain (think about the pain felt prior to the rash of zoster being seen).

Develop erythematous vesicular lesions.
May be on the pinna or in the external auditory canal or on the Tympanic Membrane.
May ALSO involve the oral mucosa!

Can see vesicles on anterior tonsillar pillars.
May also see lesions on anterior 2/3rds of the tongue.
Cranial Nerve Involvement then develops. [Aydogdu, 2015; Derin, 2014]

CN VII

Facial Paralysis develops within 1-2 weeks after rash develops.

CN VIII

May present with:

Nausea, Vomiting, Vertigo, Nystagmus
Tinnitus, Hearing Loss (occurs in ~24% of children with Ramsay Hunt Syndrome (RHS)).
Can be more prominent than the facial paralysis.

Less commonly seen in children than adults with RHS.
Presence of these findings is associated with worse prognosis.
Ramsay Hunt Syndrome: Management
Diagnosis is made clinically. [Aydogdu, 2015; Derin, 2014]

VZV IgG and IgM antibody titers can be measured to confirm diagnosis.
Lab values do not, however, determine management.
Therapies to consider: [Aydogdu, 2015; Derin, 2014]

Antiviral Rx (ex, Acyclovir)

Inhibit viral replication, reduce formation of new lesions, and allow for earlier healing.
Ideally started within the first 72 hours.

High-Dose Steroids (ex, Methylprednisolone)

Reduce the inflammation of the peripheral nerves.
Combined steroid with antiviral therapy is more effective than steroids alone.

Eye Care

Due to the facial paralysis, the eye will be at risk for not being protected.
Eye lubricants are recommended.

Nausea/Vertigo Management
Moral of the Morsel
Once again… Viruses are not benign! Whether from a Pandemic or from your own nervous system, viruses can do a lot of damage!
Fever and Ear Pain without AOM. Hmmm… maybe this is early RHS. The otalgia may be the only symptom in the first 3 days.
Bell's Palsy? Are you certain? Really evaluate for ear pain / rash or other vertigo symptoms.
Steroids and Acyclovir. Simple and effective. Try to start them early!
References