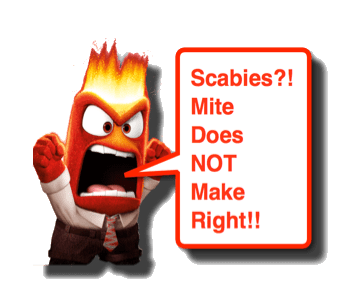 "Scabies." I know that you are already itching. Soon it will be uncontrollable. The Ped EM Morsels have covered several conditions that cause pruritus (ex, Eczema, Tinea Capitis, Hyperbilrubinemia) as well as a general approach to Rashes, but nothing will make a patient, or a clinician, more uncomfortable than the potential for the patient having Scabies!
Scabies: The Ultimate Itch
Scabies is a skin disease causes by infestation of a mite, Sarcoptes scabiei var. hominis.
The mite burrows into the top layers of skin, where the female will lay her eggs.
After 4-6 weeks, patients develop an allergic type reaction to the mite's proteins and feces.
Intense pruritus leads to problems!

The itch leads to lots of scratching.
Lots of scratching leads to mechanical injury to the skin.
Skin injury allows for secondary bacterial infections (Staph and Strep) and complications:

Suppurative complications

Impetigo
Cellulitis
Subcutaneous abscesses
Sepsis

Non-Suppurative complications

Acute post-streptococcal glomerulonephritis

~50% of acute post-strep GN in tropical settings is due to skin infection. [WHO]

Rheumatic heart disease

Scabies related skin infections offers an explanation of high rheumatic heart disease rates in countries with low rates of strep pharyngitis. [Parks, 2012]
Scabies: Under-appreciated
Scabies is more than a nuisance and control is a challenge. [Engelman, 2013]
Scabies is one of the most prevalent skin conditions worldwide.

130 MILLION people have scabies at any one time worldwide. [WHO]
Effects ~5-10% of children in developing countries.

Effects people from every country, but is most prevalent in at risk populations:

Populations with poor access to resources
Young
Elderly
Scabies: Different in Children
Children may present with different clinical findings than adults.
Infants are more likely to have: [Boralevi, 2014]

Facial / Scalp involvement
Palm and plantar lesions
Dorsum of the forefoot lesions!

Children (2-15 yrs) are more likely to have relapses. [Boralevi, 2014]
Burrows are observed in all age groups, but not necessary for the diagnosis.
Nodules also are seen in all age groups, but in infants more often in axilla and back locations.
Look actively for burrows, axillary nodules and involvement in the soles, dorm of the forefoot, and scalp/face! [Boralevi, 2014]
Scabies: Treatments
No treatment is perfect.
Summarized nicely by Mousey and McCarthy [2013]
Permethrin 5% Topical

1st line in many countries
Good safety profile and effective
Recommended to apply twice (2nd treatment 1 week after 1st treatment) to kill residual eggs that subsequently hatch.
Limitation = expensive cost

Benzyl Benzoate Topical

Dosage: Adults – 25%; children 10-12.5%
Highly efficacious
Inexpensive
Not available in the USA.
Limitation = significant skin irritation that occurs immediately, limiting tolerance

Ivermectin

Off-label in most countries, but known to be effective.
Oral 

Dose = 200 micrograms/kg; two doses, 2nd dose 1 week after 1st.
Used to treat Crusted Scabies (high mite burden) and for treatment of large groups of patients.
Not approved for kids < 15 kg or in pregnant / lactating women (who often have high burden of disease)

Topical

Dose = 1%
More effective than single dose of oral.

Other treatment considerations

Antihistamines
Avoidance of Lindane – less effective than other therapies and has adverse neurologic sequelae.
Topical corticosteroids are not recommended as they may mask treatment failure.

Treatment Failure

:

Challenging to determine as clinical pruritus will continue even after appropriate therapy.
Most likely causes of treatment failure:

Inadequate therapy or application of topical treatment
Re-infestation (so consider treatment of contacts)
Mite resistance (less likely than the 1st two).
References