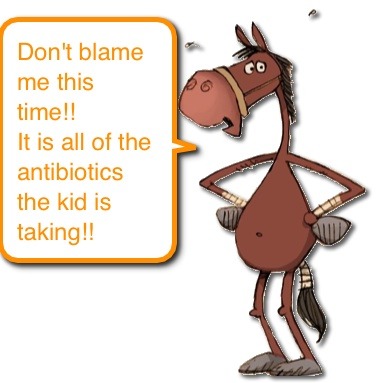 This little Morsel stems from a intellectually fun conversation with Dr. Modisett (for those of you overseas, Dr. Modisett is one of our brilliant and illustrious Chief Residents at Carolinas – yes, I am spoiled).  This is another great reason to discuss not throwing antibiotics at every kid with an ear.
Serum Sickness Basics
Serum Sickness is considered a Type III hypersensitivity reaction.

Follows the administration of Foreign Proteins or Chemicals.
Antigen-antibofy complexes get deposited along the basement membranes of small vessels.

An inflammatory response occurs that leads to joint, skin, and systemic manifestations.
The true pathophysiology is unclear.
It is a self-limited condition, but the presentation can be quite dramatic and concerning to families.

50% of children, in one study, required hospitalization due to severe symptoms.
Serum Sickness Presentation
Serum Sickness and "Serum Sickness-Like Reactions" are similar in presentation.
Fever
Rash (most often uricaria)
Arthralgias/Arthritis
Malaise
Lymphadenopathy
Proteinuria
Serum Sickness – Like Reaction

Often used when referring to medication associated reactions.
Differs from Serum Sickness in that it infrequently has associated proteinuria and lymphadenopathy.
More often reported in children.
More likely to occur during or following a second course of antibiotics (particularly Cefaclor).
Often occurs within the first 1 to 3 weeks after initiation of the offending drug.
Serum Sickness Causes
Anti-venom created from Horse Serum.

Historically, the term was derived the administration of Horse Serum that had been given to treat Diptheria. Ah, yes… the good ol'days.

Antibiotics

Penicillins / Amoxicillin
Cefaclor
Cefprozil
Cefazolin
Ciprofloxacin
Minocycline

Thiazide Diuretics
Many other medications.
Serum Sickness Treatment
Steroids and antihistamines have been used — no real data to show utility.
Stop offending agent!
Give analgesics!
Supportive care.
References