Sickle Cell Disease and Stroke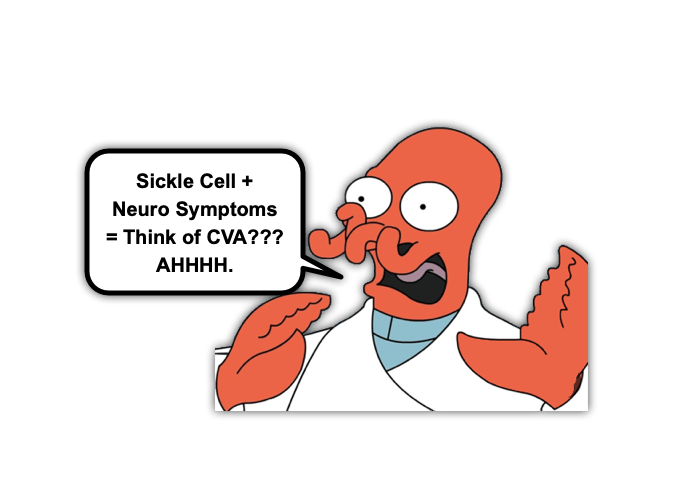 There are many conditions that we would like to think belong only to the "adult patient problem DDx;" however, as we have discussed several times previously, pediatric patients can experience many "adult conditions" (see, Aortic Dissection, Kidney Stones, and Cholecystitis). Those conditions usually have a substantial risk factor and one of the most risky of risk factors is Sickle Cell Disease! If Sickle Cell Disease only ever caused Vaso-Occlusive crises, it would be considered one of the most challenging conditions for patients and families to deal with. Unfortunately, it can cause so many other complications –Sepsis, acute chest syndrome, and hepatopathy. Let's take a minute to digest a morsel on another significant complication – Sickle Cell Disease and Stroke in Children:
Sickle Cell Disease and Stroke: Basics
Pathophysiology (Menaa, 2013, Webb, 2013)

SCD causes sickling shape of red blood cells
Vaso-occlusive Cascade:

Sickling → vascular endothelium destruction → cytokine/ immune cell release (inflammation)→ hypoxia → further sickling
This cascade is responsible for variety of vaso-occlusive presentations (including pain crises, acute chest syndrome, splenic sequestration, dactylitis)
Definitions (Al Kasab, 2019, Menaa, 2013)

Stroke: "neurological dysfunction caused by ischemia or hemorrhage" (Al Kasab, 2019)

Symptoms classically lasting at least 24 hours
Ischemic (87%): lack of blood flow
Hemorrhagic (13%): abnormal vasculature or rupture of blood vessel

Transient Ischemic Attack (TIA): "transient episode of neurological dysfunction caused by ischemia without acute infarction" (Panuganti, 2022) 
Frequency of Stroke associated with SCD (Farber, 1985, Webb, 2013)

3.75% in all patients with SCD
Varies on genotype- most prevalent with SS disease

11% of SCD-SS patients less than 20 years of age

Most frequent in ages 2-5
Sickle Cell Disease and Stroke: Evaluation
Presentation (Webb, 2013, Debaun, 2020)

Widely varied
Classic stroke symptoms – motor deficits, hemiparesis, cranial nerve deficits, aphasia, visual changes
Younger children may present with altered mental status or seizure activity

Neurologic examination must be carefully tailored in this age group! Observation, interaction with patient, as well as parent information is key to bring the whole picture together!

Posterior circulation infarcts can present with nausea, vomiting, ataxia, lightheadedness, headache
Laboratory (Webb, 2013, Debaun, 2020)

CBC with differential, reticulocyte count, basic metabolic panel, PT/INR, and type and screen
Blood culture if infection suspected, hemoglobin S electrophoresis if possible
Imaging (Webb, 2013, Debaun, 2020)

MRI/MRA is preferred imaging of choice for ischemic infarcts but needs to be performed quickly
CT non-contrast head, CT angiography of the head and perfusion can be ordered if MRI is unavailable or there are significant delays
Sickle Cell Disease and Stroke: Management
Acute management (Webb, 2013, Howard, 2016, Debaun, 2020)

Airway, breathing, circulation
Exchange transfusion is treatment of choice

Hemoglobin (Hgb) goal 10-12
Hgb S <30%

Simple transfusion can be used (goal Hgb of 10) to reduce sickling and improve anemia until patient can be transferred to a facility capable of exchange transfusion 
Hemorrhagic infarcts require neurosurgical consultation for possible coiling or decompression
Silent infarction (Webb, 2013, Debaun, 2020)

MRI signal abnormalities with absence of physical examination findings
Often seen in watershed areas with small vessel involvement
Seen in up to 37% of SCD patients by age 14 
Prevention / Screening (Menaa, 2013)

Trans-cranial doppler is used as a screening tool annually
Moral of the Morsel
It is a Traffic Jam! Vaso-occlusion can occur throughout the body in SCD, including the brain! 
It's Tricky! Children can hide neurologic deficits if you don't perform a careful and thorough neurologic exam (especially age centered!)
Get the picture! While MRI is preferred, CT with perfusion may be the best option at your facility… it is wise to develop a protocol before you need it!
Increase the Adult Percent! No fibrinolytic here – transfusion to help increase the percentage of adult vs sickle cell hemoglobin is treatment of choice for ischemic infarcts! 
References:
Al Kasab S, Lynn MJ, Turan TN, Derdeyn CP, Fiorella D, Lane BF, Janis LS, Chimowitz MI; SAMMPRIS Investigators. Impact of the New American Heart Association/American Stroke Association Definition of Stroke on the Results of the Stenting and Aggressive Medical Management for Preventing Recurrent Stroke in Intracranial Stenosis Trial. J Stroke Cerebrovasc Dis. 2017 Jan;26(1):108-115. doi: 10.1016/j.jstrokecerebrovasdis.2016.08.038. Epub 2016 Oct 17. PMID: 27765556.
DeBaun MR, Jordan LC, King AA, Schatz J, Vichinsky E, Fox CK, McKinstry RC, Telfer P, Kraut MA, Daraz L, Kirkham FJ, Murad MH. American Society of Hematology 2020 guidelines for sickle cell disease: prevention, diagnosis, and treatment of cerebrovascular disease in children and adults. Blood Adv. 2020 Apr 28;4(8):1554-1588. doi: 10.1182/bloodadvances.2019001142. PMID: 32298430; PMCID: PMC7189278.
Farber MD, Koshy M, Kinney TR. Cooperative Study of Sickle Cell Disease: Demographic and socioeconomic characteristics of patients and families with sickle cell disease. J Chronic Dis. 1985;38(6):495-505. doi: 10.1016/0021-9681(85)90033-5. PMID: 4008590.
Howard J. Sickle cell disease: when and how to transfuse. Hematology Am Soc Hematol Educ Program. 2016 Dec 2;2016(1):625-631. doi: 10.1182/asheducation-2016.1.625. PMID: 27913538; PMCID: PMC6142434.
Menaa F. Stroke in sickle cell anemia patients: a need for multidisciplinary approaches. Atherosclerosis. 2013 Aug;229(2):496-503. doi: 10.1016/j.atherosclerosis.2013.05.006. Epub 2013 May 16. PMID: 23746538.
Panuganti KK, Tadi P, Lui F. Transient Ischemic Attack. [Updated 2022 Jul 18]. In: StatPearls [Internet]. Treasure Island (FL): StatPearls Publishing; 2022 Jan-. Available from: https://www.ncbi.nlm.nih.gov/books/NBK459143/
Webb J, Kwiatkowski JL. Stroke in patients with sickle cell disease. Expert Rev Hematol. 2013 Jun;6(3):301-16. doi: 10.1586/ehm.13.25. PMID: 23782084.