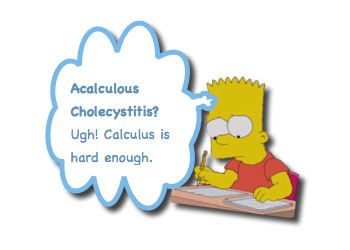 When caring for children, we are all prepared for evaluating abdominal pain as it seems like every condition leads can cause belly pain. Fortunately, this means the odds favor it not being caused by a critical condition; however, it therefore mandates that we remain vigilant for those subtle presentations of more ominous conditions. Previously, we've discussed important conditions to keep on our Ddx lists (ex, Pancreatitis, Cholelithiasis, Malrotation, Appendicitis, HSP, Intussusception, Ovarian Torsion, Testicular Torsion), but there is another one that we need to consider that may be easily overlooked, due to the age of the patient- Acute Cholecystitis:
Acute Cholecystitis: Bascis
Cholecystitis = inflammation of the gallbladder (as the name would imply).

Can be Acute or Chronic

Acute is less common than Chronic in children.
Chronic cholecystitis is likely under-appreciated though. [Blackwood, 2017]

Can be associated with Stones (Calculous) or Not (Acalculous)

Calculous:

Cystic duct become impacted by stone leading to gallbladder distention and edema with biliary stasis and bacterial overgrowth. [Guralnick, 2009]
Needs to be treated surgically.

Acalculous:

Most frequent form of acute cholecystitis in children (unlike adults) [Poddighe, 2015]
Mortality rate estimated to be >30%. [Poddighe, 2015]

May be treated conservatively, but may require surgery. [Poddighe, 2015]
Risk factors for mortality = anemia, thrombocytopenia, gallbladder sludge, hepatitis, and sepsis plus hepatitis. [Lu, 2017]
Common Pathologic Components of Cholecystitis: [Poddighe, 2015]

Gallbladder ischemia

Related to severe Dehydration (ex, SHOCK), Sepsis, Cardiovascular disease or surgery.
Arterial occlusion for vasculitis or diabetes.

Bile stasis

From prolonged fasting, obstruction, TPN, IV narcotics
Static bile can lead to a chemical irritation of the gallbladder.

Direct trauma
Often diagnosed based with Ultrasound

Increased gallbladder wall thickness (>3-4 mm)
Pericholecystic fluid
Distented gallbladder
Sludge (or stones)
Ultrasonographic Murphy sign
Acute Cholecystitis: Acalculous
In the CRITICALLY ILL patient: [Poddighe, 2015]

Often considered after alterations in bloodwork.

Findings consistent with cholestasis and liver dysfunction.
Often these patients are too ill to communicate discomfort.

Seen most commonly with:

Major Surgery (especially cardiovascular)
Major Burns
Multiple Trauma
Severe Systemic infections (ex, Sepsis)
In otherwise HEALTHY patients: [Poddighe, 2015]

Acalculous cholecystitis is more common than in the critically ill.
Patients may present with nonspecific and variable constellation of symptoms (ex, Abdominal pain, Fever Nausea/vomiting, Jaundice)
It is not just a young adult issue: [Poddighe, 2015]

Cases of in adolescents as well as school-aged children and even as young as 2 years of age.

Often lack the pathophysiological aspects and risk factors associated with the acute ill patients. [Poddighe, 2015]
Most cases are related to infections: [Lu, 2017]
Can also be associated with other systemic diseases: [Lu, 2017; Poddighe, 2015]
Moral of the Morsel
Not all kid belly pain is benign. Think of cholecystitis, even in kids.
Never say it's "just a virus." Viruses can cause lots of problems.
Mono doesn't just harm the spleen! Keep acalculous cholecystitis on the Ddx for abdominal pain in a child with suspected/proven EBV infection.
References