Small Bowel Intussusception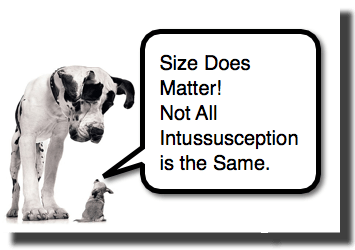 Intussusception is a common concern that we manage when faced with a child with abdominal pain and/or vomiting. We have discussed multiple aspects of the evaluation and management of intussusception (ex, Intussusception, Intussusception and HSP, Change in Mental Status, and Disposition). Obviously, the use of ultrasound has dramatically improved our ability to expeditiously evaluate these children, but what do you do when the ultrasound finds something unexpected? What do you do with Small Bowel Intussusception?
Small Bowel Intussusception: Basics
Any segment of bowel can develop intussusception.

Most often (~80%) it is located at the ileocecal junction or in the ileocolic region.
Small Bowel Intussusception is more rare.

Can occur in any age, but more rare in children compared to adults. [Koh, 2006]
Small Bowel Intussusception presents in non-specific fashion:

Irritability
Vomiting
Abdominal Pain
Fever (~50% in one case series) [Ko, 2002]
Small Bowel Intussusception: The Benign and The Bad
The Benign
Small Bowel Intussusception can be transient and of no clinical consequence. [Mateen, 2006]
Can be seen incidentally on other studies performed for other reasons (ex, Pelvic U/S, Abd CT). [Strouse, 2003]
Thought to be due to "momentary dysrhythmic contractions." [Mateen, 2006]
Often will reduce spontaneously… many times during the ultrasound study.
The Bad
Small Bowel Intussusception can also lead to intestinal necrosis.

More likely to be associated with underlying pathologic process like:

Post-surgical adhesions or Jejunal Tubes
Malabsorption syndromes
Inflammatory processes (ex, Crohn's Disease, HSP)

Even with underlying pathology, observation has been shown to be appropriate in some cases. [Sonmez, 2002]
Require surgical correction, as air-contrast enema is less effective in treating small bowel. [Koh, 2006]
More difficult to diagnose than large bowel associated intussusception. [Ko, 2002]

Delays in diagnosis and surgical correction are common.
These delays are associated with higher complication rates. [Ko, 2002]
Small Bowel Intussusception: Will it be Transient?
So, if the condition can be either "no big deal" or a "real big deal," what can be done to differentiate between these two extremes?

Obviously it would be best to avoid unnecessary surgery for those that will have spontaneous reduction of their benign small bowel intussusception.
Equally important, it is necessary to limit ischemic time and not delay surgical intervention for those with pathologic small bowel intussusception.
Several studies have determined that U/S characteristics can help with this determination:

Likely to

spontaneously reduce

:

Length < 1.8 cm, Mean diameter < 1.5 cm, No Wall Swelling, Preserved Wall Motion, No Lead Point [Kim, 2004]
Length < 3.5 cm, No Lead Point, Normal Wall Thickness, No Proximal Dilation, Normal Blood Flow [Mateen, 2006]

Likely to need a

surgeon to reduce

:

Length > 3.5 cm [Munden, 2007]
Length ≥ 4.2 cm, Diameter ≥ 2.1 cm, Outer Rim Thickness ≥ 0.04 cm [Zhang, 2011]
Moral of the Morsel
Small Bowel Intussusception can be Benign… but it can also lead to Badness!
U/S Characteristics can help distinguish which ones will likely reduce on their own… and which ones will not.

Smaller is better.
Motion is marvelous.
Lead Points are bad.

Pay attention to the patient!  Persistent symptoms may warrant repeat U/S and/or surgical consultation.
If the intussusception does not spontaneously reduce during the U/S study, even if it has low risk findings, have low threshold for repeating the U/S. [Kornecki, 2000]
References