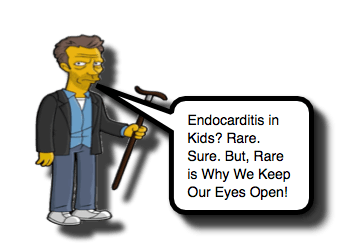 Many conditions may present subtly in children (ex, Inborn Errors of Metabolism, HUS, Pneumonia), but the subtle presentations of cardiac disease are often the most attention grabbing. We have previously discussed Subtle Signs of Heart Failure and Myocarditis.  Let us take a moment to appreciate another significant cardiac condition that may present in subtle fashions and requires our vigilance: Endocarditis in Children.
Endocarditis in Children: Basics
Rare, but deadly!

Difficult to know the exact occurrence of infective endocarditis in children.
Estimates range from 0.05 to 0.78 cases per 1,000 pediatric admissions. [Baltimore, 2015]
Overall frequency of endocarditis in children is increasing, though.
Unfortunately, mortality remains high: 5-10% [Tseng, 2014; Day, 2009]
Epidemiology has changed over past 80 years. [Baltimore, 2015; Elder, 2015; Tseng, 2014]

Rheumatic Heart Disease was once a significant factor, but now relatively rare.
Post-operative Congenital heart disease is now the leading associated condition in endocarditis cases.

Much improved survival for children with CHD leads to longer timespans for children to be affected.
Postoperative infective endocarditis is a

long-term risk

after correction of complex CHD, especially if there are residual defects or prosthetic material.
Increased prevalence of septal or vascular occluders and coils increases risk also.

Central Indwelling Lines also used more commonly now and increase risk.

S. aureus has become more prevalent over the past few decades. [Baltimore, 2015; Esposito, 2015; Yock-Corrales, 2013; Wei, 2010; Day, 2009]
Streptococci viridans group still remains an important cause.
Infective Endocarditis: Presentation
Symptoms are often vague and indolent: [Baltimore, 2015]

Prolonged fever
Rigors, diaphoresis
Fatigue, weakness
Arthralgias, myalgias
Weight loss

Occasionally, may present with acute illness with rapidly developing symptoms.
Clinical findings relate to 4 underlying phenomena: [Baltimore, 2015]

Bacteremia / Fungemia

>85% of cases present with fever [Wei, 2010]

Valvulitis

New murmur may be appreciated.
May develop overt heart failure.
In children with CHD, may not appreciate change in murmur, but there may be decreased oxygenation.

Immunologic Responses
Embolic

Extra-cardiac findings (Janeway lesions, Roth Spots, Osler Nodes, etc) are less commonly found in children than adults.
May see renal abnormalities (ex, glomerulonephritis, infarct).

Hematuria is one of the more common findings. (~53% of cases had microscopic hematuria) [Wei, 2010]
Can be due to embolic or immune complex deposition.

Embolic disease can also lead to injury to brain, lung, GI tract, or heart. [Wei, 2010]
Mycotic aneurysms have also been reported.
The Modified Duke Criteria

The current recommendations to help make the diagnosis of endocarditis is to use the Modified Duke Criteria. [Baltimore, 2015; Baddour, 2005]
Divides cases into 3 categories and has Major and Minor Criteria:

Definite Infective Endocarditis
Possible Infective Endocarditis
Rejected

See TABLE 3 and TABLE 4 in Circulation 2015 for Modified Duke Criteria (too complex to replicate here).
Endocarditis in Children w/ Normal Hearts
While less common, endocarditis can occur in structurally normal hearts (~8-10% of cases) [Baltimore, 2015; Day, 2009]

One study had much higher percentage of previously healthy children developing endocarditis (35.4%) [Lin, 2012]
Average interval from symptom onset to diagnosis in these children was 18-31 days. [Lin, 2012]

Usually involves the aortic or mitral valves
Indwelling intravascular catheters are major risk factor for many of these patients.
Staphylococcus aureus bacteremia is the leading culprit. [Day, 2009]
Methicillin-resistant S. aureus has also become a common causative agent. [Esposito, 2015]
Neonates and Premature infants with normal hearts who develop endocarditis are at high risk for mortality. [Day, 2009]
Moral of the Morsel
Persistent fever always warrants our appreciation and contemplative minds! Don't just dismiss it as another Virus.
Fever in child with structurally abnormal heart should absolutely grab your attention, even long after any repair. May need to discuss specific lesion and repair and potential risk of endocarditis with the cardiologist.
Central lines are useful, but come with a lot of risk as well.
Got hematuria? Don't just blame the kidney… think about the heart also!
References