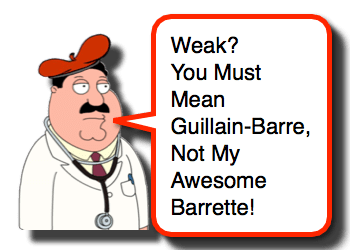 Aw, the Winter Season in the Ped ED… how we all love the viral pathology! Let us recall, however, that we must be vigilant in the face of the seemingly constant waves of children with fevers and rhinorrhea. We already know that we should not say, "It's Just a Virus." While it is good to give appropriate anticipatory guidance, it is also important to be vigilant for potential complications of "simple" viral illnesses also (Pneumonia, Acute Otitis Media, Myocarditis). Let us review another potentially scary complication: Guillain-Barre Syndrome.
Guillain-Barre: Basics
Guillain-Barre Syndrome (GBS) is the most common cause of acute flaccid paralysis in children.

Incidence – 0.5 – 1.5 per 100,000 children/year in the US. [Sladky, 2004]
~15% of children require mechanical ventilation. [Sladky, 2004]
Can be fatal in ~10% of patients [Lee, 2008]

GBS is thought to be an

autoimmune disorder

: [Ryan, 2013]

Antibodies attack motor and/or sensory peripheral nerves
Likely due to molecular mimicry.

Infections – EBV, CMV, Mycoplasma, Campylobacter jejuni
Immunizations

No clear causal relationship, but several cases describe an association.
17% of cases in one study had recent immunization. [Hicks, 2010]

Surgery
Variable involvement of different types of peripheral nerves leads to several (9) subtypes.

Acute Inflammatory Demyelinating Polyneuropathy

"Classic form"
Accounts for ~75% of cases in the West
Typically recover more quickly than those w/ AMAN.

Acute Motor Axonal Neuropathy (AMAN)

No sensory deficits
Associated with epidemics following C. jejuni enteritis.

Miller Fisher Syndrome

Uncommon
Triad of Ataxia, Areflexia, and Ophthalmoplegia
Bulbar weakness can be present
Affects adults more than children.
Guillain-Barre: Presentation
GBS typically occurs 2-4 weeks after a preceding illness.

50-70% have GI or respiratory illness [Yuki, 2012]
Presenting Symptoms:

Weakness

49% of cases [Hicks, 2010]
Limb weakness is both distal and proximal.
Limb weakness is one of the most common symptoms at onset. [Lee, 2008]
Up to 60% become unable to ambulate during illness.

Distal paresthesias

54% of cases [Hicks, 2010]
Neuropathic pain affects children prominently

Myalgias

49% of cases [Hicks, 2010]

Hyoreflexia or areflexia

Present in 94% of cases [Hicks, 2010]
Always check reflexes!!

Cranial Nerve Involvement

Bulbar palsies, Facial weakness, Optic nerve palsies [Teksam, 2015]
46% of cases [Hicks, 2010]

Autonomic dysfunction

Blood pressure instability, sinus tachycardia
Abnormal sweating, pupillary abnormalities
Common and under-recognized in children!
Average number of days between symptom onset and peak of disease was ~8 days, but ranges from 2 to 27 days.
Guillain-Barre: Evaluation
Clinical Examination

Thorough neurologic examination
Don't overlook reflexes.
Assess motor strength carefully.
Can be very difficult to diagnose in children and is often missed initially. [Bloch, 2013; Orlik, 2014]

Lumbar puncture

Albuminocytological dissociation (increased protein level without pleocytosis) is associated with decreased time to peak of disease. [Hicks, 2010]
Does not need to be done emergently.
May actually need to be repeated, if the initial LP was done after only a few days of symptoms and results were normal.

Radiologic investigations

Gadolinium enhanced MRI of the spine [Mulkey, 2010]

May show enhancement of the peripheral nerve roots and caudal equina.
Not specific to the disorder, but in the right clinical setting, can be helpful.

Nerve conduction studies

~80% of studies are abnormal [Hicks, 2010]
May be normal early on in disease course.
Guillain-Barre: Treatment
Supportive Therapies

Monitoring respiratory status
Monitoring autonomic complications
Pain management
Prevention of immobility complications

IVIG

Often preferred in childhood
Total dose of 2 grams/kg over 2-5 days [Ryan, 2013]

Plasmapheresis

Useful for those patients > 10 kgs. [Ryan, 2013]
Moral of the Morsel
Fight against complacency for seemingly minor complaints.

That child who is limping or who's family states is "weak" may appear well and actually have no significant pathology, but before you reach that conclusion, be thorough.

Strive to remain vigilant for presentations of potentially devastating conditions.

Ask about recent viral illnesses or immunizations.
Perform thorough neurologic exam, including reflexes.
Search for subtle weakness – make the child stand up from seated position without using hands.

It is with a keen, vigilant mind (not a million tests) that you will be able to make a the difference in the child's life.
References