Juvenile Idiopathic Arthritis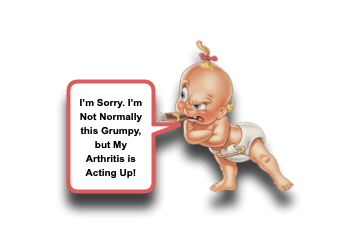 We have discussed "Adult Problems" presenting in children previously (ex, Cholecystitis, PE, Endometriosis), but this time let's look at a pediatric problem that has an adult sounding name – Arthritis. While arthritis certainly affects adults for a variety of reasons, it does not spare are younger patients. Yes, overt infections of the joints (Septic Arthritis) are always a concern when we are evaluating the limping child, but there is another condition that may also present as a Fever of Unknown Origin. Let's take a minute to consider Juvenile Idiopathic Arthritis;
Juvenile Idiopathic Arthritis
Juvenile Idiopathic Arthritis (JIA) is a heterogenous group of disorders. [Oberle, 2014]

All have arthritis for at least 6 weeks in duration, without other etiology.
All occur before 16 years of age.
As an entire group, JIA is the most common rheumatologic condition of childhood.
Can lead severe, long-term disability.
Subtypes of JIA include: [Oberle, 2014]

Oligoarticular

Most common subtype 
Has four or fewer joints (typically the large ones)

Polyarticular (5 or more joints involved)

~25% of JIA cases
Include wide spectrum of risk factors and disease courses.
May be Rheumatoid Factor (RF) positive or RF negative.
Tend to be more refractory to therapies.
Have increased risk for joint damage and worse outcomes.

Systemic – Onset [Yasin, 2018]

~10% of JIA cases
Severe form affecting the entire body (skin, organs, joints).
May be related more to auto-inflammatory disorder than autoimmune disease (like the other subtypes).

More extra-articular features
Daily spiking fevers
Rash
Hepatosplenomegaly
Serositis

Greater risk for development of Macrophage Activation Syndrome! (see below)

Psoriatic arthritis

Joints affected and scaly rash.
Rash found behind the ears, on the eyelids, elbows, knees, periumbilical area, and scalp.

Enthesitis-related arthritis (spondyloarthritis)

Prominently affecting insertion and origin of the muscles, ligaments, and tendons.
May be seen with inflammatory bowel disease or ankylosing spondylitis.

Undifferentiated (may fit into no category or may fit into multiple categories)
Of note: the nomenclature for childhood arthritis has changed many times over the past few decades.
Prognosis and morbidity of JIA is variable and depends on subtype. [Oberle, 2014]

Overall, the 1st 6 months can be dynamic with new joints and symptoms presenting.
The actually subtype cannot be determined until after 6 months.
Poor prognostic factors for Polyarticular JIA include:

RF +
Anti-CCP antibiodies +
Hip arthritis
Cervical spine arthritis
Erosions / joint space narrowing
Early hand involvement and changes of carpal length
Juvenile Idiopathic Arthritis: Therapies
Main goal of therapy is pain control, improved function, and disease remission. [Oberle, 2014]
Therapies are based on disease subtype initially, but are often tailored for the individual patient. [Oberle, 2014]
Main treatment options include: [Yasin, 2018; Oberle, 2014]

NSAIDs
Glucocorticoids
Disease Modifying Antirheumatic Drugs (DMARDs)

Methotrexate (often 1st line therapy for severe polyarticular disease)
Leflunomide, hydroxychloroquine, penicillamine, sulfasalazine, cyclosporine, tacrolimus, and thalidomide are used as alternatives.

Biologics (there are ever increasing numbers of these therapies)

TNF inhibitors

TNF alpha is a pro inflammatory cytokine found to be elevated in synovial fluid of JIA patients.
Examples: etanercept, infliximab, adalimumab

IL-6 Inhibitor

IL-6 is another pro-inflammatory cytokine that is particularly active in systemic-onset JIA.
Tocilizumab is a monoclonal antibody to the IL-6 receptor.

Abatacept – binds to CD80/86 and blocks T-cell activation.
Rituximab – binds B-cell CD2- receptor and decreases B-cell numbers… used for refractory cases.
Juvenile Idiopathic Arthritis: Complications
In addition to the joint pain and potential injury leading to long-term pain and dysfunction, there are a number of other problems associated with JIA that may cause children to present to the ED.
Some are related to the underlying disease process: [Abinun, 2016]

Pulmonary inflammation and scarring can occur with Systemic Onset JIA.
Cardiac inflammation can also be seen with Systemic Onset JIA.
Macrophage Activation Syndrome: [Yasin, 2018; Abinun, 2016]

Seen with systemic-onset JIA (as well as other rheumatic diseases).
Life-threatening condition
Manifests with fevers, overwhelming inflammation, cytopenias, coagulopathy, liver dysfunction, CNS dysfunction, and cytokine storm.
Other lab abnormalities: hyperferritinemia, elevated lactate, elevated D-Dimer, elevated triglycerides, decreased ESR, decreased fibrinogen.
Some may be more related to the consequences of the therapies:

Growth inhibition – chronic steroid use
Osteoporosis – chronic steroid use
Infertility – side effect of some DMARDs
Infection is most important to consider in the ED – [Abinun, 2016; Salonen, 2014]

Related to long-term use of immunosuppressive and anti-inflammatory medications.
Related to indwelling central lines for other therapies!
Moral of the Morsel
Swollen joint and fever may not be septic arthritis. Think about systemic onset juvenile idiopathic arthritis.
Not just about joints. Systemic onset JIA, obviously, involves multiple organ systems, but Macrophage Activation Syndrome may also complicated things!
The therapies may bring their own problems. Central Lines and Immunosuppressants increases risk for invasive bacterial infections!!
References