Loperamide Abuse and Overuse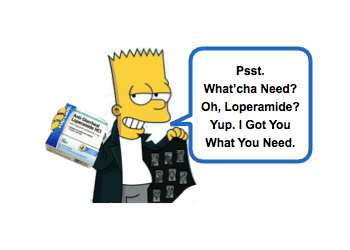 There are many conditions to consider when dealing with a patient who presents with altered mental status. Is there a significant intracranial pathology (ex, AVM, Trauma)? Is there a serious bacterial infection? Is there a terrible abdominal catastrophe (ex, Intussusception)? Is there a significant electrolyte abnormality or endocrine problem (ex, Hypoglycemia, Myxedema Coma)? Of course, we also have to consider and contend with possible intoxicants. Unfortunately, people keep getting more creative with what they choose to get High from. Let's take a moment to add one new item to the list of possible intoxicants – Loperamide Abuse and Overuse:
Loperamide Abuse: Basics
Loperamide is marketed as an anti-diarrheal medicine!

So how is it potentially abused? No one wants to be overly constipated.
Slows intestinal transit time by stimulating mu-opioid receptors.
Loperamide is a synthetic phenylpiperidine opioid, like meperidine. [Wu, 2017]

Originally (in 1977), it was a controlled substance.
Later (by 1982), it was made available without prescription.
Low abuse potential and safe AT THERAPEUTIC DOSES. [Wu, 2017; Vakkalanka, 2017; Bishop-Freeman, 2016]

Extremely low bioavailability
Absorbed drug is highly protein bound.
Has limited passage across the Blood-Brain Barrier.
Half-life (at therapeutic doses) is ~11 hours.

With excessive doses, half-life can be ~35 hours.
Abuse and Misuse of loperamide has become more prevalent since 2005. [Wu, 2017; Vakkalanka, 2017; Bishop-Freeman, 2016]

Used to alleviate opioid withdrawal

"Poor Man's Methadone" [Salama, 2017]
Daily doses reported to be in the 100's of milligrams a day! (normal dose is 16 mg/Day)

Used for euphoric effects

Use with co-ingestions that alter loperamide's metabolism to increase euphoric effects.

Ex: Grapefruit Juice, Cimetidine, Black Pepper, Tonic Water, Quinidine, Vitamin C,

Can lead to same euphoria as oxycodone (but easier to come by and less expensive).

Can lead to respiratory depression and cardiac dysrhythmias.
Loperamide Abuse: Toxicity
Channel Blockade

Normal concentration after standard 8mg dose = ~1 microgram/L
At ~15-20 micrograms/L – blocks potassium channels
At ~114-141 micrograms/L – blocks sodium channels

Loperamide abuse / misuse can interfere with cardiac conduction
Loperamide Abuse: Presentation
The grossly intoxicated patient may be easier to discern (looks like opiate overdose, but may have negative opiate drug screen), but the loperamide overdose can also lead to overt: [Wu, 2017; Vakkalanka, 2017; Bhatti, 2017; Katz, 2017; Upadhyay, 2016; Wightman, 2016]
Altered Mental Status
Abnormal ECG with wide QRS and/or Prolonged QTc
Monomorphic or polymorphic VTach (Torsade de Pointes)
Loperamide Abuse: Management
Supportive Care -> ABCs!
Naloxone

If there is respiratory depression.
Give lowest effective dose
Anticipate need for repeat dose given long half-life [Wu, 2017]

Cardiac Support 

Cardioversion or defibrillation as needed
Intravenous Magnesium for prolonged QTc or Torsade.[Wu, 2017]
Intravenous Sodium Bicarbonate is reasonable with widened QRS. [Wu, 2017]
Fix hypokalemia and other electrolyte derangements.

Activated Charcoal

Loperamide should absorb to charcoal
The diminished intestinal transit may make charcoal beneficial longer after ingestion (2-4 hours after large dose) [Wu, 2017]

Intravenous Lipid Emulsion [Wu, 2017]

Loperamide is highly protein-bound, so dialysis is not effective.
Consider trial of Lipid Emulsion for patient with cardiotoxicity.

ECMO [Wu, 2017]

ECMO may be required for severe cardiotoxicity.
Consider if refractory to other interventions… but don't wait too long to consider, as it takes time to set up.
Moral of the Morsel
Remember, Loperamide stops diarrhea because it is an opioid. If it is an opioid, someone will figure out how to abuse it.
Look at the ECG! Prolonged QTc or Wide QRS and a history of opioid abuse? Think Loperamide.
Syncope or Dysrhythmia with history of opioid abuse? Think Loperamide.
References