Multiple Sclerosis in Children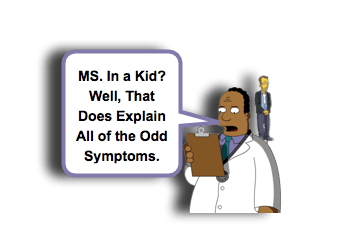 Evaluating children in the ED is challenging. They often have a difficult time describing specific symptoms. Moreover, the symptom description is commonly "interpreted" by a third party (that wild and crazy party otherwise known as their parents/guardians). This can make determining reasonable evaluations difficult. Is that episode of Syncope more concerning or was it a Breath Holding Spell?  Should we be worried about Myocarditis for this complaint of Chest Pain? Some of these issues become easier for us to evaluate, as we encounter them commonly; however, the complaint of Vertigo, Ataxia, weakness, numbness, or visual changes can easily leave us scratching out heads. One item can come to mind when dealing with adults who present with "odd" neurologic complaints is multiple sclerosis. Does this occur in children? You bet it does. Let us take a minute to review – Multiple Sclerosis in Children:
Multiple Sclerosis in Children: Basics
Multiple Sclerosis (MS) is a chronic inflammatory autoimmune disease

It affects the Central Nervous System
Symptoms may progress, relapse, and remit.
Risk Factors:

Sex hormones:

Prior to puberty, the female:male ratio is about equal.
After puberty, MS is more common in females [Alroughani, 2018; Yeshokumar, 2017; Waldman, 2016]

Viral infections: [Yeshokumar, 2017]

Epstein-Barr virus
Cytomegalovirus

Smoke: [Yeshokumar, 2017]

Smokers have increased risk for developing MS.
Passive smoke exposure also appears to be associated with risk.

Genetics:

HLA-DRB1*15 allele confers increased risk
The prevalence and incidence of Pediatric Multiple Sclerosis is not fully known. [Alroughani, 2018; Waldman, 2016]

Thought to be underestimated overall.
Many different diagnostic criteria have been proposed. [Alroughani, 2018]

Requires at least 2 episodes attributed to inflammatory process that occur >30 days apart and involving >1 CNS area.
MRI findings are important to help make the diagnosis (there can be occult lesions)
McDonald Criteria can help make diagnosis using MRI findings upon 1st presentation. [Sadaka, 2012]
Children can present with a wide variety of symptoms / conditions [Alroughani, 2018; Waldman, 2016]:

Sensory Symptoms
Brainsteam – Cerebellar Symptoms

ex, ataxia, transverse myelitis

Motor Symptoms

ex, weakness, diplopia, urinary symptoms
A common complaint is "Fatigue."

Optic Neuritis

Inflammation in the optic nerve.
Common presenting condition of MS, but can be associated with other conditions or be isolated. [Lehman, 2018]
Leads to:

Decreased Visual Acuity
Visual Field Cuts
Decreased Color Vision
Afferent Pupillary Defect (if unilateral involvement)

It is difficult to diagnosis in children, so objective testing is performed. [Lehman, 2018]

Ocular Coherence Tomography (OCT) is useful for ophthalmologist to use to make diagnosis.
Noninvasive way to image and measure the retinal layers.
Optic Neuritis has characteristic patterns seen on OCT.
Multiple Sclerosis in Children: Not Adults
Pediatric MS is typically defined as occurring before age 16 yrs

This varies slightly between authors and may be inclusive of 18 yrs. [Alroughani, 2018]
3 – 10% of patients with MS will present under age 16 years. [Alroughani, 2018]
Compared to adults, MS in Children is: [Alroughani, 2018; Waldman, 2016]

More likely to have a more aggressive disease onset with disability.
More likely to have a polyfocal onset.
More likely to have resolution of symptoms after initial presentation.
More likely to have a relapsing-remitting course.
More likely to be associated with more frequent relapses.
More likely to have more pronounced acute axonal damage.
More likely to have slower disease progression over time.
Children < 12 years of age differ clinically from older adolescents with MS. [Alroughani, 2018; Waldman, 2016]

More likely to present with atypical symptoms
More likely to have ADEM-like first attack
Have large, ill-defined lesions early in the disease course
Less likely to have CSF oligoclonal IgG bands.
Overtime, MS has been shown to be associated with significant cognitive impairment in children also. [Alroughani, 2018]
Multiple Sclerosis in Children: Ddx
MS may not be clearly diagnosed until after several episodes have occurred.
Numerous other conditions can share similar constellation of symptoms and initial presentation. [Alroughani, 2018; Yeshokumar, 2017]

Systemic Lupus Erythematosus
Sjorgen Syndrome
Leukodystrophies
Neurosarcoidosis
ADEM (Acute Disseminated Encephalomyelitis)

MS can present similarly to ADEM on initial presentation.
Can have seizures and altered mental status and headache.

Encephalitis:

MS can present with fever in pediatric patients.
Consider including oligoclonal IgG bands in CSF of patients with encephalitis
Multiple Sclerosis in Children: Tx
The FDA has not listed any pediatric specific therapies, but several adult strategies have been used safely and with good success. [Alroughani, 2018]
Generally, it is considered best to start therapy early, so early diagnosis is helpful.
First Line Therapies: [Alroughani, 2018; Yeshokumar, 2017]

Interferon Beta
Glatiramer Acetate

Second Line Therapies: [Alroughani, 2018; Yeshokumar, 2017]

Natalizumab
Rituximab
Other novel immuno-modulators

Ancillary Therapies: [Yeshokumar, 2017]

IV corticosteroids may be given to help speed symptom recovery.
IV immunoglobulin and plasma exchange has also been used.
Moral of the Morsel
Don't forget the kids! Multiple Sclerosis does affect children!
Don't forget the eyes! Optic neuritis may be the first sign of MS. Discuss with Ophthalmology to ensure appropriate follow-up and imaging.
If it doesn't make "sense," consider MS! While you may not make the diagnosis of MS often, early diagnosis is helpful to the patient and we should, therefore, remain vigilant for it.
References