Parotitis and Sialadenitis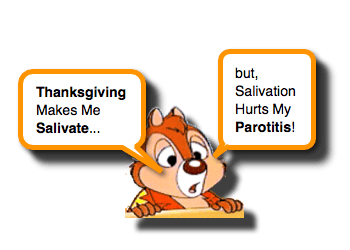 Caring for children in the ED can be challenging for certain.  Managing the critically ill child requires a lot of skill and action (ex, Can't Intubate, Can't Ventilate and Hypercyanotic Spell).  Remaining vigilant for the subtly sick takes a lot of energy and contemplation (ex, Subtle Signs of Heart Failure, Osteosarcoma, and Inborn Errors in the ED).  While these two groups make our job challenging, often I find the relatively "simple" conditions to be surprisingly challenging;  they can generate a number of questions that perhaps I wasn't ready to answer.  As many of us (in the USA anyway) salivate over our Thanksgiving meals, let us consider the "seemingly simple" condition of Sialadenitis and Parotitis.
Sialadenitis: Basics
Sialadenitis = inflammation of the salivary glands.
Saliva is important! It plays a role in:

Digestion, lubrication, and taste
Tooth intergrity
Defense against bacterial (secretion of IgA)
There are

Numerous Salivary Glands

Parotid Gland

Largest of the glands
Stensen duct travels parallel to the zygoma, ~1cm inferior to it, and exist opposite the 2nd mandibular molar. [Francis, 2014]
Produces two-thirds of

stimulated

salivation.
Lower rate of secretion.
Produces primarily serous, watery saliva
More likely to become inflamed due to infectious and autoimmune reasons.

Submandibular Gland

2nd largest of the glands
Wharton duct exits the floor of the mouth near the frenulum of the tongue. [Francis, 2014]
Produces two-thirds of the

constant

salivation.
Produced mixture of mucinous and watery saliva.

Mucinous saliva aids in lubrication, mastication, and swallowing.

More likely to become inflamed by obstructive processes, like stones.

Sublingular Glands

Multiple smaller glands.
Have very small ducts without a dominant duct. [Francis, 2014]

Minor Salivary Glands

Scattered in the oral cavity and oral pharynx.
Sialadenitis: Causes
Variety of factors can lead to sialadenitis and often due to multi-factorial processes leading to a "salivary gland inflammatory cycle".  [Francis, 2014]

Sequence of events that decrease saliva flow, increase inflammation, generate ductal dysfunction, and increase mucinous saliva.
Predisposing factors = infection, structural abnormality, immune factors, dehydration.
Infectious

Viral

Mumps

Vaccination has made this much less common, but outbreaks do occur.
Systemic illness… so look for other systems that may be involved.

HIV

Bacterial

Staph, Strep, H. flu, E. coli, Bacteroides
Most commonly occurs in the Parotid Gland. [Francis, 2014]

Immunologic

Sjogren Syndrome [Baszis, 2012]

Chronic inflammatory disease of the exocrine glands.
Dry mouth and dry eyes are common.

HIV

Can cause bilateral involvement (think of this with bilateral parotitis)
Often glands are NOT tender.

IgA deficiency
Juvenile rheumatoid arthritis
Ankylosing spondylitis
Sarcoidosis [Banks, 2013]
Bulimia Nervosa Sialadenosis (unclear etiology, but may be first presentation)

Trauma

Local obstruction from stones

Relatively uncommon in children.
Submandibular gland involved in majority of cases (higher amount of mucoid saliva production).

Penetrating injuries
Blunt injuries
Radiation injury
Sialadenitis: Presentation
Swelling, pain, fever, and erythema of the affected gland.
Trimus and Pain with mastication
Purulence may be expressed from the associated duct.  [Francis, 2014]
Inspissated mucus may also mimic purulence.
Sialadenitis: Recurrent?
Recurrent or chronic sialadenitis has been associated with several autoimmune disorders.   [Francis, 2014; Baszis, 2012]
Causes are, again, likely must-factorial (structural, infectious, obstruction, inflammatory, etc).
Juvenile Recurrent Parotitis is a common cause.

True incidence is unknown, but thought to be the second most common cause of salivary disease in children worldwide (after Mumps).  [Francis, 2014; Patel, 2009]
Has two peaks in age of presentation: ages 2-6 years and at age of puberty.
Self-limited and resolves spontaneous after puberty.  [Francis, 2014]

Diagnostic sialendoscopy can be useful to help diagnose and manage. [Ramakrishna, 2015]
Sialadenitis: Management
Diagnosis is primarily a clinical one!  (It's awesome when you don't need to order tests!)
Treatment is typically

conservative

:  [Francis, 2014]

Pain management 
Adequate hydration

Dehydration exacerbates inflammatory process.
Dehydration makes mucoid saliva more prominent.

Warm massage
Sialogogues
Treat underlying autoimmune / inflammatory disorder.
Appropriate antibiotics

While bacterial infection may not have initiated the condition, it is difficult to deny the possibility of its involvement.
If able to express material from duct, send purulence / inspissated mucus for Gram Stain and Culture.  [Francis, 2014]
Antistaphylococcal penicillinases-resistant antibiotics should be started while awaiting culture results.

Patients with co-morbidities, fever, or leukocytosis may benefit from inpatient, IV antibiotics. [Stong, 2005]
If medical therapies fail, or there is concern for localized complication: [Stong, 2005]

May need to image:

Ultrasound

Considered 1st line option by many.
Can help evaluate the gland and abscess formation.
May illustrate a stone, but may still miss smaller stones. [Francis, 2014]

CT

Likely needed if surgical options need to be considered.

Surgical options:

Stone retrieval and ballon dilation
Lithotripsy
Gland excision – has become less common
Sialendoscopy – has become preferred option
Moral of the Morsel
The "seemingly simple" conditions occurring in a complex organism (like us Humans) can be less than straight forward.
Don't dismiss sialadenitis as a simple infection and throw antibiotics at it. It is multifactorial and may not merely be an antibiotic deficiency. Keep other etiologies in mind, especially when educating families about it.
Recurrent parotitis / sialadenitis warrants additional consideration and referral.
References