Pediatric Behcet's Disease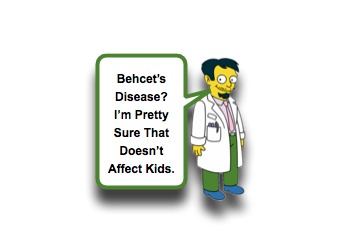 There are numerous conditions that we all learned about in medical school, but then quickly allowed to fall to the deep recesses of our mind (some of us may find to difficult to find them in those chasms now). While the rarity of these conditions may make it less likely that we need to go cerebral spelunking for those memories, you just never know when your recall will be called upon to help a child. One of those conditions that may mascarade as a more common illness is Behcet's Disease. Let's take a minute to rejuvenate some memories about Pediatric Behcet's Disease:
Pediatric Behcet's Disease: Basics
Behcet's Disease is a vasculitis that affects various sized blood vessels. [Gallizzi, 2017; Ozen, 2013]

1st described by Dr. Hulusi Behcet, a Turkish Dermatologist in 1937. [Topcuoglu, 2017]
Typically presents in the 2nd-4th decades of life.
Incidence and awareness of Pediatric (<16 years of age) Behcet's Disease is increasing. [Topcuoglu, 2017]
It can even affect neonates! [Johnson, 2015]
Behcet's Disease is a chronic relapsing inflammatory condition.

Intense inflammation occurs in the blood vessel walls. [Topcuoglu, 2017]
Blood Vessel inflammation can lead to: [Ozen, 2013]

Luminal Thrombosis or
Aneurysm formation.
Associations:

Geographic – Highest prevalence in patients from Spain, Portugal, France, Germany, Sweden, Italy, Iran, Turkey, and China (Mediterranean and Far East regions)
Genetic – HLA-B51 allele
Treatments:

There is no FDA-approved treatment for pediatric Behcet's Disease.
Therapies depend on the clinical features.
Typical therapies:

Steroids
Colchicine (for preventing recurrent ulcerations)
Immunosuppressives (ex, cyclosporine, azathioprine, cyclophosphamide)
Biologics (ex, TBF-alpha inhibitors, anti-IL1)
Pediatric Behcet's Disease: Features
Behcet's Disease affects multiple systems. [Topcuoglu, 2017; Gallizzi, 2017; Ozen, 2013]

This makes the clinical spectrum very heterogenous.
Diagnosis is also challenging due to relapsing course (might have been given a "different diagnosis" earlier).
Missed diagnosis / untreated Behcet's Disease can lead to significant morbidity and mortality. [Topcuoglu, 2017]
Loss of Visual Acuity and Neurologic Disease are the major causes of morbidity and mortality, but there are other concerning features as well:

GI Tract Ulcerations

Recurrent Oral Aphtosis is the most frequent manifestation, but the entire GI tract from mouth to anus can be involved. [Topcuoglu, 2017; Gallizzi, 2017]
Abdominal Pain is a common presentation for children (GI symptoms are more common in kids than adults).
May have GI bleeding and can even develop GI perforation. [Topcuoglu, 2017]
Can be difficult to distinguish from Inflammatory Bowel Disease.

Muco-cutaneous Features

Recurrent oral ulcers are the "classic" finding, but not specific. [Gallizzi, 2017]
Hand and genital ulcers are more commonly found in adults.
Necrotic folliculitis, acneiform lesions, and erythema nodosum are seen with pediatric Behcet's Disease.

Eye Features

Ocular features are commonly seen in children with Behcet's Disease. [Gallizzi, 2017; Ozen, 2013]
Bilateral Posterior Uveitis and Retinal Vasculitis are characteristic, but papilledema is the most common findings. [Topcuoglu, 2017]
There is a male predominance of eye involvement in pediatric Behcet's Disease. [Topcuoglu, 2017]

Ruptured pulmonary arterial aneurysm

Behcet's Disease is the most frequent cause of pulmonary artery aneursyms. [Topcuoglu, 2017]
Saccular or fusiform aneurysms are mostly located in the lower or main pulmonary arteries.

Thrombosis

Deep vein thrombosis

Most commonly involve the deep veins of the legs.
Can also affect the IVC, hepatic veins (Budd-Chiari Syndrome) or cervical veins. [Topcuoglu, 2017]
Thromboses can occur early in the disease course and may be initial presentation. [Gurunathan, 2017; Krupa, 2011]

Central Nervous System Features

Neuro-Behcet's Disease can affect up to 30% of cases and may be the first presenting feature. [Topcuoglu, 2017]
Can be due to:

Cerebral Vein Thrombosis

Dural Sinus Thrombosis is more frequently seen in children. [Topcuoglu, 2017; Ozen, 2013]
Can see cranial nerve palsy too.

Meso-diencephalic Meningoencephalitis

Recurrent Fever was also found in a third of patients in one large study. [Gallizzi, 2017]
Pediatric patients do NOT present the same as adult patients. [Topcuoglu, 2017; Gallizzi, 2017; Ozen, 2013]

Scoring Criteria exist for Behcet's, but the original versions emphasized adult presentations:

Recurrent genital ulcers
Uveitis or retinal vasculitis
Skin lesions (ex, erythema nodosum, acneiform nodules, or papulopustular lesions)
Postive pathergy test (skin reaction to needle prick)

These criteria have low sensitivity for children with Behcet's Disease. [Topcuoglu, 2017]
An international study group developed Criteria for Pediatric Behcet's Disease: [Koné-Paut, 2016]

Presence of each criterion is scored as 1 point.

Oral aphtosis (at least 3 attacks/year)
Genital ulcers
Ocular signs (anterior or posterior uveitis, retinal vasculitis)
Skin lesions (necrotic folliculitis and acneiform lesions, erythema nodosum)
Neurological involvement (not isolated headache)
Vascular involvement (arterial or venous thrombosis, arterial aneurysm)

A score of 3 or greater is equated to the diagnosis of Pediatric Behcet's Disease.

There is no pathognomonic laboratory test, but radiographic imaging may reveal clues to the diagnosis (ex, characteristic blood vessel changes). [Topcuoglu, 2017; Gallizzi, 2017]
Moral of the Morsel
Cerebral Spelunking can save a life! While you may not encounter Behcet's Disease every day (or every at all), keeping it on your Ddx of the child with recurrent muco-cutaneous ulcers may prevent a patient from going untreated.
Behcet's Disease is a big deal! You may have been given the impression that it is merely an annoyance to be dealt with chronically; however, it is a vasculitis that can affect almost every organ system and with severe consequence.
References