Cerebral Venous Thrombosis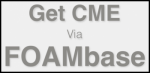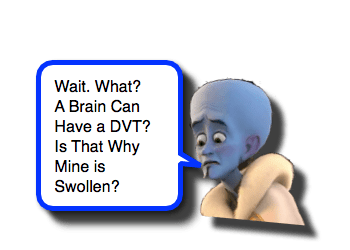 The patient complaint of "headache" often causes me to have a headache. There are so many things to ponder. We have previously covered some important conditions to consider when evaluating headache (ex, AVM, RMSF, Meningitis, Post-LP, Moyamoya, Migraine, Pseudotumor, and Pheochromocytoma). Many of these are rare and require our dedicated vigilance to ascertain the clues that point toward the diagnosis. Another entity that requires our super-sleuthing skills is Cerebral Venous Thrombosis (CVT).
CVT: Basics
CVT is rare, but has significant consequences [Saposnik, 2011]

Incidence is estimated to be ~0.6 per 100,000 children per year
Thrombosis of the venous system results in venous congestion and outflow obstruction creating increased capillary hydrostatic pressure. [Dlamini, 2010]

Increased hydrostatic pressure can lead to cerebral edema.
If pressures become high enough, can also compromise arterial flow and lead to ischemia.
Majority of infarcts become hemorrhagic.

Mortality is <10%, but persistent neurologic deficits can be seen in up to 79% of patients. [Dlamini, 2010]

Can affect all ages

~40% of pediatric patients who have CVT are neonates

Increased thrombotic tendency in neonates. [Saposnik, 2011]
Mechanical forces on neonates head also increase risk. [Saposnik, 2011]

Non-neonates present similarly to adults [Star, 2013; deVeber, 2001]
CVT: Presentation
Clinical presentation is often subtle and not specific (once again, our job is challenging). [Dlamini, 2010]
Presentation varies with age:

 Neonates

Lethargy
Respiratory Failure
Altered Mental State and Coma

Older infants and children present similarly to adults. [Star, 2013; deVeber, 2001]

Headache
Nausea / vomiting
Focal neurologic deficit / abnormality

Seizures
Hemiparesis
Papilledema
Ataxia
Speech or visual impairment
CN VI Palsy
Presentation can also vary based on location of thrombus. [Star, 2013]

Cerebral Venous Sinuses

Increased intracranial pressure
Headache, impaired vision, papilledema

Smaller Cerebral Veins

Focal venous ischemia
Focal neurologic deficits
CVT: Risk Factors
Risk factors often vary with age:

Neonates – perinatal complications, hypoxic encephalopathy, are most common
Younger children – head and neck infections are most common
Older children – chronic diseases are most common

Often CVT risk is multifactorial. [Dlamini, 2010; Heller, 2003]
Local infection, injury, or abnormality
Systemic Illness

Dehydration
Sepsis
Cardiac Disease
Connective Tissue Disorders
Live Disease
Nephrotic Syndrome
Behcet's Disease
Cancer
Anemia

Pro-thrombotic Disorders (noted in 12-50%)

Anticardiolipin antibody
Protein C and Protein S deficiencies
Factor V Leiden
Lupus Anticoagulant
Homocystinuria

Pro-coagulant Medications

Oral Contraceptive Pills
Asparaginase
CVT: Evaluation and Management
Imaging modality:

MRI with Venography is the modality of choice.

Occasionally, contrast is required given that thrombus can be difficult to distinguish from a hypoplastic sinus vein.

CT Venogram can also be used and is as effective as MRV, but has radiation (obviously).
Treatment: [Saposnik, 2011]

Rehydrate 
Treat associated infections
Treat seizures 
Treat increased intracranial pressure
Start anticoagulant

Treatment with anticoagulant has been deemed safe and effective. [Moharir, 2010]

Low Molecular Weight Heparin or Unfractionated Heparin are appropriate.
Oral Vitamin K Antagonist or LMWH will be continued for 3-6 months.

Recommended even in those who have hemorrhage noted at time of diagnosis. [Star, 2013; Saposnik, 2011]
31% of children who don't receive anticoagulation have propagation of thrombus.
Moral of the Morsel
We see many patients with headaches… not all of them have benign causes. Be Vigilant!

Check for papilledema in cases presenting with headache.
Look for potential risk factors of CVT.

Thinking a patient has idiopathic intracranial hypertension (i.e., pseudotumor), check MRV when you get the MRI… there may be an associated Cerebral Venous Thrombosis!
References