Pediatric Sinus Bradycardia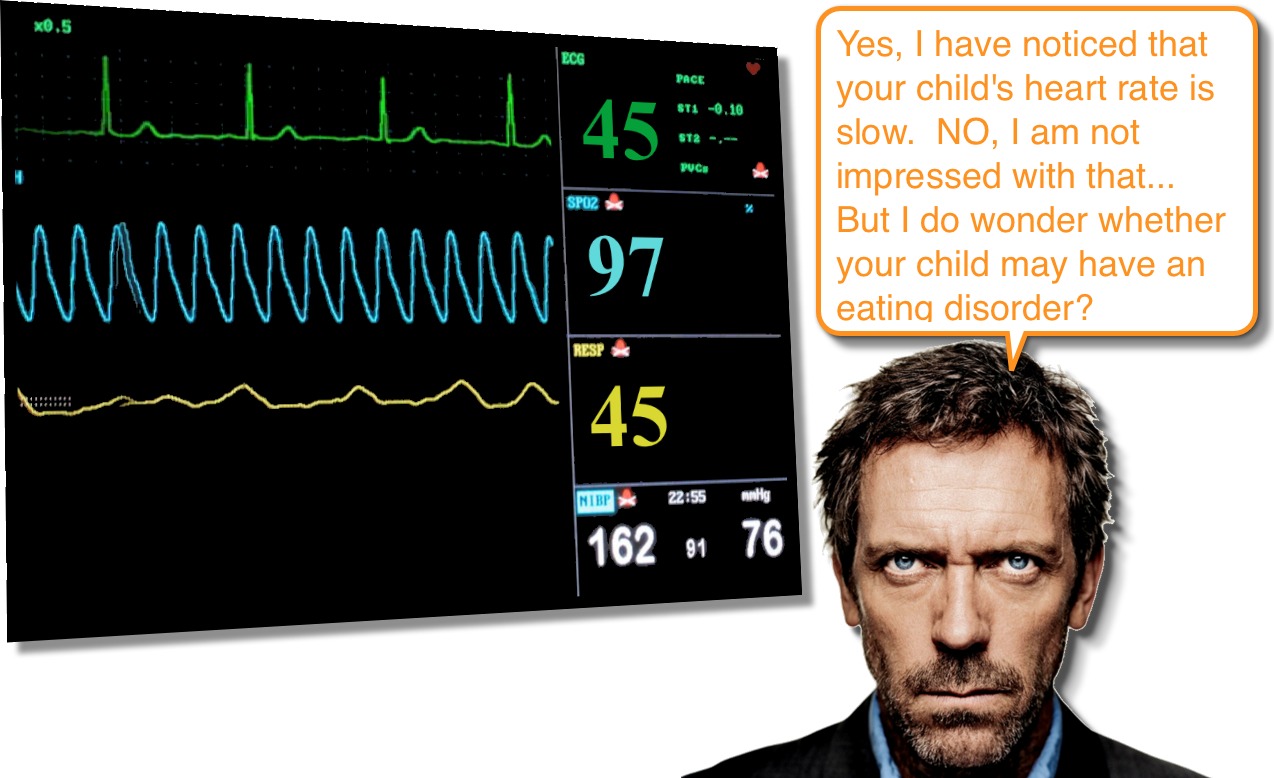 Pediatric cardiac issues can make even the most experienced EM MD have axillary perspiration more than normal.  We have covered many cardiac entities in the Morsels (Hypercyanotic Spells, Heart Failure, HTN, Coaractation, Fontan Complications, PGE1, Syncope, and Kawasaki Disease) as these are conditions that are not encountered everyday and, therefore, it is good to remind ourselves of them so we don't get too sweaty when dealing with them. We are likely more comfortable with arryhthmias than structural heart disease. SVT can even be fun to manage.  The question I have is, what am I supposed to do with asymptomatic SINUS BRADYCARDIA? Do I need to get sweaty and nervous and can I be mellow and cool?
Arrhythmias in Kids
Arrhythmias due to a primary cardiac condition are rare in kids in the pediatric ED.
Arrhythmias are rarely the initial presentation of structural heart disease in children.

Most children with structural heart disease will present with signs of heart failure or cyanosis.
One study showed that only 7% of pediatric cardiology patients had a primary arrhythmia.

Incidence of arrhythmia in the Ped ED has a BiModal distribution.

Infancy

Most infant tachyarrhythmias resolve within 1st year of life

Adolescence

Heart size increases – thought to increase risk of developing re-entrant pathways.
Older kids are also able to describe symptoms better.
Higher likelihood of medication or illicit substance related arrhythmias.
Sinus Bradycardia
Sinus Bradycardia is almost never due to a primary cardiac issue in children.
Defined as:

< 100 bpm in kids 0-3 years old
< 60 bpm in kids 3-9 years old
< 50 bpm in kids 9-16 years old

Kids with benign sinus bradycardia are asymptomatic and have benign clinical courses.
Sinus Bradycardia Evaluation
Dont' get ahead our yourself… is this Sinus?  Remember "Worst First".

Is the patient hemodynamically stable?  If not, fix the problem!
Look closely for evidence of AV-Blocks (1st, 2nd, 3rd degree?).
Consider "sick sinus syndrome"

An irregular tachycardia followed by a slowed SA node discharge.
Will have a failure of HR to increase in response to exercise or stress.
Usually seen in kids s/p operative repair of congenital heart disease.

Ask yourself, "Why?"

Since Sinus Bradycardia is generally not a primary cardiac etiology, so it'd be

good to consider other causes

.
Consider the follow:

Things we often think of, but generally are obvious (the H's and T's):

Hypoxia
Heart Block
H+ ions
Hypothermia
Hyperkalemia/Hypokalemia
Trauma (Increased ICP)
Toxins (Lithium, digoxin, Beta-blockers, Ca-Channel Blockers, Clonidine)

Things to not under-appreciate (also known as things that I need to remember, cuz I keep forgetting them):

Hypoglycemia
Hypothyroidism
Malnutrition
Anorexia Nervosa
So, while the overall clinical course of Pediatric Sinus Bradycardia is benign and reassuring, take the opportunity to consider other entities,

particularly eating disorders

.  Many times the child with sinus bradycardia is athletic and we are eager to attribute the sinus bradycardia to the athletic conditioning; however, recall that eating disorders can also be associated with athletes … both males and females!!
References