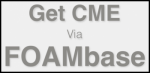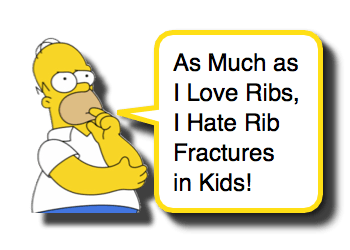 We know that children are super flexible and that is a good thing!  Often kids will bend and won't break!  Unfortunately, there are events that still lead to childhood injuries. Some of these events are unfortunate and accidental (ex, Submersions), while others are sinister and purposeful (ex, Abuse). When we think of injury in children, we often immediately consider head trauma (the leading cause of mortality), but let us not overlook thoracic trauma as it is the second leading cause of mortality in children suffering from trauma. While pulmonary contusions are the the most common intra-thoracic injury, let's spend a moment contemplating the significance of Rib Fractures.
Rib Fractures: Description
4 fracture types have been described. [Love, 2013]

Transverse
Oblique
Buckle
Sternal end

4 locations have been described. [Love, 2013]

Posterior
Posterolateral
Anterolateral
Anterior

Rib fractures occur by 2 possible mechanisms:

Anterior-posterior compression (most common)
Direct trauma to rib surface
Rib Fractures: Age Matters
Children have rib fractures less often than adults due to anatomic and structural differences.
Rib morphology and orientation changes with age. [Weaver, 2014]

Rib cage increases in size and decreases in kyphosis from birth to teen years.
Ribs rotate inferiorly also.
Ribs increase in roundness and horizontal angle with increased age.
These changes influence risk for fracture with increasing age (particularly elderly patients).

The thoracic cage is more compliant (more able to deform without fracture) in children.

It takes a significant force to cause a rib fracture in a child.
The complaint chest wall does not dissipate a force as well, transmitting more of it inward to the underlying organs (see Pulmonary Contusion).
Rib Fractures: The Concerns
Abuse should always be on your radar!

Most rib fractures in infants are caused by child abuse. [Bulloch, 2000]

Other etiologies should be considered as well.
Ex, Birth Trauma, Rickets, Osteogenesis Imperfecta

Abused children have more rib fractures than accidentally injured children. [Darling, 2014]
Accidental injuries cause more intrathoracic injuries, likely due to the mechanisms. [Darling, 2014]
Lack of intrathoracic injury does not rule out abuse! [Darling, 2014]
Concurrent extra-thoracic fractures where more common in abuse cases. [Darling, 2014]

Rib fractures are associated with other injuries.

Children have higher rates of associated head, thoracic, and solid organ injuries with rib fractures compared to adults. [Kessel, 2014]
Rib fractures should be considered a sign of significant, possible multiple, trauma in kids.

Mortality increases in a LINEAR fashion for each fractured rib in children. [Rosenberg, 2016]

Adult mortality has a steep increase above 6 fractured ribs.
In kids, mortality odds worsen with each rib fractured.

Mortality increased from 1.79% without rib fracture to 5.81% with one rib fracture.
With each rib fracture, mortality rate increased in nearly linear fashion up to 8.23% for 7th rib fractured.
Moral of the Morsel
Highly consider abuse in children with rib fractures! May even want to consider extra thoracic injuries.
Consider rib fractures as a indication of significant impact and trauma! Treat it like a risk factor for other occult injuries.
Know that each rib fractured increases a child's risk of mortality!
References