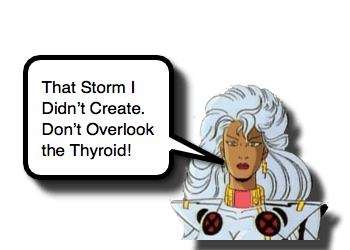 Thyroid disease is a common consideration for the ill adult patient, but not as commonly considered in children.  That being stated, we have mentioned several conditions which may be related to thyroid disease in children (ex, Bulging Fontanelle, Fever of Unknown Origin, Bradycardia, Down's Syndrome, Hypothermia in Neonate, and Hypertensive Crisis).  So, it obviously can be a significant issue, but rather challenging to diagnosis if we don't consider it.  This is particularly true when managing the critically ill child.  Let us now consider Thyroid Storm.
Thyroid Storm: Basics
Thyroid hormone influences almost every tissue. [Bahn, 2011]
Cellular actions of thyroid hormone are mediated by T3, the active form of the hormone.
Thyrotoxicosis / Hyperthyroidism 

Thyrotoxicosis – clinical state resulting from high thyroid hormone action due to inappropriately high tissue hormone level. [Bahn, 2011]
Hyperthyroidism – a form of thyrotoxicosis due to high synthesis and secretion of thyroid hormone(s) by the thyroid gland. [Bahn, 2011]

Hyperthyroidism prevalence in USA – ~1% [Bahn, 2011]
Median age of onset of hyperthyroidism = ~11 years
CNS symptoms often prevalent in children with hyperthyroidism (adults often with more Cardiac symptoms).

Tremor, hyperreflexia
Anxiety and fragile emotional states
Frequent bowel movements
Thyroid Storm is a severe form of thyrotoxicosis.

Life-threatening crisis that requires rapid assessment and management.
Can lead to overt hemodynamic instability.
Since it's symptoms can be similar to other critical illnesses (ex, sepsis, toxic ingestion), it take vigilance and active consideration to diagnosis it promptly.
~1-2% of patients with

hyperthyroidism

will experience a thyroid storm event.
Thyroid Storm: Presentation
Individual symptoms are not often specific.

Fever, diaphoresis, weakness
Nausea, vomiting, abdominal pain
Tachycardia, hypertension
Extreme anxiety, confusion, altered mental status, seizures, coma
High-out congestive heart failure, arrhythmias 
Hypotension may develop late
Characterized by

MULTIsystem

involvement! (remember the thyroid hormone influences nearly every organ system)
High index of suspicion is needed – keep it high on Ddx of patient with thyrotoxicosis and decompensation. [Bahn, 2011, Ureta-Raroque, 1997]
There is a Point Scale for the Diagnosis – see [Bahn, 2011]
Thyroid Storm: Precipitants
Often the precipitating cause of the Thyroid Storm can, itself, produce symptoms similar to the Thyroid Storm, making it challenging to consider.

Infection

,

Trauma

and

Surgery

are commonly associated with Thyroid Storm.
Other physical or emotional stressors can lead to Thyroid Storm.

Anesthesia
Uncontrolled diabetes
Pre-eclampsia/eclampsia 
Medical reaction / side-effect (ex, taking over the counter cold-preparation medications) [Ureta-Raroque, 1997]
Abrupt cessation of antithyroid Rxs
Exogenous thyroid hormone ingestion [Majlesi, 2010]
Rarely following radioactive iodine therapy [Rohrs, 2014; Bahn, 2011]
Exposure to iodine-containing contrast (decompensation after CT??)
Thyroid Storm: Therapy
Multimodality approach is recommended. [Bahn, 2011]
Beta-Adrenergic Blockade

Propanolol – thought to also block peripheral conversion of T4 to T3.
Esmolol is an alternative

Antithyroid Drug Therapy

Proplthiouracil (PTU)

Blocks new hormone synthesis AND peripheral conversion of T4 to T3
In patients with Graves Disease, use has been associated with Hepatotoxicity and, therefore, not recommended. [Glinoer, 2012]

Methimazole – Blocks new hormone synthesis. Do NOT use in pregnancy.

Inorganic Iodine

Potassium iodine (ex, SSKI) – Blocks synthesis and release of hormone.
May use Lithium if patient has allergy to iodine.
Start 1 hour AFTER giving Antithyroid Rx [Bahn, 2011]

Corticosteroids

Stress dose Hydrocortisone or Dexamethasone.
May block peripheral conversion of T4 to T3
Used to empirically treat possible adrenal suppression.

Supportive Measures

Aggressive Cooling Measures

Acetaminophen
Cooling blankets and ice packs!

Volume Resuscitation
Respiratory Support
Treat heart failure and/or arrhythmia

Treat Precipitating Events

Don't overlook the issue that caused the decompensation.
Consider empiric antibiotics if unclear inciting event.
Moral of the Morsel
While the critically ill child will appropriately generate concern for the usual suspects (ex, Sepsis, Hypovolemia, Mechanical Obstruction, Cardiogenic, Adrenal Crisis, Intussusception/Bowel injury), don't overlook the potential for other offenders!
History of conditions related to thyrotoxicosis should raise your concern!
Feel the anterior neck too… maybe you'll just find the answer when you palpate an enlarge thyroid gland. (see case described by Ureta-Raroque, 1997)
As always… be Vigilant!
References