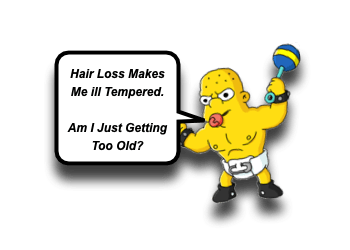 Hair loss may not seem like an Emergency to you… but it is! (Ok… maybe my perspective has changed as I've aged.) Seriously though, Alopecia will certainly catch a parent's attention and they may just come to the ED for answers. Not that you need to have all of the answers pertaining to Alopecia, but let's take a minute to ensure we have a useful perspective of Alopecia affecting Children:
Alopecia: Basics
Hair consists of shaft and root, which is anchored in the hair follicle. [Xu, 2017]

Hair follicles contain rapidly dividing cells.
Hair follicles can produce different types of hair over their lifespan: [Atton, 1990]

Lanugo (soft hair newborns have)
Vellus (downy, fine hair that replaces lanugo)
Terminal Hair (thicker, pigmented hair)
Every day 50-150 hairs fall out normally. [Xu, 2017]
Terminal Hair goes through 3 growth phases: [Xu, 2017]

Anagen phase – active growth, 90% of hair
Catagen phase – brief involutionary phase
Telogen phase – dormancy, 5-10% of hair is in telogenic phase
Hair falls out after 2-3 months of telogen phase… and the cycle repeats.

Hair loss can occur due to any disturbance in the development of a hair.
Alopecia can occur in isolation or as a part of a multisystem syndrome. [Xu, 2017; Atton, 1990

]
Alopecia: Considerations
Alopecia is due to heterogenous etiologies. [Xu, 2017; Atton, 1990]
Pediatric Alopecia is typically related to different causes than in adults. [Xu, 2017]

Majority of pediatric alopecia is due to acquired causes.
Although, it can even be present at birth (ex, aplasia cutis congenita).
The common causes of Alopecia in children that should be considered: [Xu, 2017; Atton, 1990]

Tinea Capitis

Commonly due to Trichophyton tonsurans or Microsporum canis.

Microsporum species deposit a product that is fluorescent under UV light.
Trichophyton does NOT fluoresce and can produce lots of scaling and can be confused with seborrheic dermatitis.

Initially not scarring, but can lead to Kerion, which due to its local inflammatory reaction, can be scarring.
See broken hairs (i.e., Black Dot sign), scaling, erythema, and posterior cervical lymphadenopathy.

Alopecia Areata

Common form of autoimmune alopecia.
May have family history or personal history of other autoimmune disorders, like vitiligo or thyroid disease.
Typically has patchy hair loss that is well demarcated.
Has positive Hair Pull Test.

Trauma related:

Traction Alopecia

Due to constant tensile force on scalp from certain hairstyles (ex, braids, ponytails, tight buns, cornrows, etc).
Usually does not scar, but can if allowed to go one too long.

Trichotillomania

Associated with impulse control issues.
Non-scarring alopecia with patches of hair loss with irregular borders and hairs of various lengths.
Usually not including the occipital area (more painful to pull hair from this region.

Hair Cycle Disturbances

Telogen Effluvium – abnormal amount of hairs in the telogen phase leading to increased shedding and diffuse thinning without scale.
Anagen Effluvium – Rapid hair loss due to radiation/chemotherapy or malnutrition.

Transient Neonatal Hair Loss

Often concerning for first time parents, but is benign and common.
Occurs in first two months of life.
Previously thought to be due to friction of scalp on bedding, but this is unclear.

Numerous other odd and interesting causes that would delight a dermatologist (but that I can't truly comprehend).
Physical Exam can help distinguish etiologies: [Xu, 2017]

Look closely at scalp, lashes, dentition, and nails.
Try the Tug Test and Pull Test. [Xu, 2017]

Tug Test

Attempt to fracture the hair shaft… is the hair fragile?
Grasp the base of the hair and then tug the distal end with the other hand.

Pull Test

Gently pull a bundle of 20-60 hairs from multiple locations.
Positive Test if >10% are pulled out.
Moral of the Morsel
Hair loss is not funny. (Stop laughing at me people!)
Alopecia in Pediatric patients is often acquired. Look closely for clues and have a low threshold for covering for fungal infection.
Hair Loss is not always simple. Think about related disorders and consider thyroid testing.
References