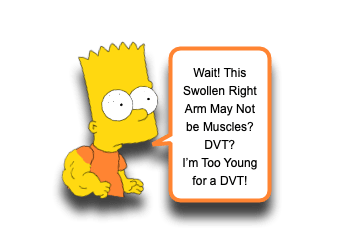 Over the years, the Ped EM Morsels have addressed several conditions that historically are considered to be "adult" problems, but are actually concerns that we may need to have for children also (ex, Cholecystitis, Cholelithiasis, Pulmonary Embolism, Glaucoma, Sigmoid Volvulus, Cecal Volvulus). Occasionally the risk factors and presentation may be different in children compared to adults, but it is also important for us to keep these conditions on our Differential Diagnosis Lists for children. Let's take a minute to review another item that we should not prematurely disregard – Deep Venous Thrombosis:
Deep Venous Thrombosis: Basics
Deep Venous Thrombosis (DVT) = blood clot in the deep veins of the limbs, chest, abdomen, or cerebral sinuses [Jaffray, 2018; Rodriguez-Fanjul, 2011]
The majority of cases of occur in children who have been recently / are hospitalized. [Jaffray, 2018]
Two peaks in incidence:

Less than 1 month of age (often in NICU)
Adolescents
Presentations [Jaffray, 2018; Rodriguez-Fanjul, 2011]

Symptoms depend on region involved.

Extremities – pain and swelling, sometimes warmth and redness (may be mistaken for an infection)
Superior Vena Cava – SVC syndrome with swelling and discoloration for the head, neck, and upper chest
Intra-Abdominal Deep Veins – Vague abdominal pain, splenomegaly, GI Bleeding, Hematuria
Cerebral Sinus – headache, vomiting, seizures

Signs may also include catheter malfunction.

Difficulty infusing medication
Difficulty aspirating blood sample
May lead to Long-Term Sequelae

Post-Thrombotic Syndrome [Jaffray, 2018; Avila, 2016; Avila, 2014]

Valvular damage leads to chronic venous insufficiency.
Leads to chronic pain and swell.
May also have reduced exercise tolerance, altered sensation, skin ulcerations.

Increased mortality! [Steen, 2019]
With improved care of ill children, the rate of DVTs in children is increasing.
Deep Venous Thrombosis: Risk Factors
Virchow's Triad (Stasis, Vessel Injury, and Hyper-coagulable states) still applies in children… but what leads to those issues may be different.
Central Venous Catheters [Dhir, 2019; Steen, 2019; Jaffray, 2018; Menendez, 2016]

Most common risk factor
Often in children with other risk factors (ex, hospitalization, Trauma, Immobility, Surgery, Chronic illness like Short Gut).
Femoral lines are high risk. [Gray, 2012]
Multilumen also high risk… essentially larger caliber catheters. [Gray, 2012]
Patient/Disease Related Conditions [Jaffray, 2018]

Cancers (especially leukemia and lymphoma) – High Risk!

Congenital heart disease – High Risk!
Sepsis and Bacteremia [Pruitt, 2016]
Intestinal failure (especially when have PICC line for TPN)
Neuromuscular disease (due to immobility)
Nephrotic syndrome (loss of anti-coagulant proteins!)
Thrombophilia – both acquired and inherited
Traumatic Injuries [Alturki, 2019; Leeper, 2017]
Anatomic anomalies
Hospitalized children often have multiple risk factors.
Medications [Jaffray, 2018]

Estrogens, Oral Contraceptions
Steroids
Asparaginase
Deep Venous Thrombosis: Management
Diagnosis [Jaffray, 2018]

Doppler ultrasound is the most common diagnostic tool.

Compression and doppler flow in addition to direct visualization are means to detect DVT.
Bedside Ultrasound performed in the ED can also be useful. [Tay, 2012]
Ultrasound is less reliable for upper extremity DVTs.

MR Venogram and CT Venogram are occasionally required.
MR Venogram is study of choice for Cerebral Venous Thrombosis.
Therapy [Jaffray, 2018]

Unfractionated Heparin

Short half-life and has reversal agent.
Monitored by aPTT levels.

Low Molecular Weight Heparins

Most commonly prescribed in children.
As effective as unfractionated heparin; has less bleeding.
Given BID in children.
Monitored by antifactor Xa assay.

Direct Thrombin Inhibitors

IV Bivalirudin or IV Argatroban blocks thrombin's effects.
Monitored by aPTT level.

Selective Anti-thrombin-Dependent Factor Xa Inhibitor

Fondaparinux is given once daily subcutaneously.
Monitored by antifactor Xa assay.

Vitamin K Antagonists

Coumadin most commonly used example.
Monitored via INR.
Must be started with another anticoagulant (like a Heparin) as Protein C and Protein S are also Vitamin K dependent; thus, transient hypercoagulability can result after starting coumadin.

Direct Oral AntiCoagulants (DOACs)

In adults, DOACs are approved for DVT therapy.
In children, studies are still being done to determine efficacy and safety.
Moral of the Morsel
Virchow's Triad applies to Children too! Consider the risk factors before dismissing the potential for DVT.
Swelling and Redness does not always equal infection! DVT may present similarly to an infection in an extremity.
DVTs are not just in the arms and legs. Think about all of the deep veins and how that may alter the presenting symptoms.
References