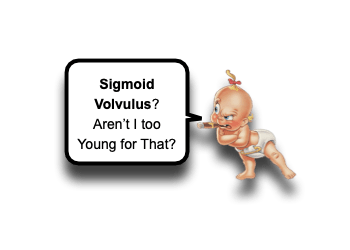 The threat of impending intestinal catastrophes is always lurking in the Pediatric ED. It is contemplated with each patient with abdominal pain or vomiting. While the symptoms may be related to non-emergent etiologies (ex, CRAP, Epiploic Appendagitis), our vigilant minds wrestle with concerns for Intussusception, Appendicitis, Malrotation, and Ogilvie's Syndrome. Recently, we also discussed adding Cecal Volvulus to this list of considerations. Not wanting to offend the other end of the large intestine, we should also mention another possible cause of intestinal obstruction – Sigmoid Volvulus in Children:
Sigmoid Volvulus: Basics
Volvulus = acute twisting / kinking of the colon and its associated mesentery [Tannouri, 2017]

May have associated colonic obstruction.
Leads to impaired colonic blood supply.
If untreated, progresses to colonic ischemia, necrosis, perforation, and overt sepsis.
Etiology:

Unclear
Thought to be related to long sigmoid colon with elongated mesentery and narrow mesenteric attachment. [Colinet, 2015]
Sigmoid Volvulus is common in certain adult populations. [Haider, 2017]

"Volvulus Belt" = Middle East, Africa, the Indian subcontinent, Turkey, and South America
It is the third leading cause of large bowel obstruction in North America.
Often seen with Males in their 4th decade of life.
It is uncommon in children, but life-threatening. [Haider, 2017; Tannouri, 2017; Colinet, 2015; Salas, 2000]

Often associated with "at risk" children with:
Difficult to diagnose in children:

Highly variable, non-specific presentations
Uncommonly encountered (so we don't think of it)

Delayed care associated with worse outcomes!

Greater risk of perforation and gangrene. [Colinet, 2015]

Median age in studies of children = 7 years of age. [Colinet, 2015]
Sigmoid Volvulus: Presentation
Children with Sigmoid Volvulus tend to present in one of two distinct manners: [Haider, 2017]

Acute

Sudden onset of severe cramping, distention, nausea, and vomiting. [Salas, 2000]
Often develop complications abruptly. [Salas, 2000]

Recurrent

May have spontaneous reduction of volvulus. [Salas, 2000]
"Constipation" or "Chronic Abdominal Pain" are common misdiagnoses.

Most Common Presenting Symptoms: [Haider, 2017; Colinet, 2015]

Abdominal Pain

May be relieve by passage of stool or flatus

Abdominal Distention
Vomiting

Examination: [Colinet, 2015]

Tympanic and Distended Abdomen
Empty rectal vault
Interestingly, abdominal tenderness is NOT a prominent finding. [Salas, 2000]
Can be missed on initial presentation and ultimate diagnosis can be significantly delayed. [Colinet, 2015]
Sigmoid Volvulus: Management
Clinical Suspicion is imperative! [Tannouri, 2017]

Children eventually diagnosed with colonic volvulus often undergo multiple radiographic evaluations, often due to equivocal results. [Tannouri, 2017]
Important to convey your concerns to radiologist to help give her/him context to consider results within.
Imaging:

Plain Films

May show air-fluid levels.
May show dilated bowel or "Coffee Bean" sign.
Suggestive of condition in only 29% of cases. [Haider, 2017]
Pronounced colonic distention should raise concern for this. [Salas, 2000]

Contrast Enema

"Bird's Beak" sign is pathognomonic for volvulus. [Haider, 2017; Colinet, 2015]
May see twisted appearance.
May be able to reduce the volvulus as well.

Abdominal CT

May be performed in unclear cases.
RESUSCTIATE!

Treat aggressively as if impending disaster is approaching.
Fluid resuscitation!
Surgical management:

Consult your surgical friends early…

When you first are suspicious.
Don't wait for definitive imaging… as this may delay care.

Strategies are still debated. [Haider, 2017; Colinet, 2015]
Reduction of Volvulus

Contrast Enema may be successful in reduction.
Flexible sigmoidoscopy has become a common initial approach for reduction. [Kapadia, 2017; Colinet, 2015]

Allows for visualization of the mucosa.
Patient must not have any signs of peritonitis.

Goal of reduction is to prevent bowel perforation and complications. [Haider, 2017]
Recurrence rates are high after successful reduction (~35% – 90%) [Colinet, 2015]
Non-surgical reduction allows time to plan and schedule surgical exploration and sigmoidectomy. [Colinet, 2015]
If patient is toxic or has peritonitis, exploratory surgery is the preferred initial option.

With early diagnosis, reduction, and definitive repair, prognosis is excellent. [Haider, 2017]
Moral of the Morsel
Don't stop your considerations at how much Miralax the child should get. Constipation can be a serious problem! It is also associated with other serious problems!
Rely on your clinical suspicion! Don't wait for a confirmatory image, as initial imaging may be non-specific.
Communicate with the radiologist your concerns! Clinical context may help her/him to understand the non-specific images.
Resuscitate and Reduce! Give IV fluids and contact your surgeons early!
References