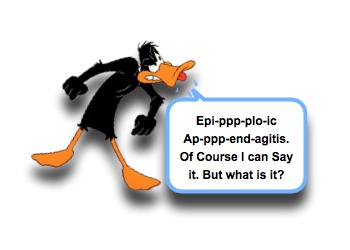 Abdominal pain is a challenging complaint. We have to discern between the critical abdominal conditions (ex, Appendicitis, Volvulus, Pancreatitis) from the less concerning causes (ex, CRAP, Constipation, Gastroenteritis). We also have to consider the causes that are not in the abdomen (ex, Strep Pharyngitis, PID, Ovarian Torsion, Pneumonia). While our clinical skills will be the most important tool we use to sort through the lengthy differential, there are times when testing/imaging may be helpful; however, with every test comes the potential for "surprises." Let's take a minute to review one of those possible "surprises" that may be the cause of a child's abdominal pain- Epiploic Appendagitis:
Epiploic Appendagitis: Basics
Epiploic Appendages (AKA, appendices epiploicase) are fat-filled structures that are on the outside of the large colon. [Redmond, 2015]

They are most numerous on the sigmoid colon and cecum.
They are located on the anti-mesenteric side of the colon.
Each appendage is connected by a vascular stalk that contains artery and vein supplied from the underlying colon. [Chu, 2018]
Torsion or thrombosis of the epiploic appendage can cause:

Ischemia of the epiploic appendage. [Redmond, 2015]
Inflammation of the surrounding tissues (bowel wall, mesentery, peritoneum). [Redmond, 2015]
May mimic:

Appendicitis
Acute Cholecystitis
Cholangitis (in adults)
Diverticulitis (in adults)
Epiploic Appendagitis:

Is uncommon in children

True incidence not known.
More commonly affects the cecum in children, but can involve descending colon and sigmoid colon. [Redmond, 2015]

Presents with Abdominal Pain that is:

Steady
Often localized
Located in the RLQ most often in children (Adults more often have LLQ) [Redmond, 2015]

In children, may be associated with: [Redmond, 2015]

Anorexia
Nausea / Vomiting
Low-grade fever

May have point-tenderness, but rarely has rebound or guarding. [Redmond, 2015]
Epiploic Appendagitis: Imaging
Epiploic Appendagitis can be diagnosed on CT, Ultrasound (U/S), or MRI. [Chu, 2018]

It may also be diagnosed intraoperatively in patients who's exam and story is concerning enough to warrant a trip to the OR instead of the radiology suite (yes, that is something that can happen even today!).
Ultrasound (U/S) Features

Mass with thick rim of enhancement and a hypoechoic central area. [Chu, 2018; Menozzi, 2014; Gorg, 2009]
Non-compressible mass adjacent to the colon. [Ozturk, 2018]
Considered 1st line imaging option. [Boscarelli, 2016]
CT Features

Characteristic findings that are considered pathognomonic [Chu, 2018; Redmond, 2015]
Oval/round fat attenuated lesions less than 5cm in diameter
Located on antimesenteric side of the colon
Surrounding inflammatory changes on the anterior side of the colon
MRI Features

Oval-shaped lesions; 1-4 cm in size
T1-weighted – High signal intensity center and Low signal intensity rim [Boscarelli, 2016]
T2-weight may show hypo intense central region ("central dot sign") related to engorged or thrombosed central vessels. [Boscarelli, 2016]
Gadolinium contrast will reveal increased enhancement due to inflammatory changes. [Boscarelli, 2016]
Other considerations would be: [Redmond, 2015]

Omental Infarction
Mesenteric panniculitis
Fat-containing tumor
Inflammatory conditions of the colon
Epiploic Appendagitis: Management
Epiploic Appendagitis is primarily a self-limited condition. [Ozturk, 2018]
Management is largely focused on symptom management.

Antiemetics and analgesics (ex, NSAIDs) are the primary therapies.
ANTIBIOTICS are NOT required for most cases.

Symptoms typically:

Improve in 72 hours and
Resolve within 3 weeks.

Rarely is surgery required:

If symptoms persist or condition becomes complicated, it may be warranted.
For recurrence of the condition, surgery may be warranted. [Ozturk, 2018]
Moral of the Morsel
The List is Long! Here is another item that isn't appendicitis that can fool us. Appreciate the vast possibilities.
Don't be Surprised! That U/S may not show what you thought it would… it may show Epiploic Appendagitis instead.
Don't throw antibiotics at it! I know it is an "-itis," but it isn't an antibiotic deficiency.
References